After I shortened my skiing trip in March, finally the circumstances seemed right to go for another skiing trip: Together with a friend we spent one week on our skiers in the Pöyrisjärvi Wilderness Area. With our bivy bags in our luggage, we made a loop from Hetta to lake Pöyrisjärvi, and enjoyed the warmth of the intense spring sun.
After I shortened a skiing trip in March in the Pallas-Yllästunturi National Park, where I also tested some new equipment, the time seemed right to go for another and a little longer trip. On this occasion there should be time enough to ski into the Pöyrisärvi Wilderness Area. With a friend we decided to take our bivy bags, grab our skiers, and head north. Without any particular place in mind, our aim was to simply spent about a week in the Pöyrisjärvi Wilderness Area.
Crossing Näkkäläjoki into the Pöyrisjärvi WIlderness Area
Starting from Hetta, we first skied along the main winter route towards Näkkälä, until we reached the Näkkälän välitupa; an open wilderness hut right between Hetta and Näkkälä. While this is also a popular snow mobile route, we fortunately didn't see many snowmobiles that day and were able to enjoy the silence of the region rather the disturbing noise of motorized vehicles. It has became almost some kind of tradition for me to cross the river Näkkäläjoki near the open wilderness hut, where I found a good spot to cross the river both in summer as well as in early and late winter.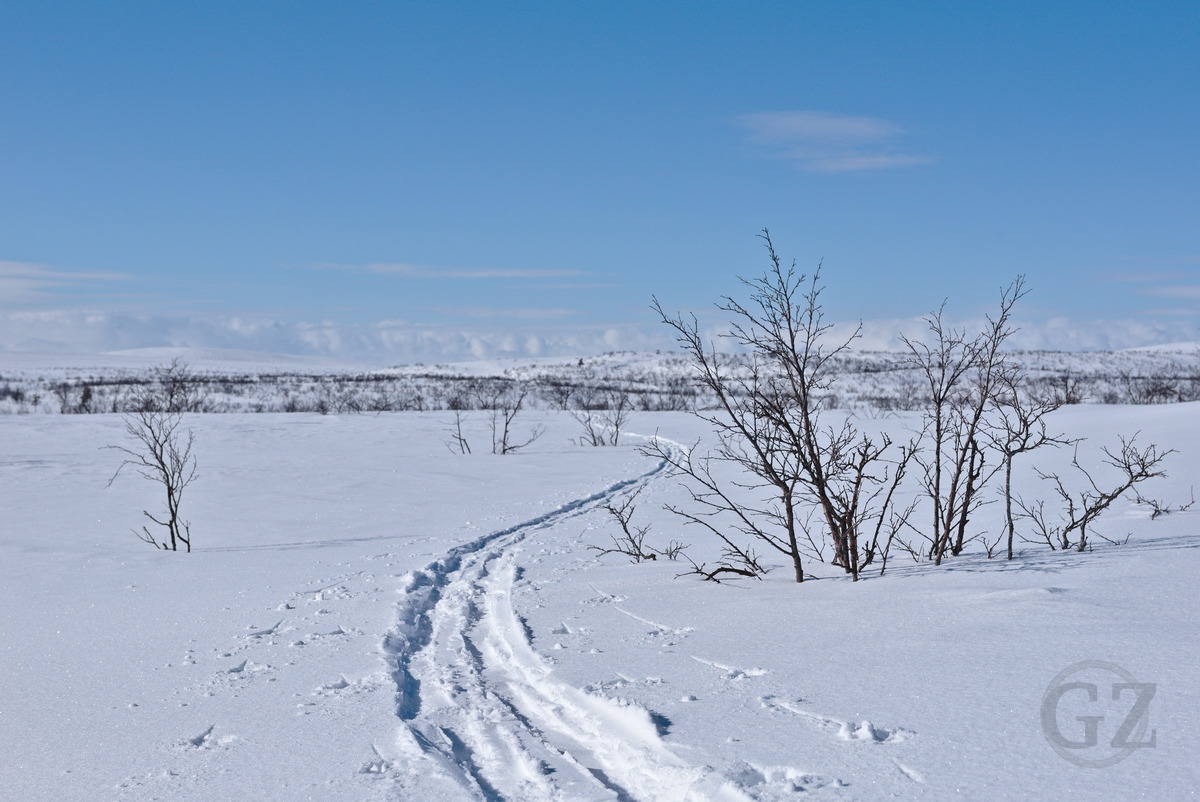 Basically our aim was only to spend some time in the Pöyisjärvi Wilderness Area, without any particular targets other than being outdoors. Thus we decided on day-to-day basis about where to head next. Out of curiosity we first skied to lake Olkojärvi, where we have been hiking before. Since we already saw the area during autumn, we figured it might be interesting to also explore the same places during spring. While we enjoyed our stay during autumn, we didn't get disappointed this time either: A few hours after we left the valley of the river Näkkäläjoki we stepped outside the forest and crossed the tree-line, to find ourselves in the beautiful and snow covered tundra area. With the sun shining, we enjoyed the great visibility over the wide and open landscape.
Camping on the edge between birch forest and tundra area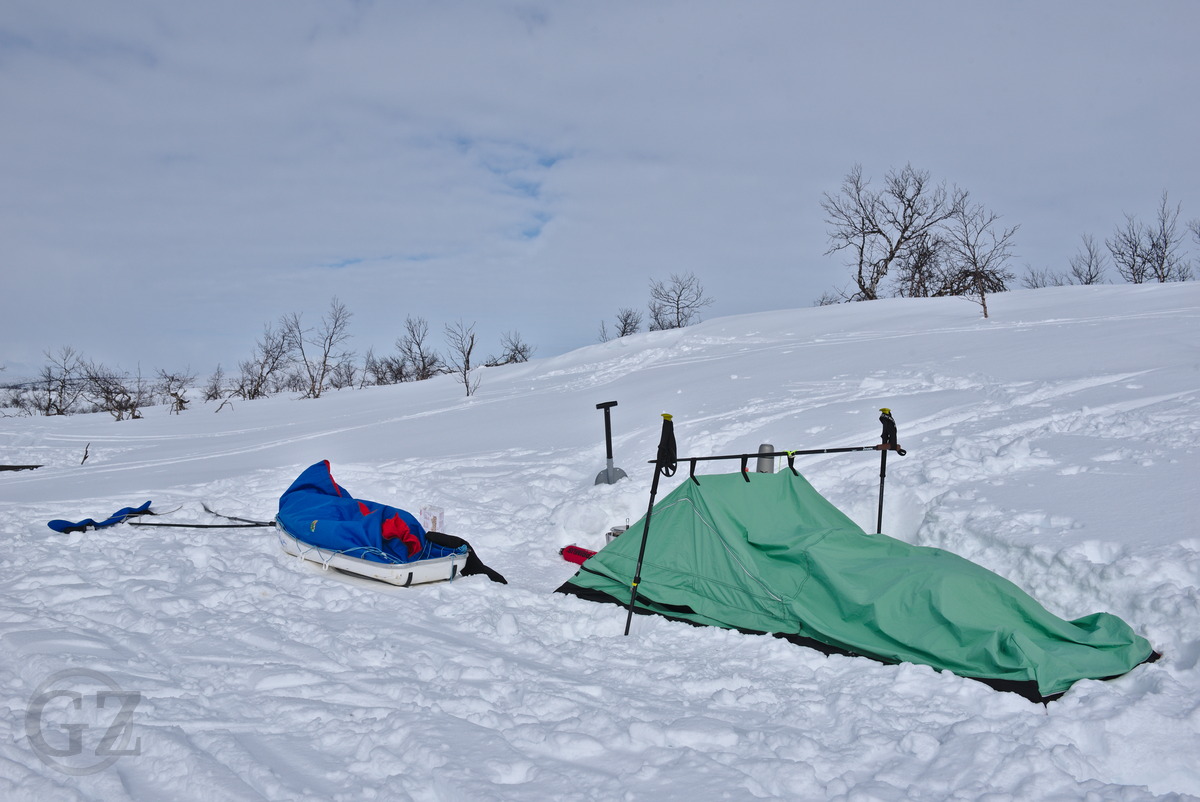 The open landscape not only allows great visibility, but also often comes along with plenty of wind. For this reason we decided to put up our campsite somewhere in between smaller hills or in a hollow. It didn't take us long to discover a suitable spot and to prepare the snow for putting up our camp. After we had our dinner we still were able to climb up a fell, as the sun only set past 10pm. This allowed us to get a spectacular view on the sunset, and to have some downhill ski-fun on the way back to our camp site.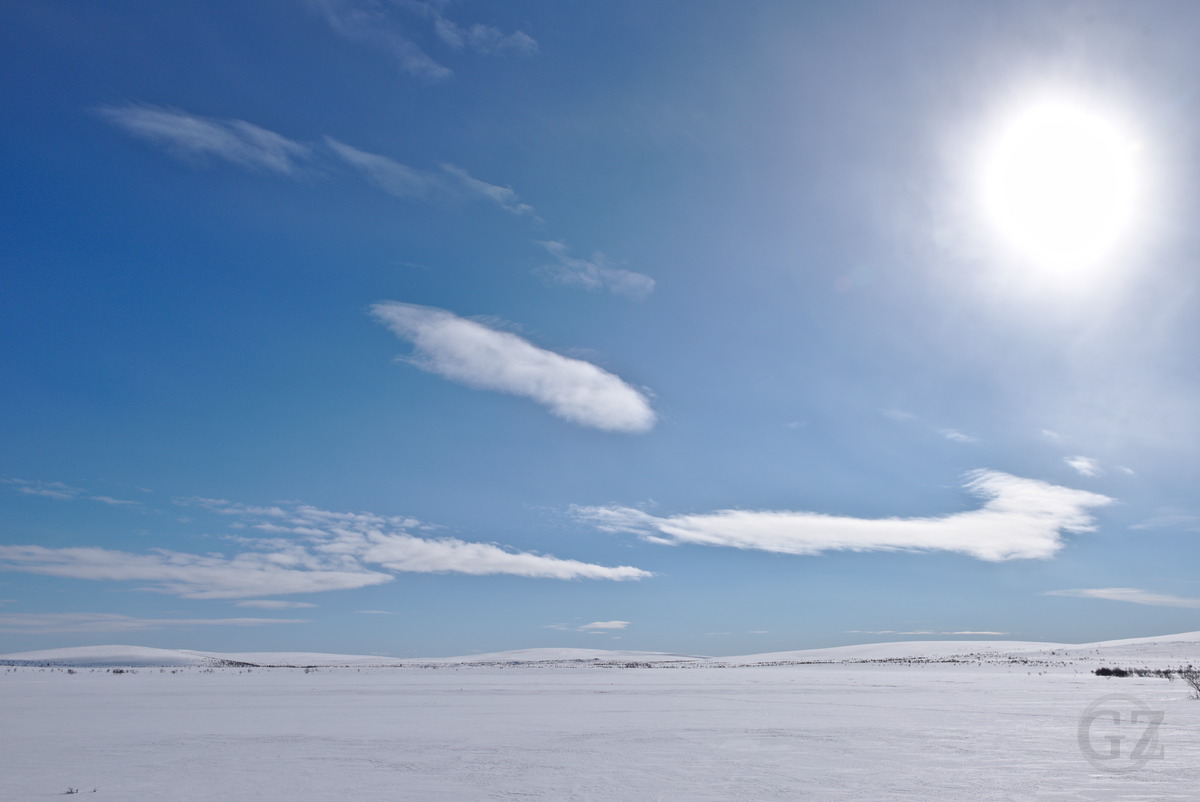 For the next day we decided to head east. After passing half a day through the open landscape of the snow-covered tundra vegetation, we found ourselves looking over a vast forest area ahead of us. Since we enjoyed skiing in the open, but also because the snow was getting softer at the beginning of the forest where we started to slightly break in, we decided to skip that idea and to turn north again, towards the lake Pöyrisjärvi.
During the next day we passed by some reindeer grazing grounds, and skied through diverse landscapes. Forests, snow covered wet lands, hills, open areas, etc. While most this day was cloudy and we also had some snowfall, in the evening – when coming closer to lake Pöyrisjärvi – the sky suddenly cleared up and we continued the last part of this long day in the sun light. This night we decided to simply stay in the Pöyrisjärvi autiotupa (open wilderness hut). As we had a long day on our skiers, we were already tired when arriving during the sunset.
Perfect weather: Warm spring sun and great visibility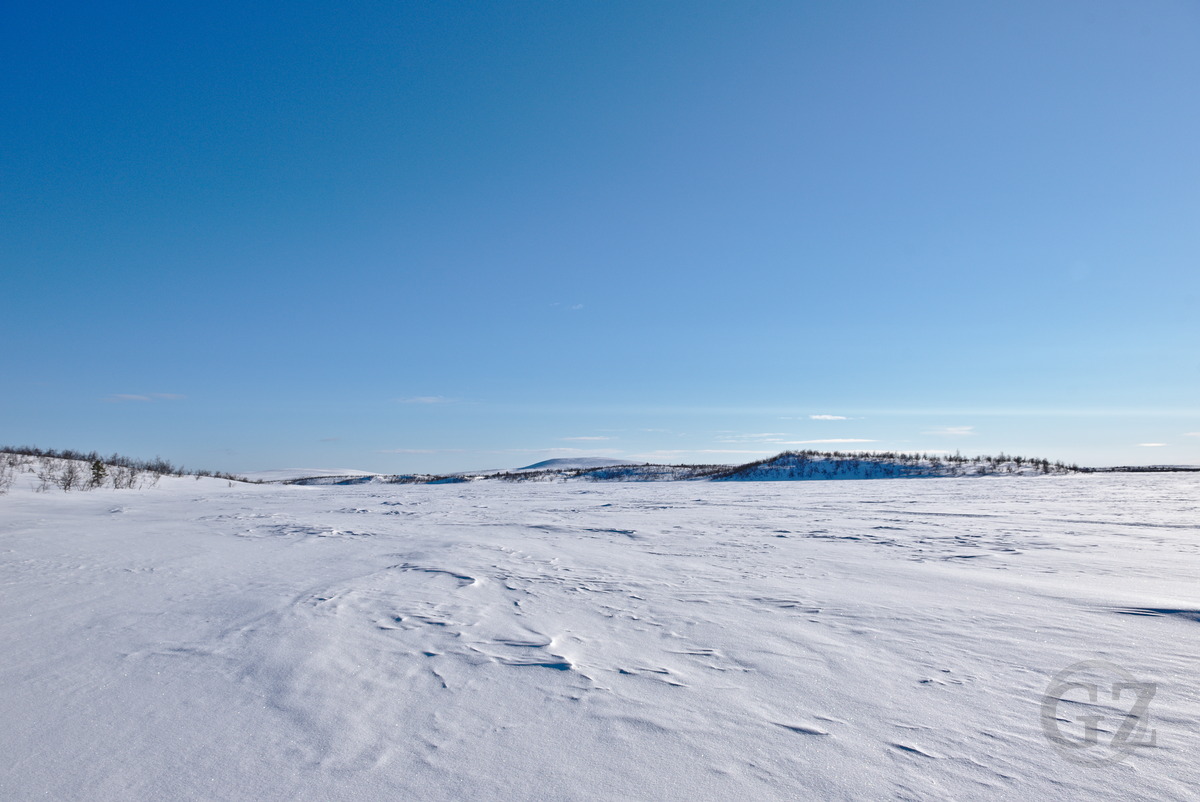 In the next day the sky presented itself as in the evening the day before. We saw hardly any clouds during the whole day, while we were skiing again through the open landscape of tundra area. Since we were already on our way back to Hetta we decided to close our loop again near the Näkkälän välitupa. While at the begin of our trip we crossed lake Olkojärvi from west to east, this time we crossed the lake north to south. It was quite interesting and we really enjoyed seeing our previous autumn camp site from the perspective of the lake.
Altogether we spent a week on this skiing trip. We had amazing weather most of the time, with the intense spring sun melting up just the top layer of the hard-pressed tundra snow cover. This was indeed a fantastic skiing trip through different kinds of landscapes. While we preferred to built our camps closer to forest vegetation, we spent most of the days passing between fells and skiing through tundra area.