While I did a lot of cross-country skiing this winter, I haven yet managed to go on longer skiing trips. Since the temperatures suddenly rose and I had some time for a skiing trip, with a friend we decided to ski to Porojärvi, in Käsivarsi Wilderness Area.
Early Spring Arrival & Deteriorating Snow Conditions
Until about April 10th, the temperatures stayed below freezing, providing perfect skiing conditions. However, around mid April the temperatures suddenly rose, and the snow conditions quickly started to deteriorate. Yet, I haven't had yet managed to go for a skiing trip this year, so it was about time! With a friend we agreed to ski somewhere near Kilpisjärvi, where the altitude in the Käsivarsi Wilderness Area is a bit higher. So we got the idea to ski to Porojärvi.
From Kilpisjärvi many people start their trip to Halti, where the highest point of Finland is located. Expecting lots of traffic and people, we thought to better stay off the main route. Also, because we were limit in time, we thus decided to ski to Porojärvi, which is north-east from Kilpisjärvi, close to the Norwegian border on the east side of the arm of Finland.
Skiing through the fells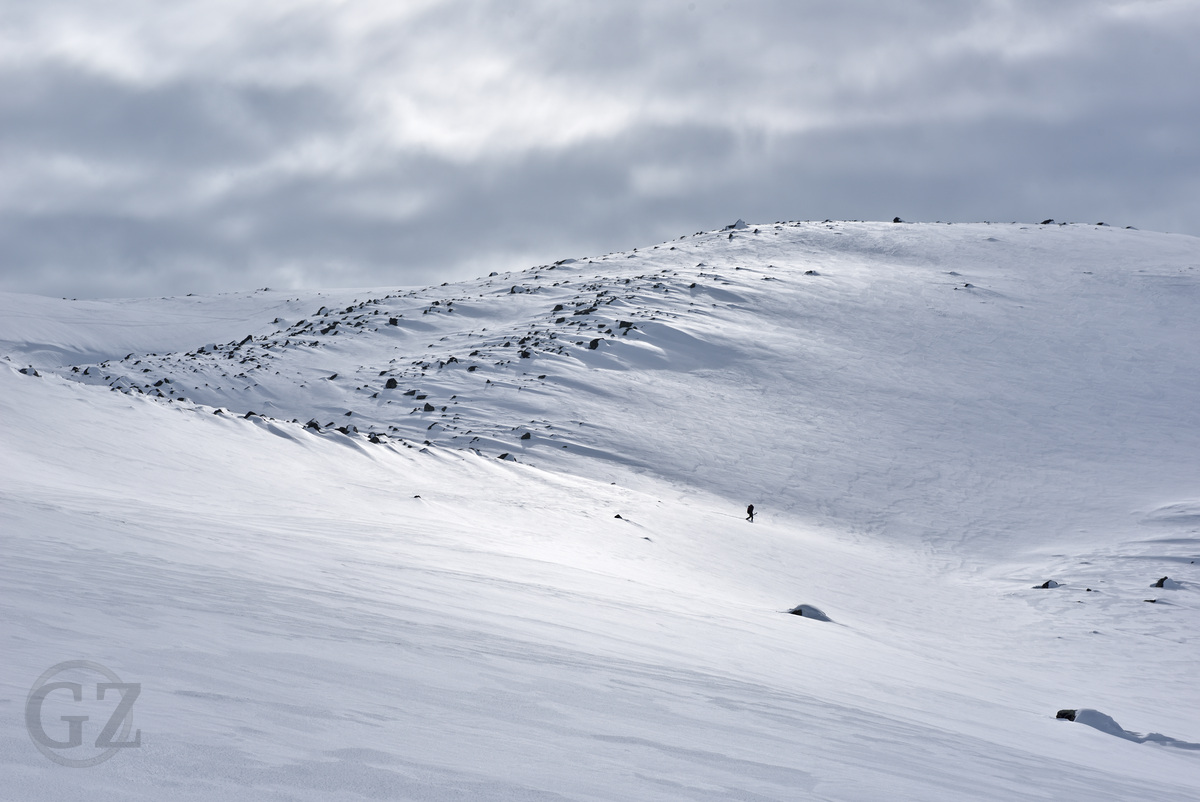 The main route to Halti, which especially this time of the year is crowded with people, trails relatively boringly in-between the fells. This makes skiing – that is, the generally more fun downhill part of it – pretty boring. So instead we planned to rather ski over the fells than in-between them. Not only more fun – but also nicer views guaranteed.
Because I have been skiing in that area a few years ago, for nostalgic reasons I proposed to start by following my old route. To reach Porojärvi we basically just skied north-eastward from Kilpisjärvi, coming by Jollánoaivi or Porovaara. The weather was a mix between sunshine, cloud-cover, and snow fall. Yet most days we enjoyed some time in the sun, while getting out of the tent with some fresh snow on the ground.
Reaching Porojärvi
Having that said, the days, especially during the sunny periods were already quite warm, with probably around 5 or 6 degrees Centigrade. Nonetheless, most of the time the snow still hold our weight pretty well. Only when we came down from Porovaara, in order to reach the open wilderness hut Jogasjärvi, which is located close to Porojärvi, we started to break through the snow. Considering that in previous years I was skiing until mid of May on hard snow, this was somewhat surprising. Yet, in the end this winter and spring turned out to haven been a relatively warm one.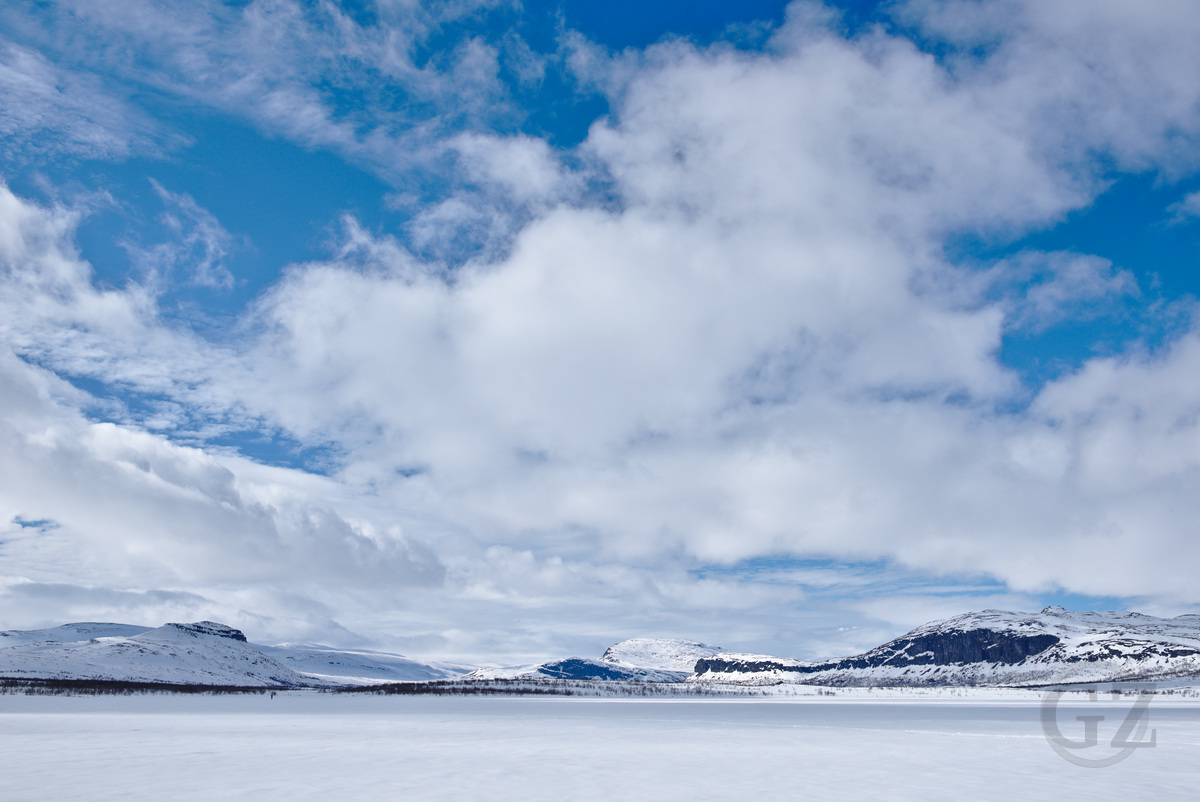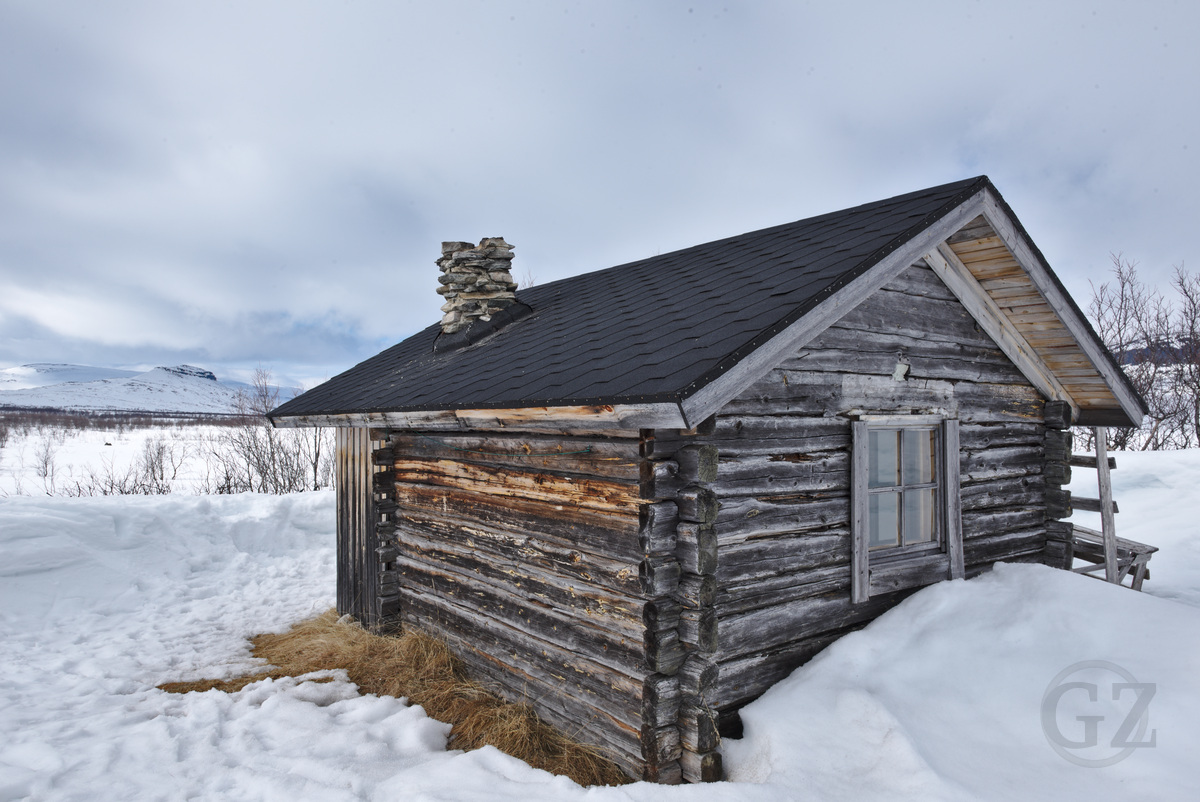 Anyhow, the last few Kilometers where thus quite exhausting, so we were quite happy to finally have reached our final destination. While the other nights on this trip we spent in my tent, for this night we took the comfort of sleeping in the open wilderness hut "Jogasjärvi." The hut was really comfortable, while being rather small and simply equipped (open fire place, no gas stove, only 2 bunks). To our luck, despite the many people being around in the area, we had the hut for ourselves that night.
Skiing along the Highway: Engines, Noise and Stench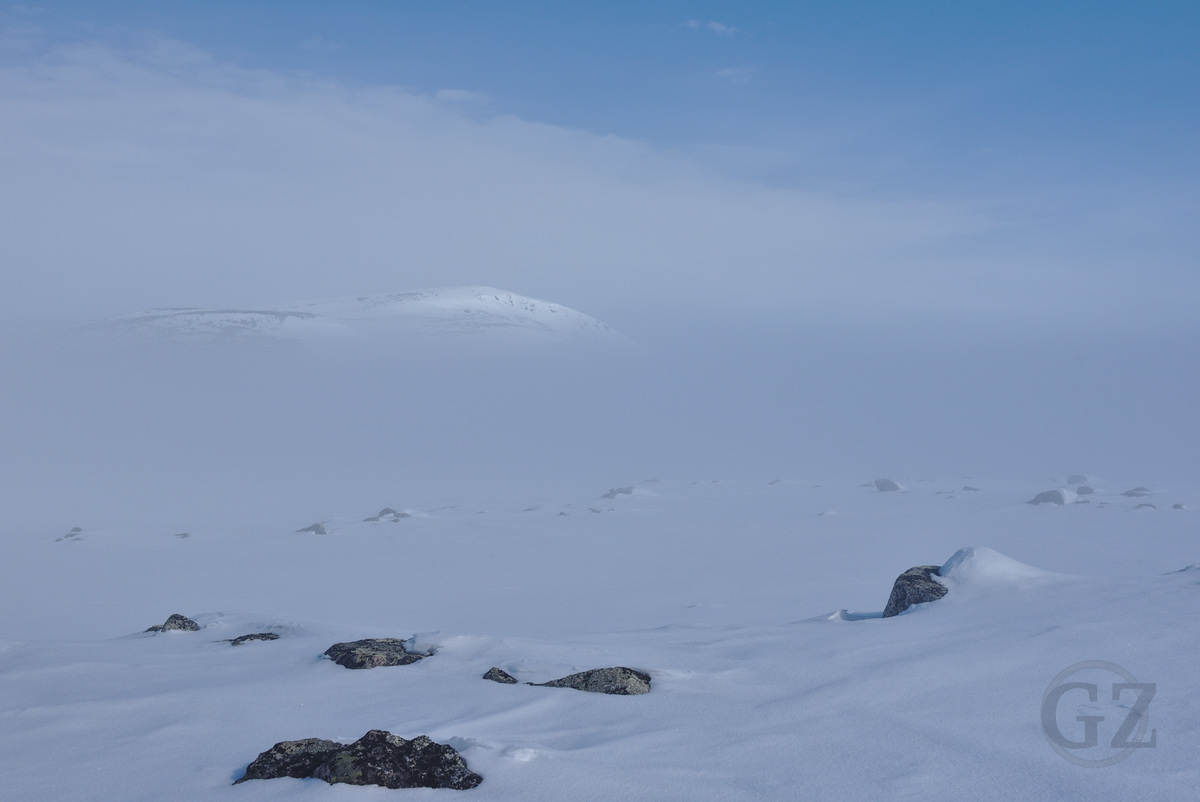 At the beginning of our way back to Kilpisjärvi we first continued to make our own way. Only late in the evening we eventually went onto the main trail, and followed it toward Kilpisjärvi. We only met a few sole skiers and some people enjoying a husky ride, but fortunately got spared by snowmobiles. After another night in our tent, where from our campsite we first enjoyed a clear and beautiful night before some magical fog in the morning, we continued our way along the main trail. Unfortunately, and for whatever reason, in Finland it is allowed to use motorized vehicles such as snowmobiles in the wilderness area, which pretty much spoils nature with toxic and bad smelling fumes; from the constant noise not even to mention. That day we got taken over by dozens of snowmobiles, which pretty much ruined the beauty of the wonderful, surrounding nature.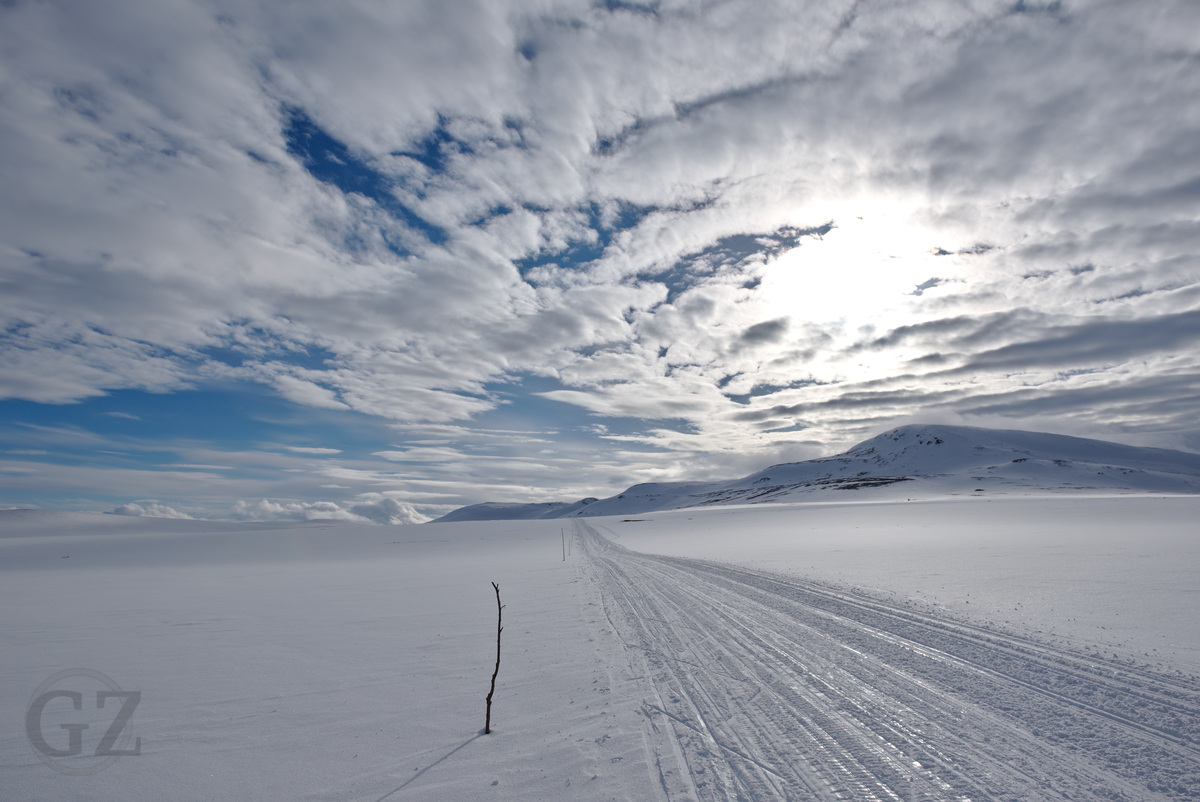 The trip and route we took to Porojärvi was basically wonderful: crossing frozen lakes, skiing over and down from fells, sleeping outdoors. I really enjoyed the first part of the trip a lot. However, on the way back we also followed the main trail between Kilpisjärvi and Halti. This reminded me rather on walking on a highway than being in nature. Noise and bad fumes really spoiled the experience. Despite being in a magically beautiful landscape, I am not sure if I will return soon to that area. It is a shame that Finland allows such a horrible mess in this beautiful area.