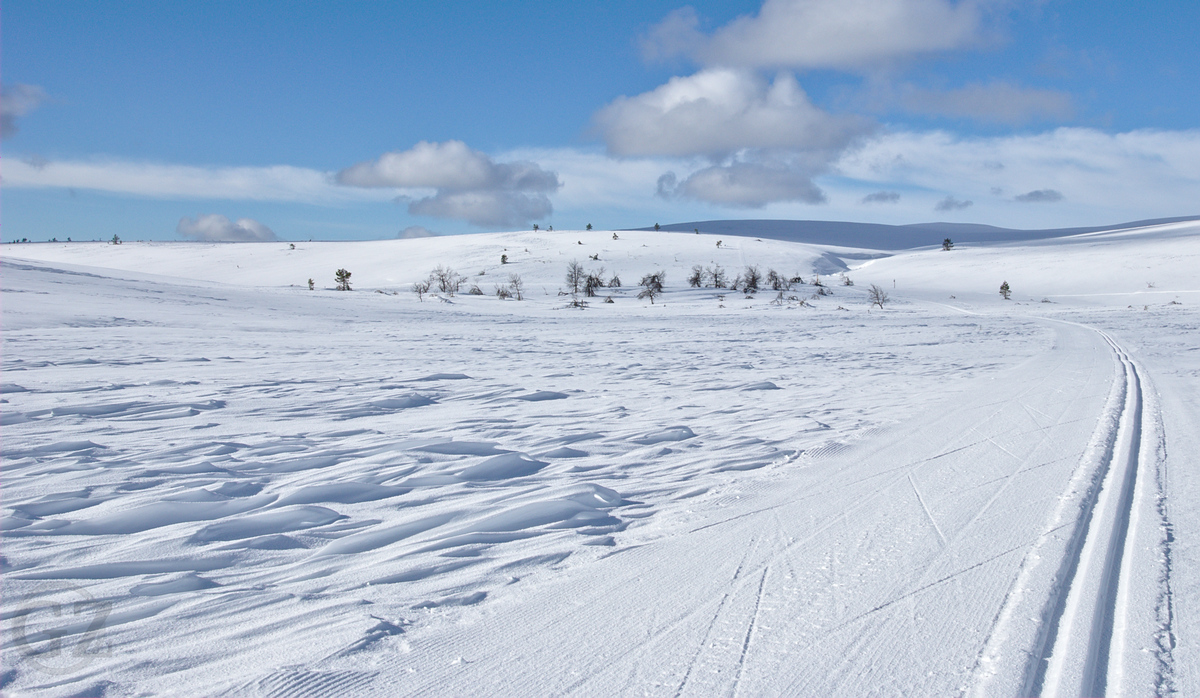 While I have been traveling for about a week, I was looking forward to come back home to Enontekiö and to take advantage of the snow before it is gone. When a friend told me, he was planning to ski to Hannukuru from Pallas, I thought, it would be a pretty good destination for meeting him and furthermore to jointly enjoy the amazing sauna in Hannukuru.
*   *   *
This winter I didn't have much time to go skiing, especially not for any longer kind of trips. After a generally warm winter, April felt particularly warm, and when I had to leave Enontekiö on the 20th, I was afraid that when I come back home the snow might already be gone. However, just a few days after i returned, we fortunately got some 5 to 10 centimeters of fresh snow, and the temperatures dropped below freezing again. The snow has already been quite slushy before I left (and as I have heard and read from another blogger also while I was gone), however, after the temperature dropped again (with temperatures down to -15° Celsius during the night), also the snow became hard once more, and made a pretty good layer to ski on. Thus I decided to simply take my regular classic cross country skiers (instead of the long and heavy "metsäsukset"), even though I knew that the snow groomer only one more time (and for the last time this season) had prepared the tracks to Sioskuru a few days earlier. Nonetheless, I was convinced that also after Sioskuru the snow would be strong enough to hold me on the thin skiers – which it perfectly did.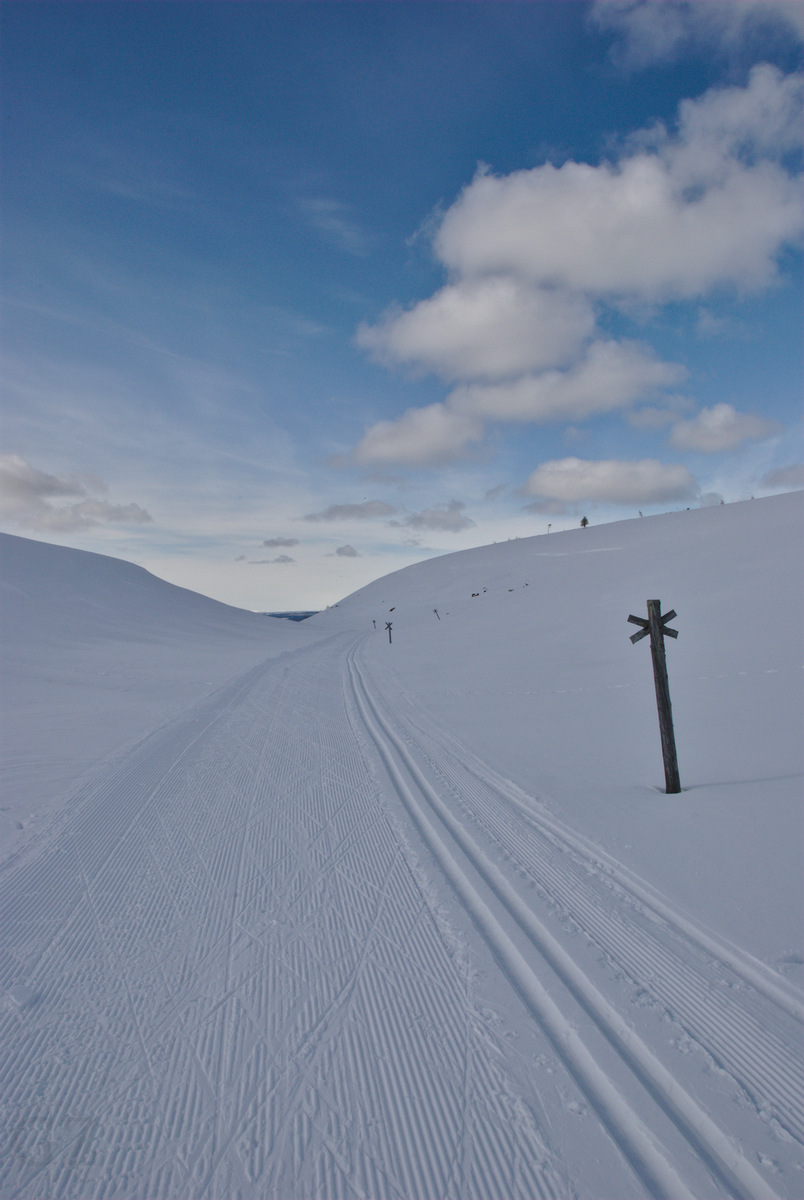 So, as said above, the plan was to meet my friend for a common sauna turn in Hannukuru in the evening. I only left Hetta in the afternoon and hoped to have a slim layer of slush on the tracks to Sioskuru – instead of ice. However, it was cold enough that the snow was hard on top as well, and the tracks where pretty icy most of the time. Only after reaching the tree line, when I came up to the fells, the snow conditions changed in my favor and it became easier to ski. While I expected to have no tracks from Sioskuru autiotupa to Hannukuru, there were some tracks of snow mobiles along the winter trail. Actually, also when I was skiing up the first hill, two reindeer herders passed by with their snowmobiles.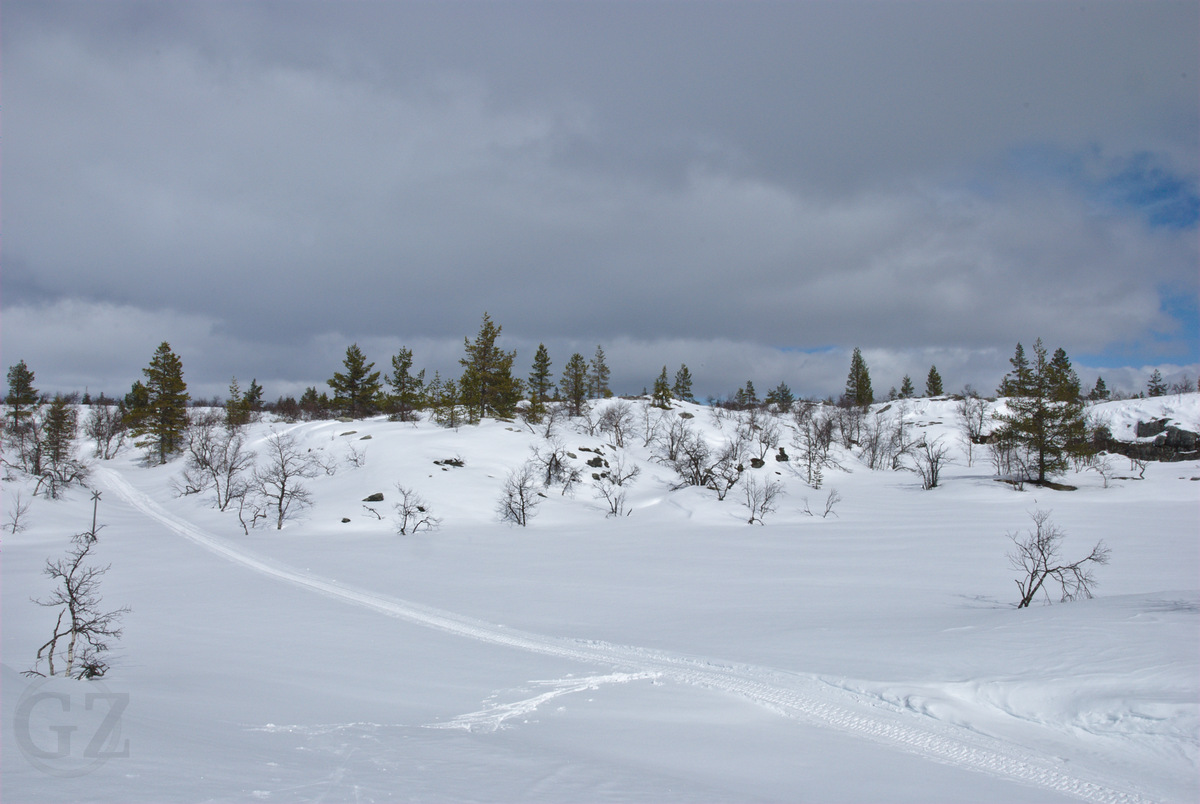 Besides the reindeer herders, there were not many other people in the fells any more: Since the tourist season is over (and I think the hotels are even closed until summer season starts), the fells felt pretty empty from humans. On the way to Sioskuru I only saw very few people skiing, and from there to Hannukuru I only met one couple of skiers, coming from the opposite direction. The comfortable absence of people also continued in Hannukuru, where – except for my friend with his hiking mate – no other people were at the autiotupa – or at sauna. I was really glad to see my friend again, who lives further South, and to go together to sauna with him, as we also did sometimes when we were neighbors in Rovaniemi. However, since we all were a little tired after our skiing day and sauna, the evening remained rather short.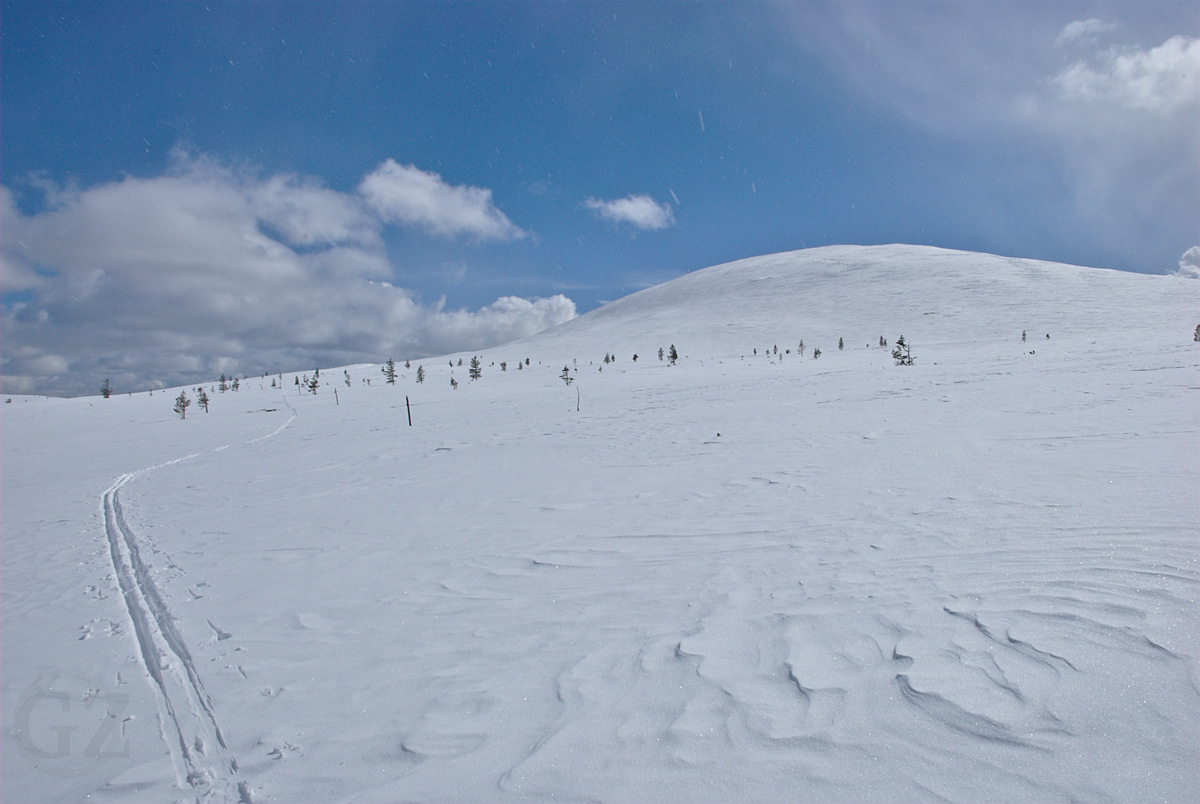 In the next morning our paths separated us again: They were skiing back to Pallas, whereas I returned to Hetta. Also this day I had really beautiful weather since it was mostly sunny during the day. Because of the good snow conditions and sight I had planned to take the summer trail for some part. After leaving Hannukuru and coming up to Rouvikuru, I took a little break to enjoy the view toward Pallastunturi. Whlie I was sitting there in the sun and eating some delicious "Speck" from Austria, I decided to ski up the fell next to me. Since the snow was pretty hard (in some parts a bit icy), I had no problems skiing off the tracks, and reached the summit of Rouvivaara soon after. From there I skied cross country toward northwest, until I reached the summer trail. Because clouds were coming and it started to snow a little bit, I wanted to be on the safe side and to ski along the marked trail instead of continuing cross country. However, the snowfall remained light and sight stayed pretty well. In fact, I was skiing in the sunlight, while the light snowfall made me hope to not have icy skiing tracks when coming closer to Hetta. Getting closer to Sioskuru, I then also found some other traces of hikers that skied along the summer trail, which made it even easier and faster for me to ski, since on the Northern site of Rouvivaara the wind had partly accumulated some snow from the days before.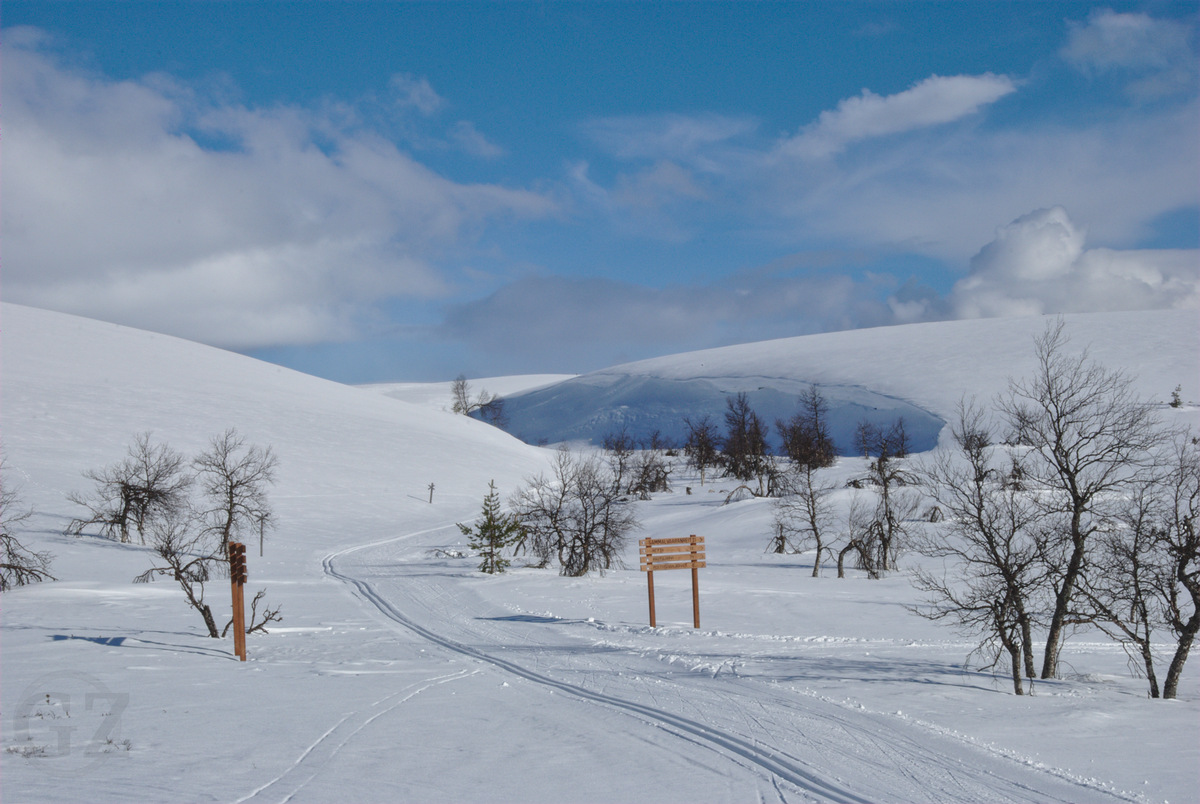 In Sioskuru I decided to make a break and have some lunch. After the short break I continued my way toward Hetta. When I left the open wilderness hut where I had my break, it still was snowing a little bit. This actually made me glad because I knew that I can once again argue in my blog that there is always precipitation when I come to or pass by Sioskuru. So the weather also this time didn't proof me wrong. Although I have to admit that it was just a very light graupel shower and only enough to be able to claim some precipitation. Basically I have to admit that it was almost perfect skiing weather, which is why I was very surprised that this day I didn't meet or see any other person all the way from Hannukuru until reaching Hetta.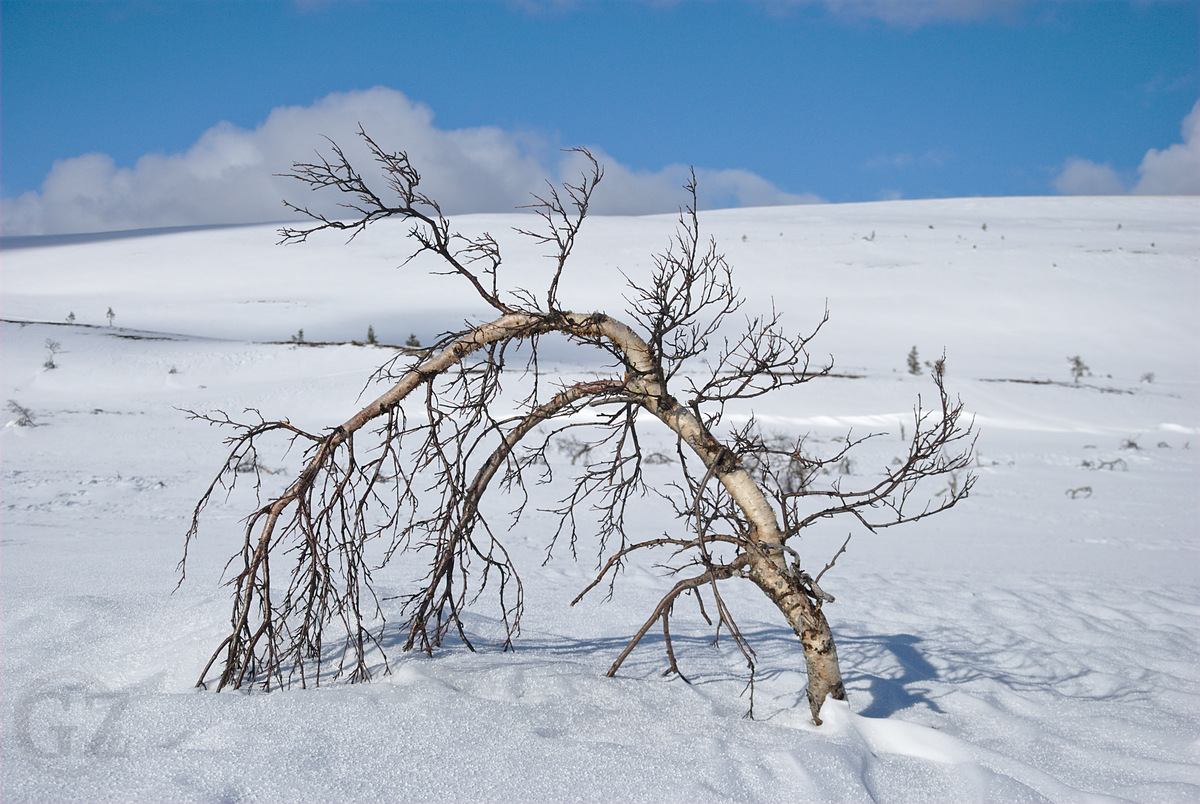 Due to the fact that there was only very light snowfall, also the maintained skiing tracks were still icy. While this was a pain in some places uphill, it made downhill of course much faster – sometimes maybe even a little too fast. Anyhow, after I have reached the highest elevated point on Pyhäkero, I quite quickly made it all the way down to lake Ounasjärvi, where at around seven in the evening, the sun was still standing high. Despite the warmth earlier this spring, the lake remained frozen solid and I haven't spotted any open water surfaces yet. Thus it is still safe to cross the lake. Anyhow, after I reached the other shore, I walked home and was pretty much looking forward to go to sauna. Once again.