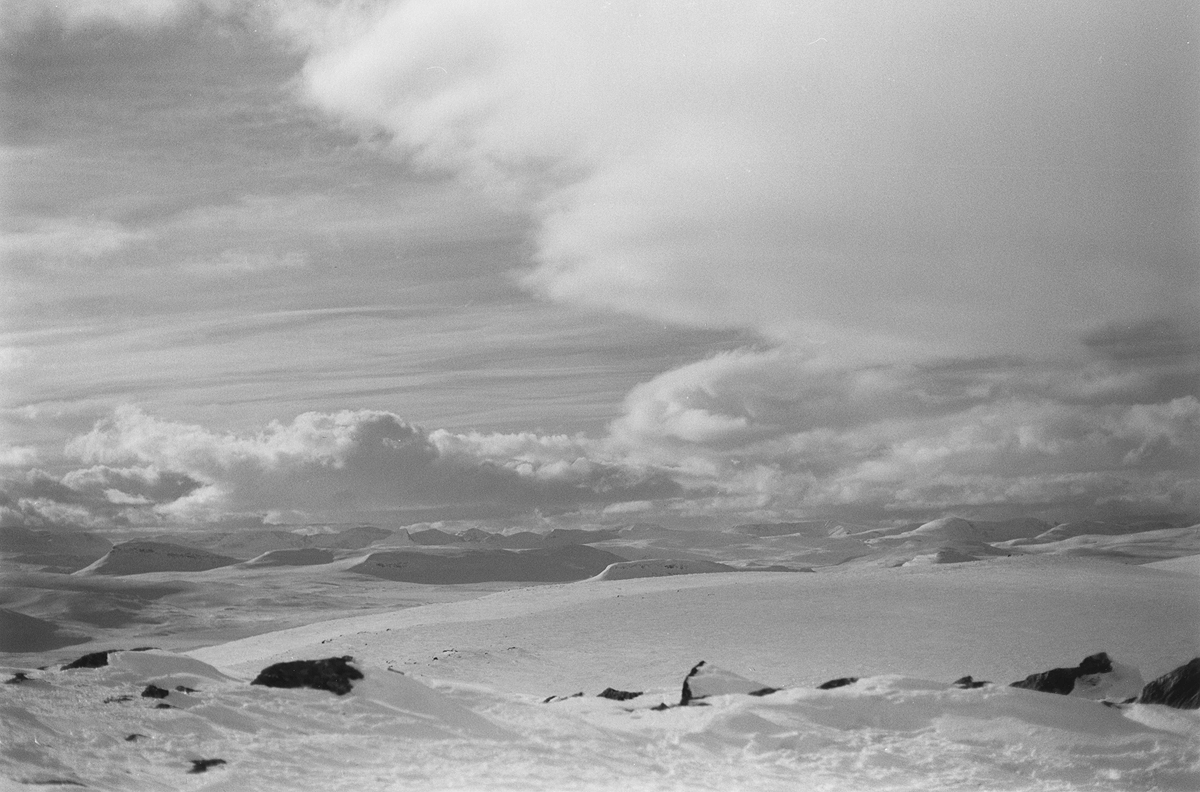 In April I kind of felt like needing some mountains around me, especially because I really wanted to go skiing. Alpine Skiing! Rovaniemi and its surroundings is really great for cross country, but suffers from a total absence of mountains – like Finland in general (I'd say, even if not everybody agrees). However, close to the Norwegian border, in the very North-West of Finland, there are some (the native Austrian would say: almost) mountains, that looked inviting for skiing when I passed by there in January, on my way to Tromsø.
So it was pretty easy to make a decision. In a week where the weather forecast promised good and not too cold weather (my sleeping bag unfortunately has its limit already at -15°C) I spontaneously decided to grab my back-country skiers, my tent, and my other gear and took the bus to Kilpisjärvi. Arriving there in the afternoon, the first day was a rather short one and I only went towards the Norwegian border, when I had to build up my tent, as the thick fog didn't allow me to find the way on the (from the wind blown away) trail any longer: it was really hard to see from one marker to the next one, so I decided to prepare for the night. The next day, the same picture. No sight, only white in white, so I hung around the tent and spent the time reading. Only late in the afternoon, the fog lifted a little bit and I walked to Norway (I didn't know earlier, that I was just about 50 m from the border). Anyhow, that day I was not very sporty, but at least it ended promising more visibility for the next day.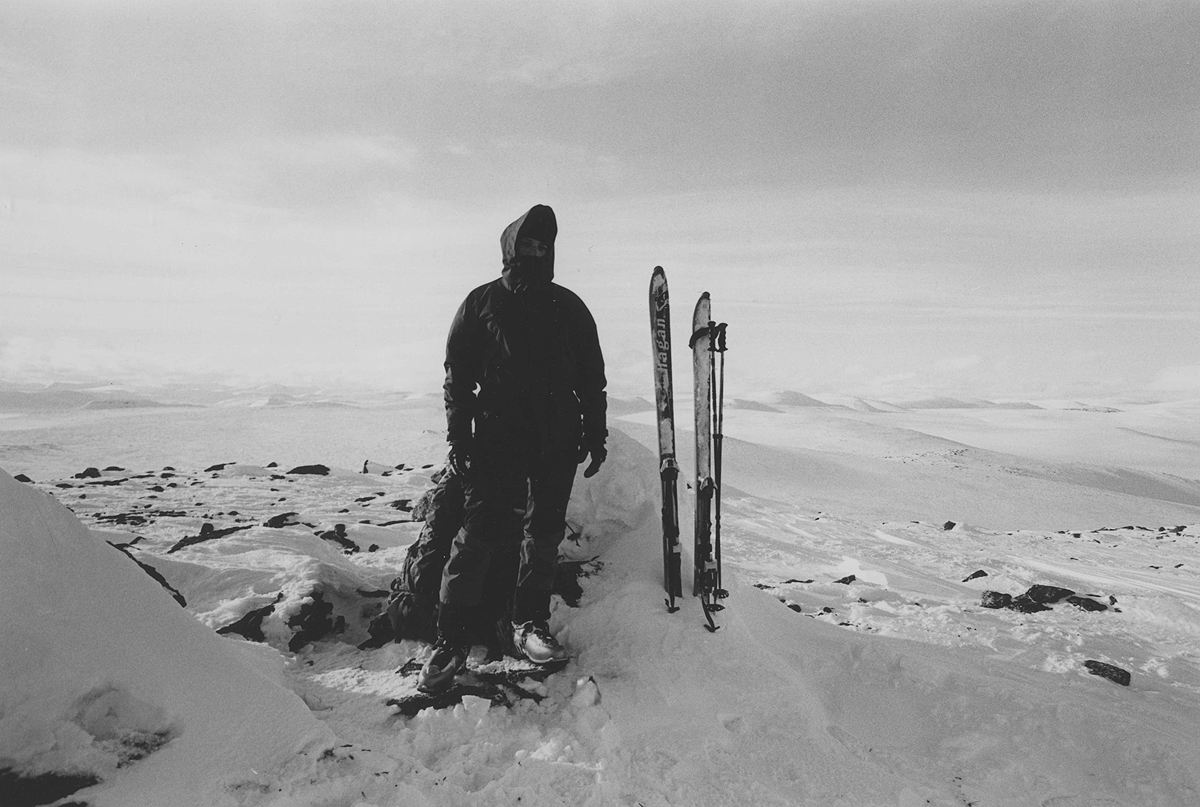 Which was true. With my Alpine back country skiers (they are definitely not made for hiking in flat areas, they need mountains!) I continued. On the first few kilometers on the trail, I twice met a big group of snowmobile bikers, which seriously disgusted me (those things smell like hell and make noise like being in a huge mine) and lead me to the decision, to leave the trail. So I headed East (instead of North) until I found myself in an elevated, small valley, which looked really cozy. I decided to build up my camp there, and spend the next days with doing short skiing trips to the tops of the surrounding mountains. It was a bit tricky though to build up the tent, as there was really heavy wind all the time. So to make it easier and sleep better, I first cut out blocks of the compressed snow, and made a wall on the side the wind was coming from (reading the valley, the wind apparently most of the time was coming from West).
Starting from that "base camp" I then spend the next two days just skiing up and down with my old back-country skiers, and to rediscover the pleasure of old-school skiing without carvers – the way I learned it, when I was a child. I enjoyed that so much, that even late in the evening, after I have already been back at the tent, I went a few more times up and down the hill, on which foot my tent was built. Even though I would have enjoyed spending a few more days with skiing, I had to go back to Kilpisjärvi, to catch the bus back to Rovaniemi. Since I wanted to make sure to catch the bus, I decided to spend the last night not too far away from the village. Unlike all my campsites in the tundra area, the place that I reached very tired in the evening did not have a hard snow layer on top, which I only discovered after – and because of – getting of my skiers. Nevertheless I somehow managed to stay at that place (when you lay on a mattress, your surface contact is big enough to not sink into the snow; a fact I should have reminded for going to pee also later in the night; however, now I know what a tunnel tent is ;-) ) and came in time to the bus next day.
All in all, I really enjoyed this short trip. Mostly, the weather was beautiful, and the temperature never dropped below -12°C, so my sleeping bag was sufficient :-) For not freezing off my ass, I also have to thank a friend of mine, who updated me with the weather forecast, to know about the expected temperatures (good that I went skiing: on the top of the hills the mobile got reception). That way I was able to enjoy one of my most amazing weeks I have had in Lapland, so far …
The pictures were taken on Kodak Tmax400 and Tmax100 films, developed in D-76. The color pictures were captured on a Kodax Ultramax400. What you see are scans of some of the prints I made.
UPDATE 2012-11-18: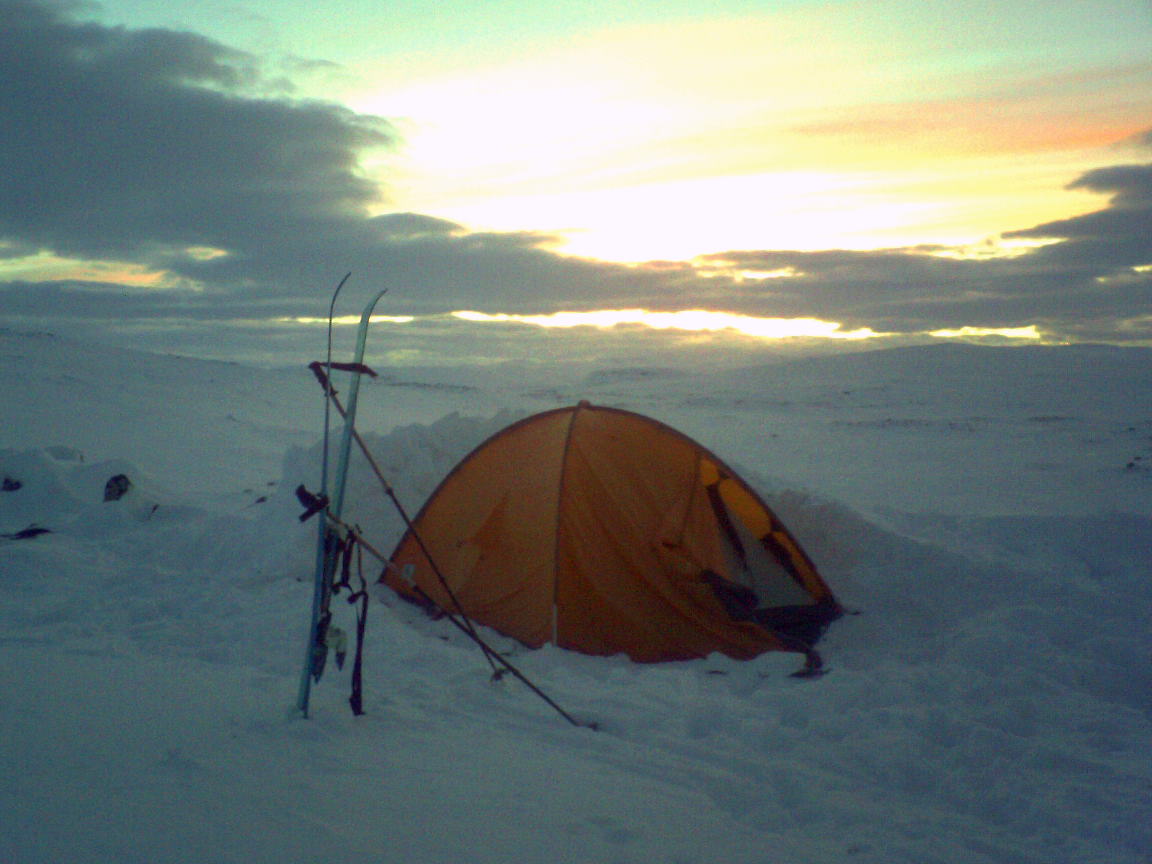 I just recently discovered a picture of my wonderful camping ground on my mobile phone. Unfortunately not a good quality, but the only picture I made from this spot. So I thought, I still could add it here ..