Earlier this year I got a new pair of skiers that should compromise between distance and downhill skiing, with a light telemark binding. Living near Pallas-Yllästunturi National Park, I thought it might be a good idea to test the new equipment there before going for longer trips with it. Thus I decided to ski into Pallas-Yllästunturi National Park, spend two nights in the Rautuoja open wilderness hut, and used the days to ski up and down the nearby fells Outtakka and Rautuvaara.
Rautoja autiotupa
The first day, on my way to Rautuoja autiotupa (open wilderness hut), I had nice and sunny weather. Since I was in kind of a hurry to reach the hut before darkness, I didn't take out my camera from my expedition pulk once for the entire day. Indeed I only arrived after the sunset, just with the last light of the day.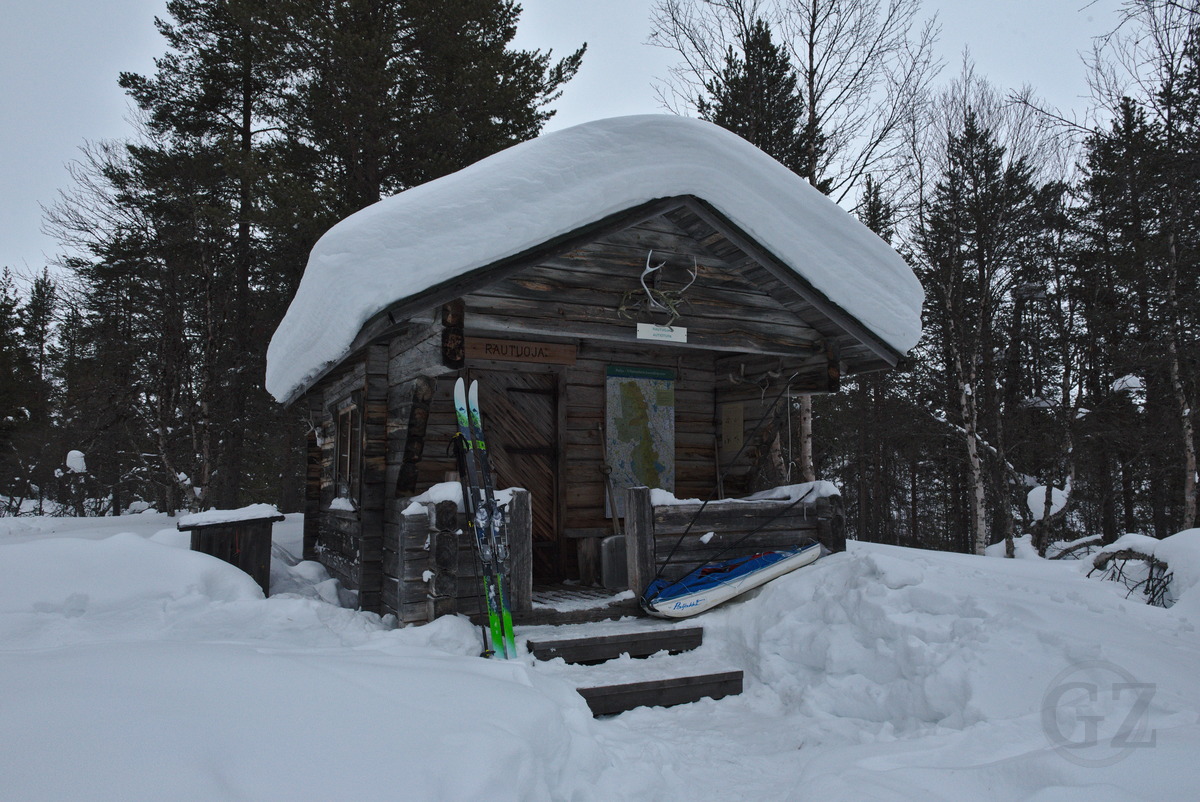 Over night the weather changed and snowfall set in. When I stepped outside the cottage the next morning, I found myself in a white landscape with little contrast. Nonetheless I took some food and my camera with me to climb the nearby fells and take some pictures – even if the sight was quite limited. Yet, I really much enjoyed skiing during this day, and testing out my new set of skiers and boots. Actually it came quite handy to have new skiers and sharp steel edges, as the fells were mainly quite icy. After the skiing I returned for another night to Rautuoja open wilderness hut. The hut is rather small but cozy, with a sleeping surface that probably hosts four to five people. The cottage is also equipped with a gas stove, so it was easy and quick to prepare some supper in the evening.
Snow fall, clouds and wind
Originally my plan was to stay just for a night in the open wilderness hut and then a few more nights in my bivy bag somewhere in the fells, however, due to the weather forecast I decided to stay for another night in the autiotupa and then ski back home and postpone my multi-day skiing trip with camping to a later time this spring, when the weather would be more inviting.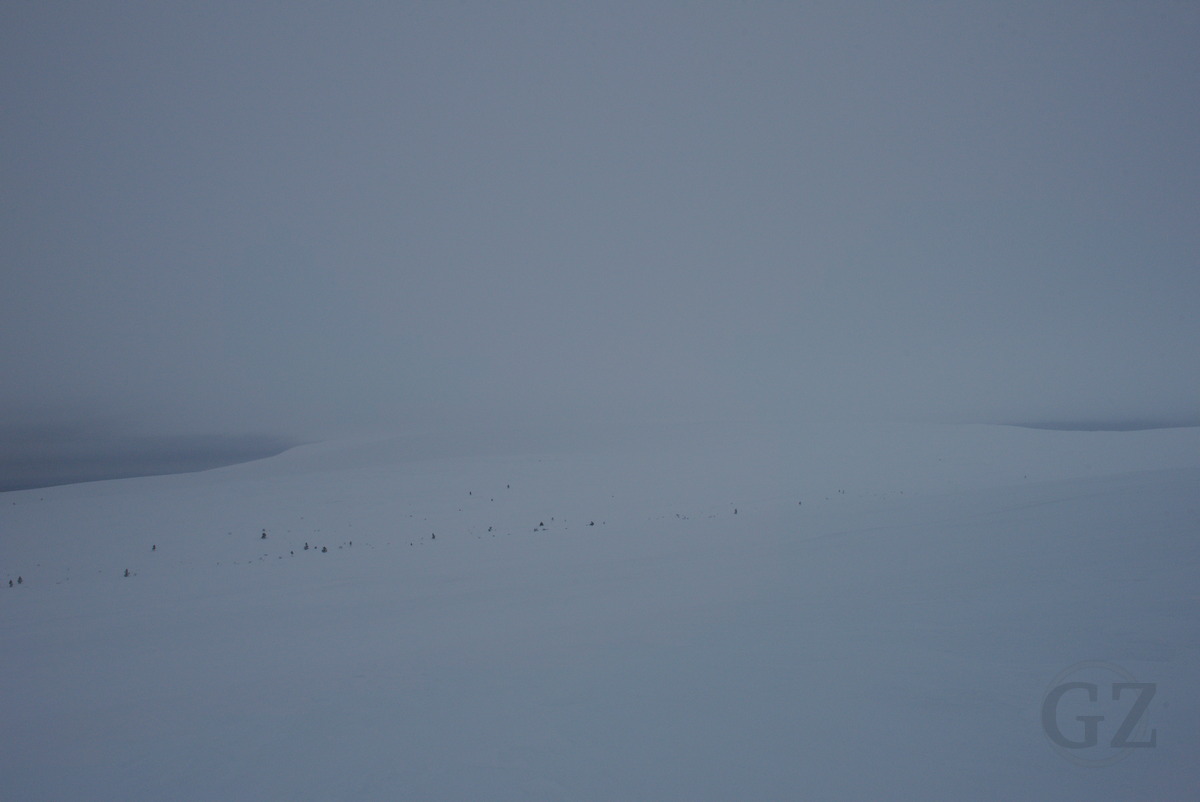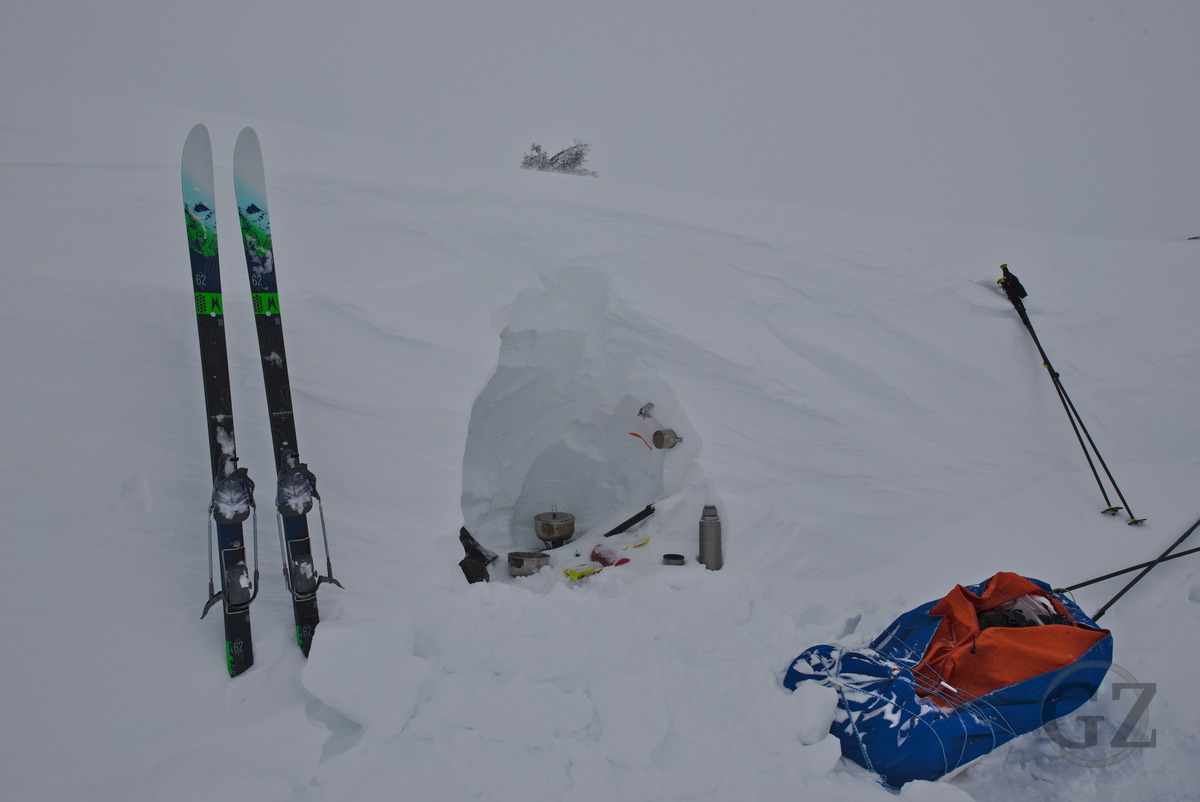 Thus I followed the Rautuoja valley up into the fells, from where I continued along the eastern slope of Rautuvaara. Most of the day I was skiing during continuous snow fall. Particularly when passing through the fells, strong winds made it quite difficult to see the surrounding landscape. For my lunch break I dug a tiny cave into a snow bank in order to get some wind protection, where I prepared my lunch and some tea for continuing my trip towards north. Close to Siuskuru I went onto the maintained skiing tracks, which I then followed all the way back home, to Hetta.
While the weather wasn't that great during this short trip, I got the chance to properly test and get acquainted to my new equipment, getting ready for longer trips to more remote locations at a later point.