During a short skiing trip in the evening, the clear nights sky served some nice northern lights, brightening up the otherwise dark landscape.
After I have been busy and traveling last week, I was glad to be back home and get the chance for some skiing. While the weather hasn't been most pleasant recently (warm and windy), at least there is a decent amount of snow. Since the sky cleared up in the evening, it felt like good circumstances for testing a new pair of skiers on the slopes of Jyppyrävaara, while warming up during the breaks at the fire place on top of the hill.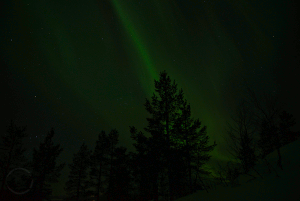 While preparing supper, as well as later on when skiing downhill, some nice northern lights danced along the sky and brightened up the landscape. Since so far the winter has been rather cloudy and windy (thus no snow on the trees either, unfortunately), there weren't too many chances to see northern lights so far. Thus, a good evening for great skiing: good snow, nice slopes, grilled supper, and a landscape brightened up with northern lights.