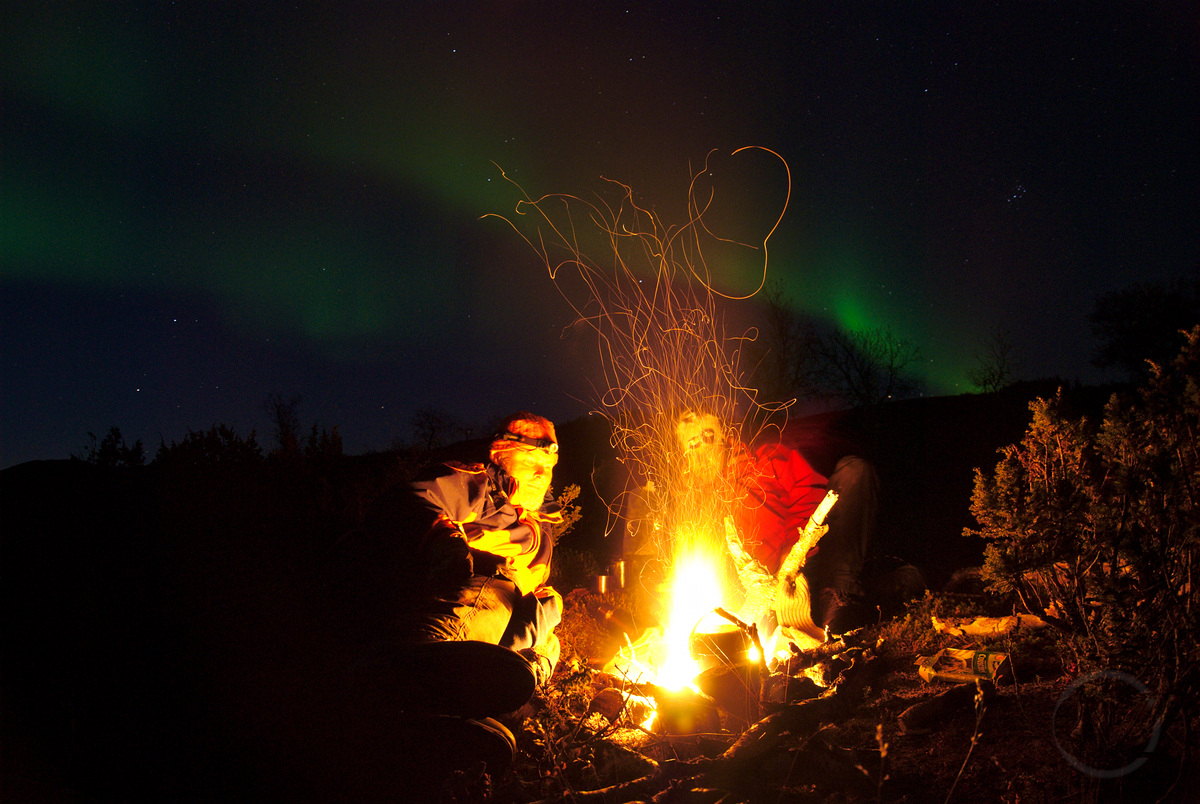 I strongly felt the urge to go for a hike a couple of weeks ago, so I decided, as so often in the past years, to hike in – or actually through the Pöyrisjärvi wilderness area. Once again. With a friend we enjoyed a wonderful hike, including the last summerly days of this year, as well as the first snowfall, which delighted us toward the end of our hike. We started in Hetta, came by Pöyrisjärvi, and ended our hike in Kalmkaltio, in the east of the Pöyrisjärvi wilderness area.
Testing new gear: Self-made bivy bag
About one and a half years ago I decided to design and sew myself a hybrid of a bivy bag and a one person tent for my hiking and skiing trips, and after creating a preliminary design, I bought some textiles at that point as well. However, I just couldn't find the time to finish the project, until this autumn. Of course I wanted to test it right away, so I was really looking forward to go for a hike during the ruska season. Unfortunately I couldn't leave before the second week of September (since I attended a very interesting workshop in the Oulanka national park), and thus missed the (so I thought) most wonderful time of the autumn, when all the trees are in their beautiful autumn colours. However, this anyway wouldn't have lasted for the whole duration of the hike, as the hike should have taken more than two weeks (This would also allow to get some distance from the crazy busyness that comes along with the mobile phone and internet age). Additionally I had to postpone the departure for a few days, as finishing the bivy bag took a bit longer than expected. Eventually it was almost mid of September, until the hiking trip could start. Since I really enjoy being in the Pöyrisjärvi wilderness area, and since I don't need any transportation to get there (because a hiking trail into this area goes by close to our apartment), I once again wanted to hike in the Pöyrisjävi wilderness area, which is in the eastern part of Enontekiö, and stretches up to the Norwegian border.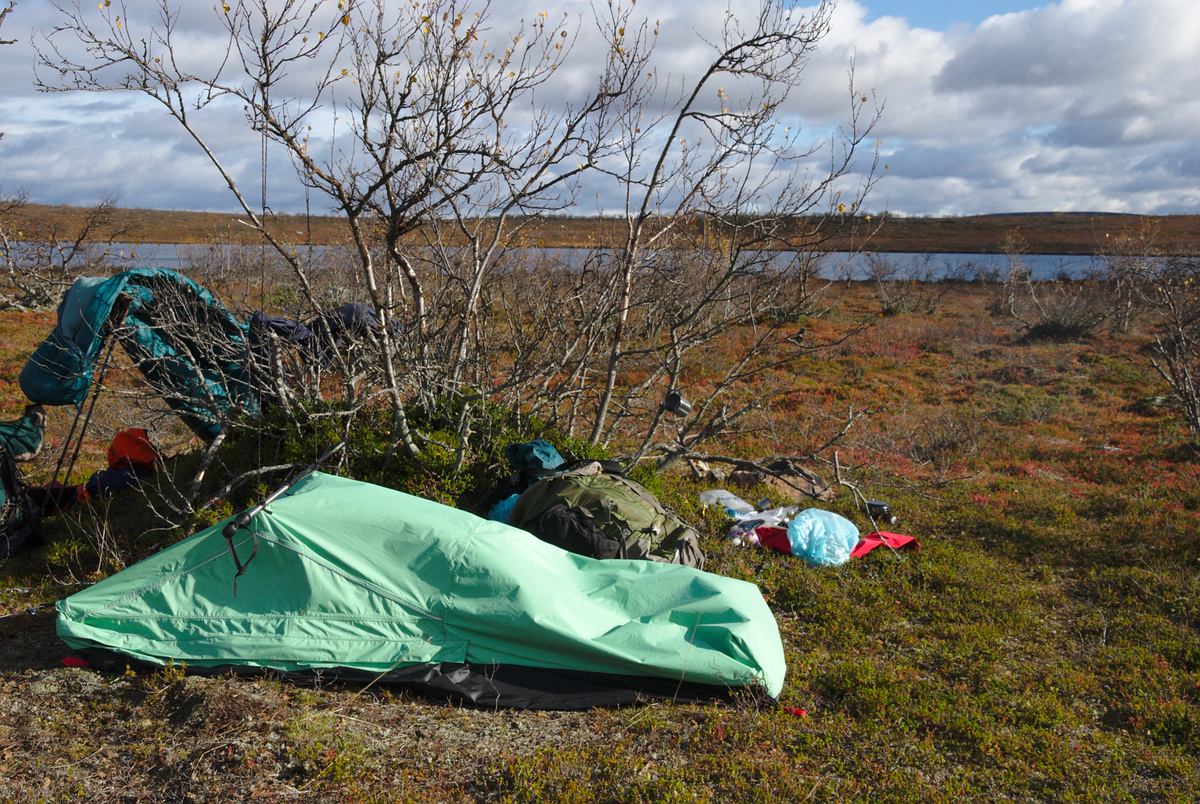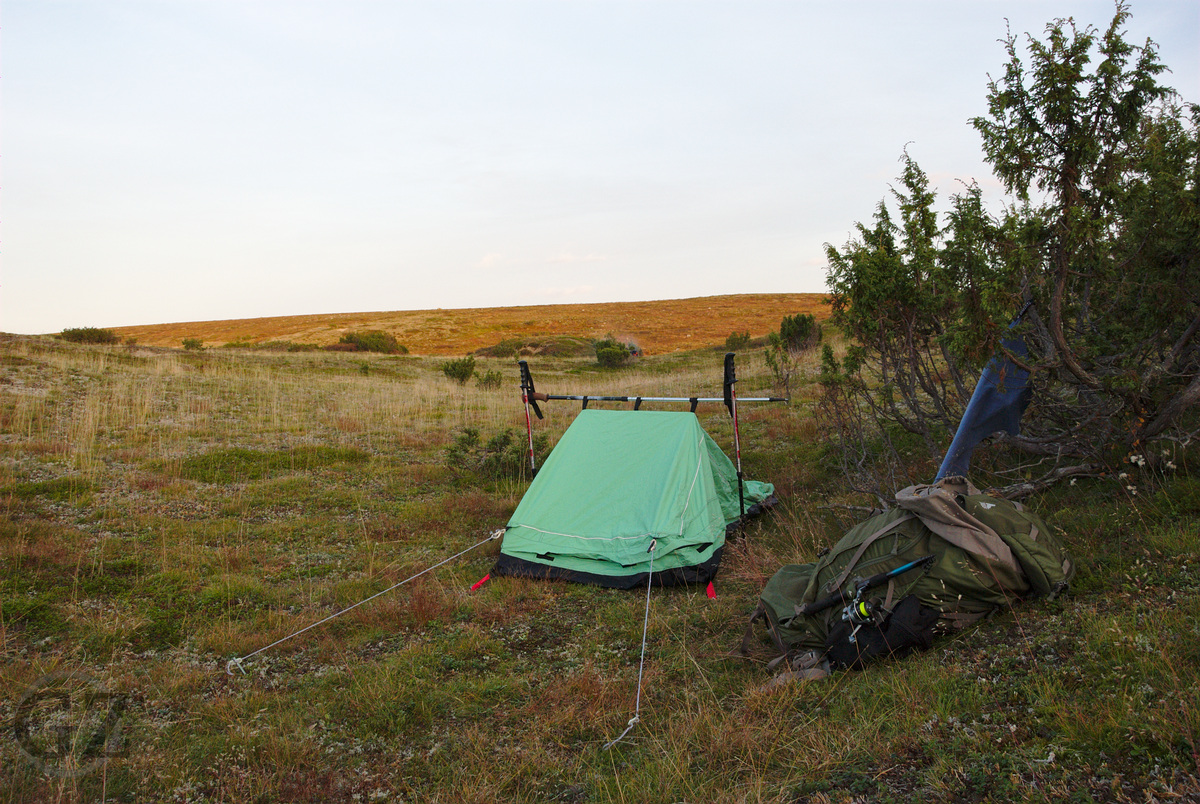 I will soon also publish more information and the patterns for this bivy bag.
Starting the trip in Hetta
When talking with a friend about my hiking plans, he got very interested and decided to accompany me. Thus, as the bivy bag finally was ready, he dropped by for a decent lunch, and we left Hetta late in the afternoon. Due to our late departure, we only made it close to the Näkälän välitupa, which is at half the way between Hetta and Näkälä, and we spent our first night there. When waking up the first time on our trip, my bivy bag already had to show if the material and the seams were waterproof, as the morning brought a few hours of moderate rain showers. Anyhow, after turning around and falling asleep again, my friend Stefan woke me at some point and started to collect firewood. Of course I didn't want him to do the work alone, so I helped him starting the fire, and after our breakfast I examined my gear: Dry! Hurray. Even though I knew now, that this sort of rain shouldn't cause any problems, I still hoped that I wouldn't need much of the rain cover functionality from my bivy. And indeed, we had an extended dry time ahead of us. At least regarding water coming from above.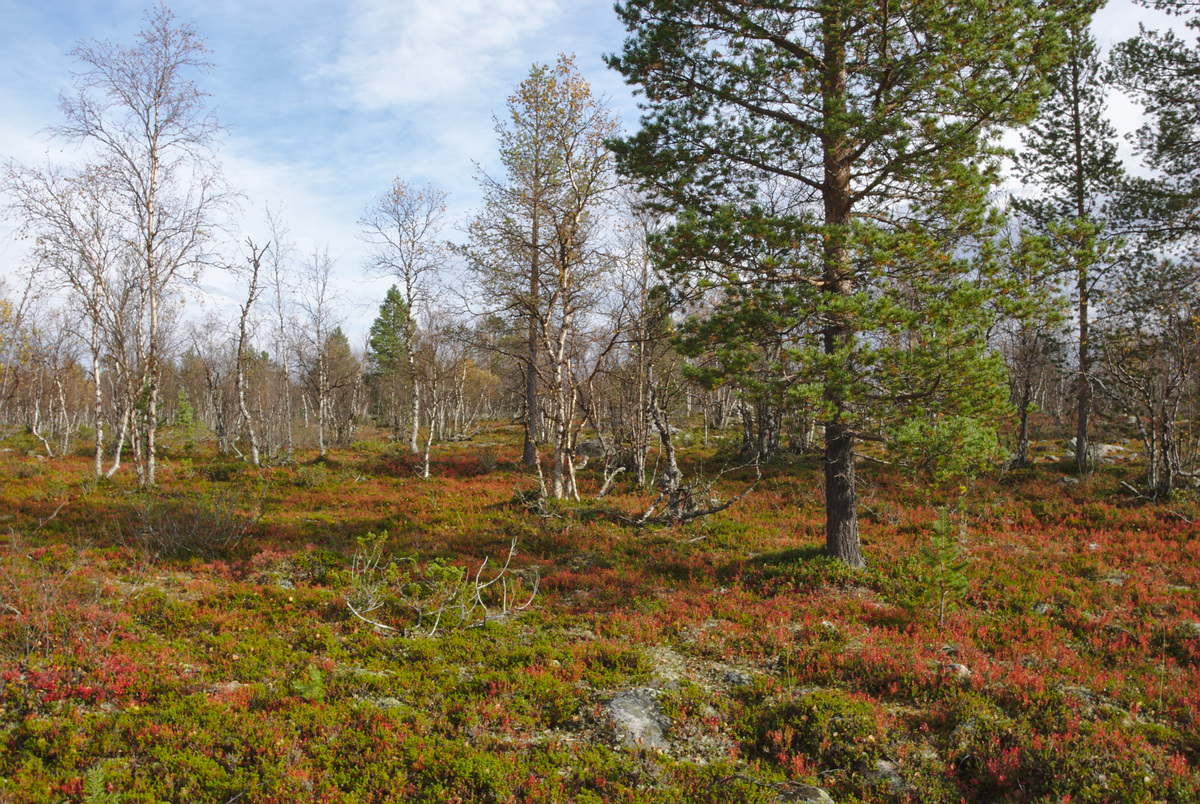 The first actual – or whole – day of our hiking trip, we fist needed to cross the Näkäläjoki river, which bought us into the designated Pöyrisjärvi wilderness area. With the luggage still pretty heavy from the loads of food that was supposed to keep our stomachs filled for the next more than two weeks, and with our plan to not hike fast but rather make plenty of breaks and enjoy every minute and place we would come by, we only made it up to Ragatjávri that day – a place where I wanted to stay overnight since years. So, we build up our campsite a bit away from the shore, along the border of the last small birch tress and the open tundra area.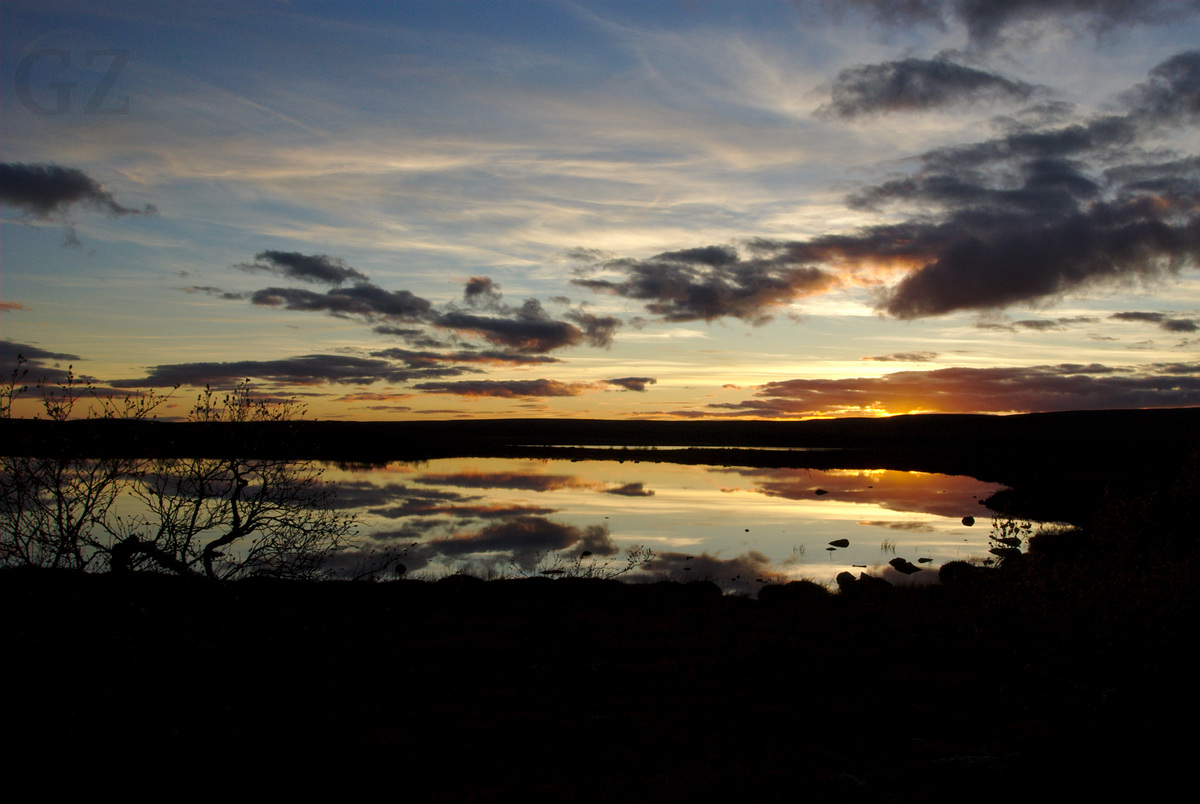 Because we had planned to go north of lake Pöyisjärvi, we also aimed to stay for a night in the open wilderness hut at the lake Pöyrisjärvi, but didn't arrive there before camping for another night along the way. After leaving Ragatjávri we hiked up Olkovaara, from where we got a nice view and where we also encountered some more (minor) rain showers. After staying this other night between two smaller lakes (that yet have not been named on the map), where we enjoyed a clear sky in the night, a relatively full moon, and a wonderful, not by light pollution disturbed view on the stars, we reached the Pöyrisjärven autiotupa (open wilderness hut).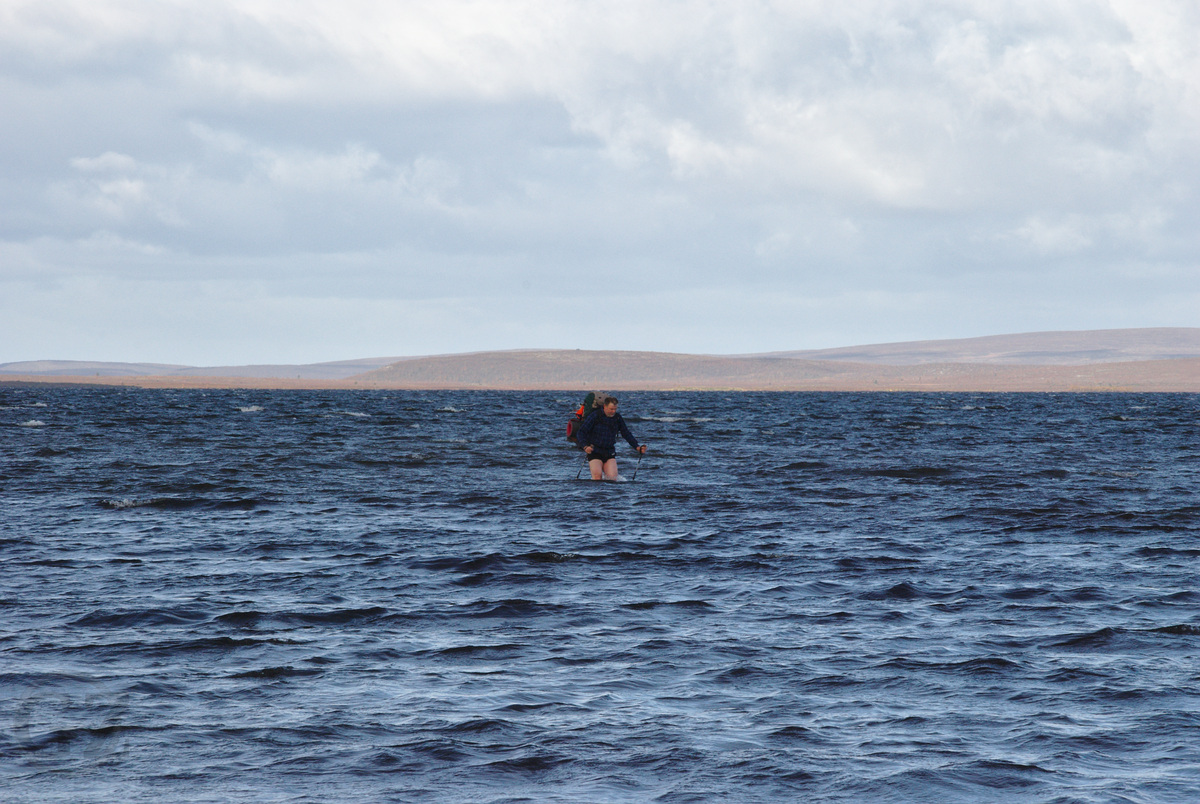 While we knew that we had to cross several brooks, rivers, and even lakes before reaching the open wilderness hut, with the hut in sight an attempt of checking how deep the water in the river to cross would be, ended up with me taking a short swimming session. While acknowledging this was too deep to carry the still very heavy luggage through, and trying to get dry again, some more rain impeded the latter undertaking. Nonetheless, after an extra hour of hiking and knowing that we'll be able to dry everything in the hut later, this didn't bother us very much.
From Pöyrisjärvi through tundra and over sand dunes to the Norwegian border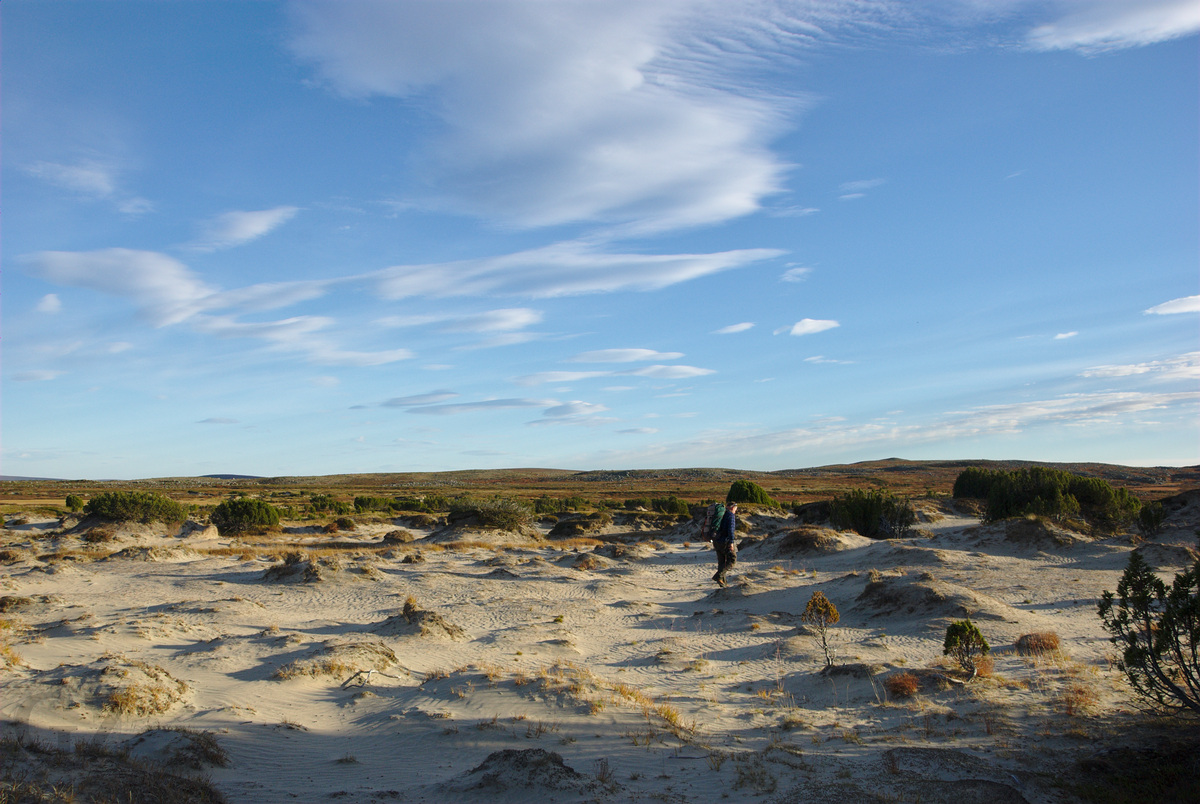 After four days of not having seen any other human beings (except for each other of course), we had to share the open wilderness hut with some other travellers. However, as it turned out later, and with the exception of a single reindeer herder, this were the last people we met for about 10 days from then. The next morning we started hiking with the goal to reach the northern boundary of the Pöyrisjärvi wilderness area, which also is the border to Norway at the same time. First, however, we needed to hike east: Along the shore and through the lake, as well as through rivers bringing water into and out of lake Pöyrisjärvi. While the weather was good to us (sunshine and clear sky), chilly wind blowing down from north discomforted fording the lake and rivers. However, reaching the sand dunes north of lake Pöyrisjärvi, of which some looked like wonderful oases (due to brooks or ponds in-between), was absolutely worth every loss of feeling in our feet that we experienced when crossing all the cold waters.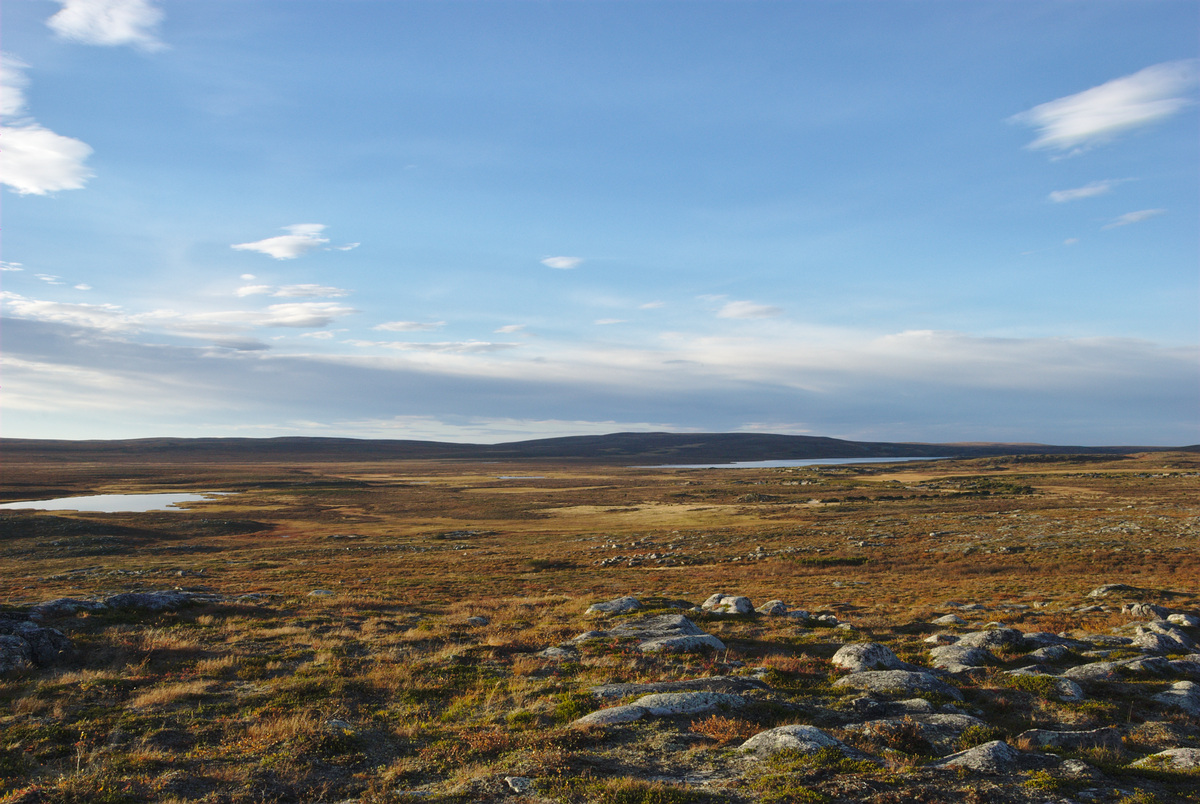 Since we perceived the place where we decided to built up our next campsite as so beautiful and magic, we decided to stay there for two nights. The weather remained fantastic, and in the absence of the cold wind we experienced the days before, we had quite warm (maybe 15 to 20°C) and sunny days up there. Thus we decided to take advantage of the wonderful weather and took a day hike to the Norwegian border, near Maaterjärvi. Along the way we also did some fishing, to expand our food reserves. After catching two big graylings in the afternoon, we headed back to our campsite, which brought us through diverse ecosystems of tundra, mires, swamps, alpine area and sand dunes. While the clear sky delighted us with warm days, the temperatures during the nights started to drop below freezing, which we realized while grilling our catch.
Motorized vehicles and the garbage problem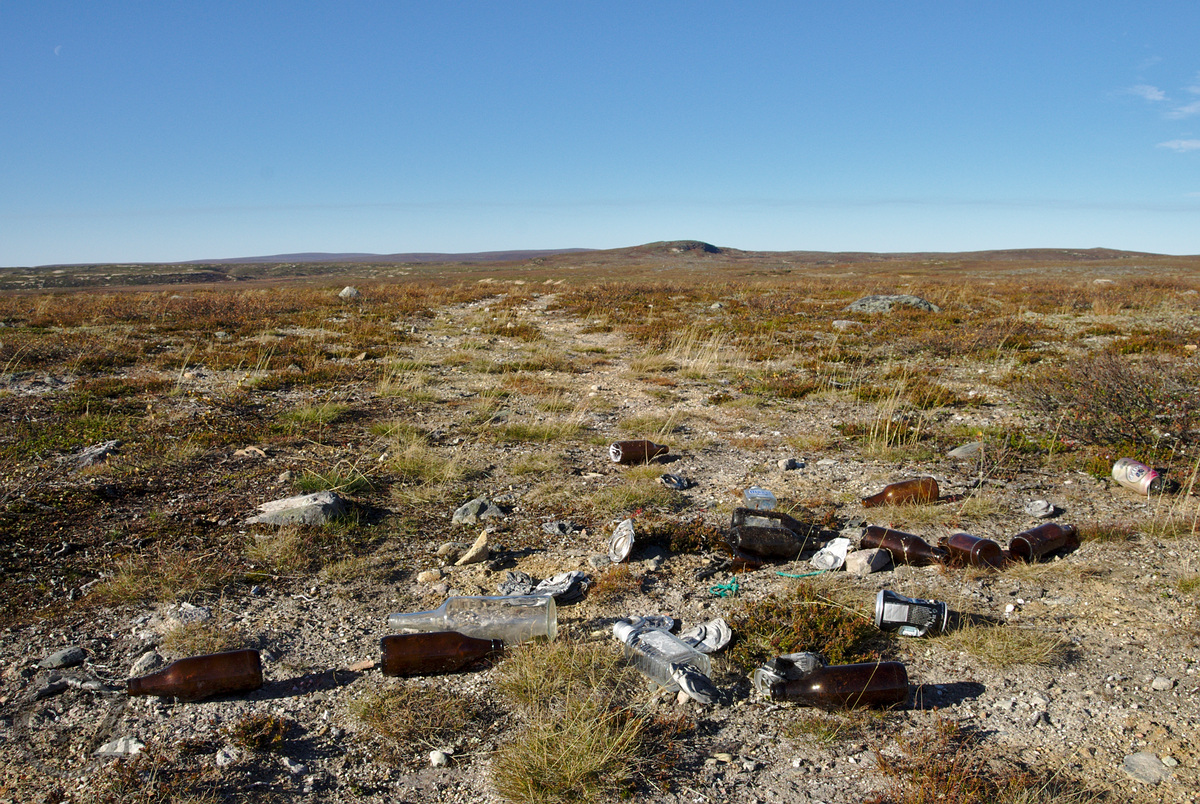 After two nights of staying in the northwestern part of the Pöyrisjärvi wilderness area, we continued our trip toward the east. Even though the region is a designated "wilderness area", one should not get confused and believe to actually find "wilderness" there. The region basically is a farmland and the work place for reindeer herders, keeping semi-domesticated reindeer; Thus all reindeer in the area do have an owner. Beside reindeer herders, also other people travel around in this area with quad bikes and snowmobiles. Unfortunately, along these tracks you will find (literally) tons of garbage: empty (beer and other booze) bottles, tins, plastic, and shit like that. Unfortunately, so it seems, many motorized travellers have very little respect for nature, and just leave their garbage everywhere along the trails; Maybe one of the reasons why I prefer to hike mainly off the tracks. However, the next day we were following the quad tracks, also in order to speed up a little bit, to have time to hang around in the eastern part of the Pöyrisjärvi wilderness area as well.
Continuing good weather, cold nights, and northern lights
Even though we wanted to make some distance, after only a short hike (maybe two to thee hours) we reached a place, whose beauty captured us and made us decide to enjoy it for the rest of the afternoon, and to also spend the night there. Because we expected another chilly night due to the clear sky, we moved our camp and fire site a bit away from Suomajoki river, so that we weren't at the bottom of the valley.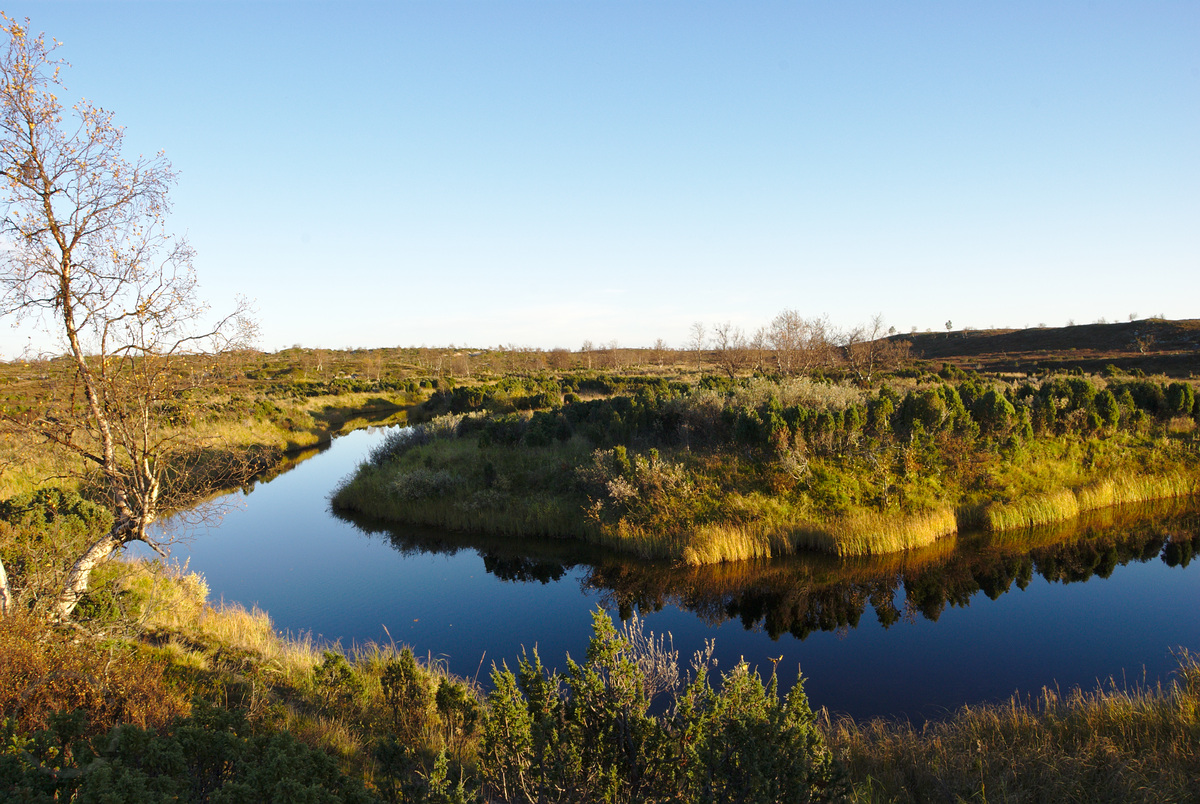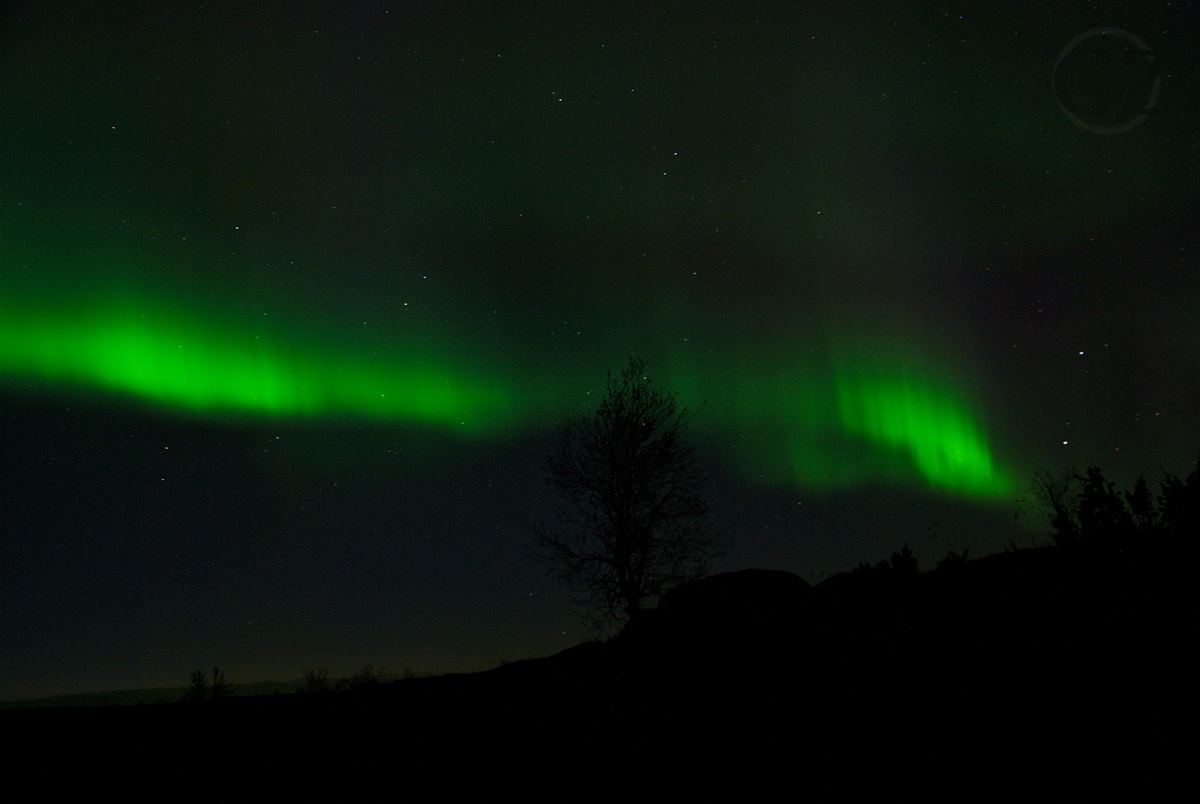 When walking down to the river in the evening, the temperature difference we felt was significant. And while we were talking about this huge difference over a warming cup of tea with rum, some beautiful, green northern lights started to play above our heads. Even later, when we had already moved our tired bodies into our sleeping bags and bivy bags, we were still following the light show, which has been provided for us by some solar eruptions.
The next day brought us to the vicinity of lake Haukijärvi, near the Norwegian border. During this day it became apparent that a weather change reach us soon. The sunny days before were partly accompanied by cold wind blowing from north; However, the wind direction had changed, and wind was coming now from west, while the cirrus clouds we transforming into cirrostratos, and the air seemed to get more humid as well. This didn't bother us too much, as for the night after staying near Haukijärvi, we had planned to go south to Korteoja autiotupa, and to spend there a night or two. With this goal on our mind, we fortunately left again the quad bike trails and turned south after passing lake Retkajärvi (where some rain showers luckily passed by us). Our map told us, that it would not be possible to avoid mires or wetlands, but by knowing that we will be able to dry our shoes near the oven in a hut, we didn't worry much about the swamps. Additionally, we figured that because of the time of the year and the dry week(s) before, the wetlands shouldn't be completely filled with water. And indeed it turned out to be easier than expected to reach the hut, even though we still arrived rather late and just in time before it got dark (which was mainly due to the fact that we spent quite some time on the shore of lake Retkajärvi, where we also had some fire to prepare lunch and tea).
Switching from camping to open wilderness huts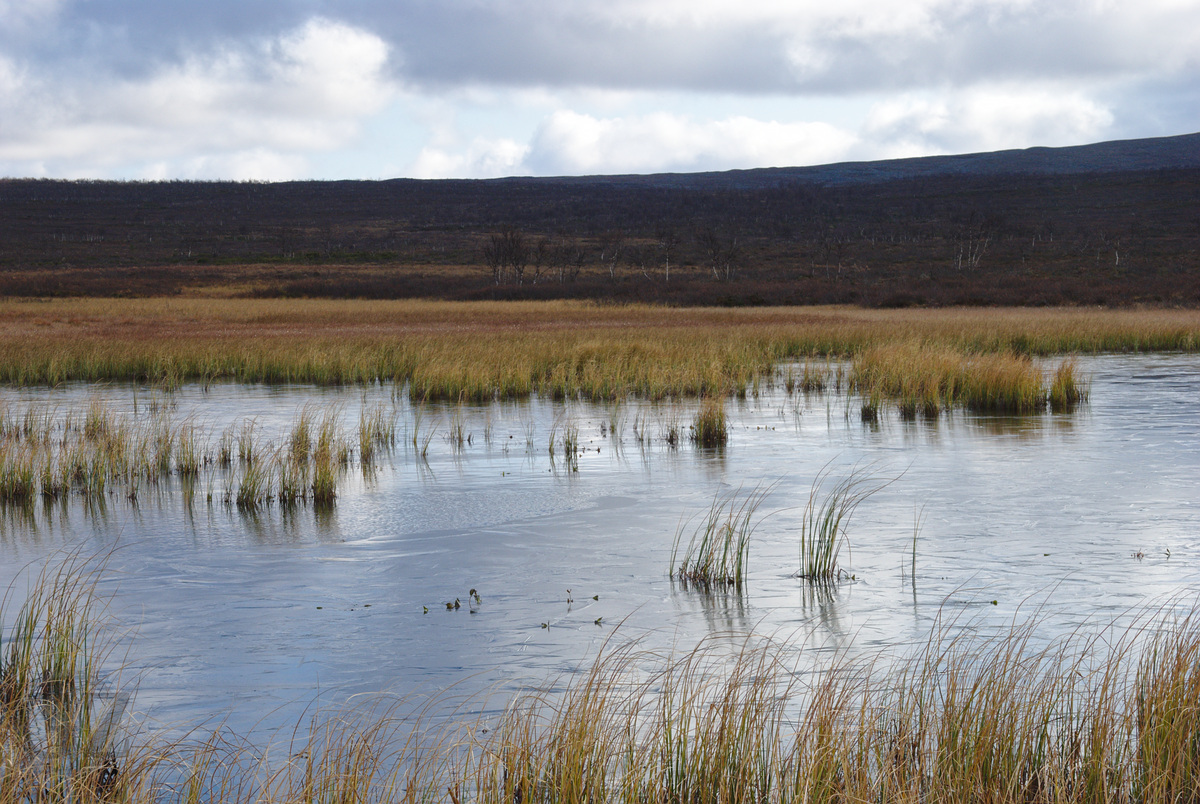 Due to some precipitation and our laziness, we spent a day close to or in the open wilderness hut, waiting for the sky to clear up again. However, in the end we spend a few nights there because of a significant weather change that occurred: The rain we had there the first day turned into snowfall, even though hardly any snow remained on the ground. After some time of continuous (even though not strong) precipitation, wind came up again, and we hoped it will bring back blue skies. Which it did. The wind that blew away the low once again came from the north, and now brought even colder air than before, leading to a night temperature of about minus ten degrees Celsius. What might sound unpleasant, actually worked in our favour: When we continued to hike up Suukisvaara on our way to Lenkihaka, the swamps and mires were frozen, making hiking much more convenient and almost guaranteed dry foot wear. Only now, when crossing supposedly wetlands as well as walking by frozen ponds, we realized how cold it really had become, especially since now not even in the direct sun light and around noon the frost on the ground or the ice on the ponds were thawing up anymore. Well, if winter had not arrived yet, it certainly was a strong indication that winter is pretty close. From the top of Suukisvaara we enjoyed a beautiful outlook: In the west we saw Olkovaara and most of the other fells we had crossed on our trip; To the south and southwest we looked at Ounas and Pallastunturi, and even Yllästunturi and Levi was clearly visible; And toward the west we could have a look over the area we were still having ahead of us. After slowly cooling down while sitting in the wind shadow of some rocks on top of Suukisvaara, we decided to fight our way through the chilly wind again, and to quickly go to lower altitudes to avoid the unpleasant breeze. As we came closer to the Lenkihaka open wilderness hut we could smell some fire, which indicated that we might not be alone there. And indeed, shortly before arriving at the Lenkihaka autiotupa we saw three people fording a brook.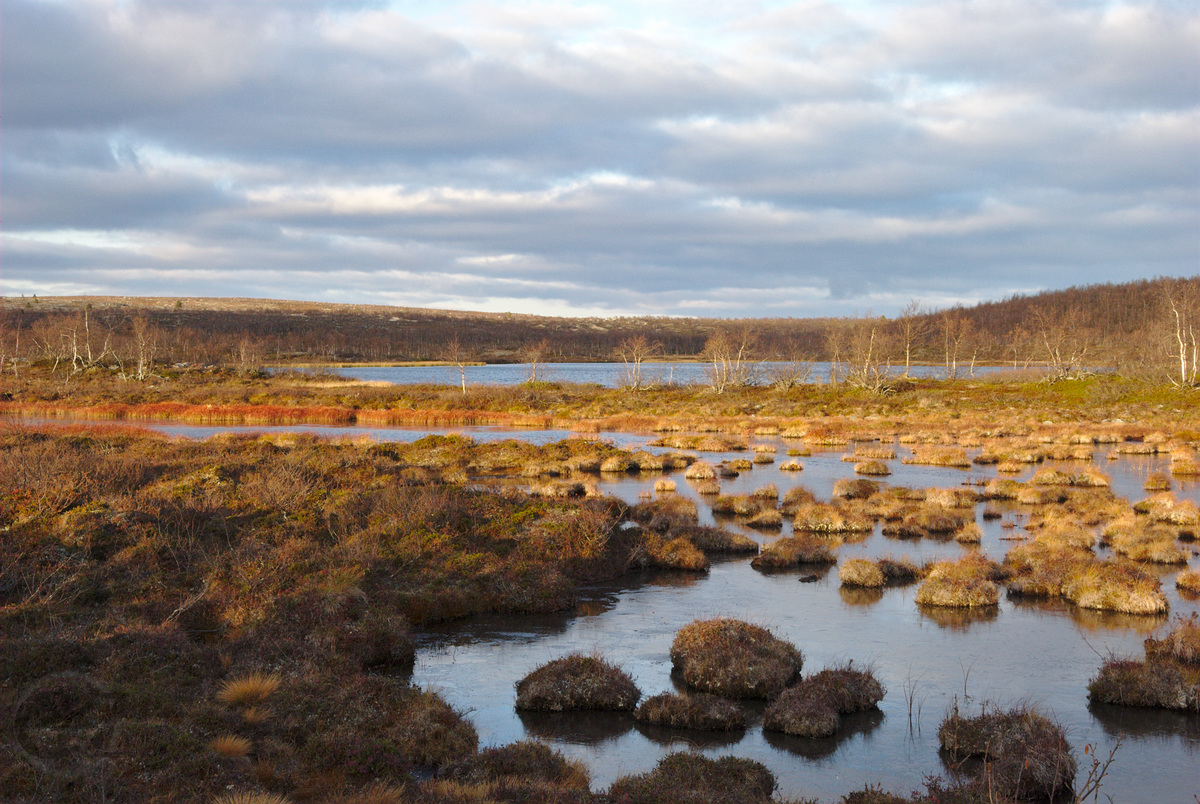 After we did the same (although without boots, since we weren't hiking with rubber boots like the three others we saw) a little later, we met three polite hunters, who had already warmed up the hut upon our arrival. After we had some short talks, they asked us if we would be interested in having some willow grouse for dinner, which they had shot earlier that day. A gentle offer that by no means we could have turned down. It got even better when later, to the prepared food, we also got served some red wine, which tasted wonderfully out of the kuksa (a traditional Lappish wooden cup) I just had during the trip. After we joyfully had eaten our dinner and shared some coffee, once again beautiful northern lights lighted up the sky. This time the lights even revealed some red colours, were all over the sky, and lasted for a pretty long time.
Arrival of the first snow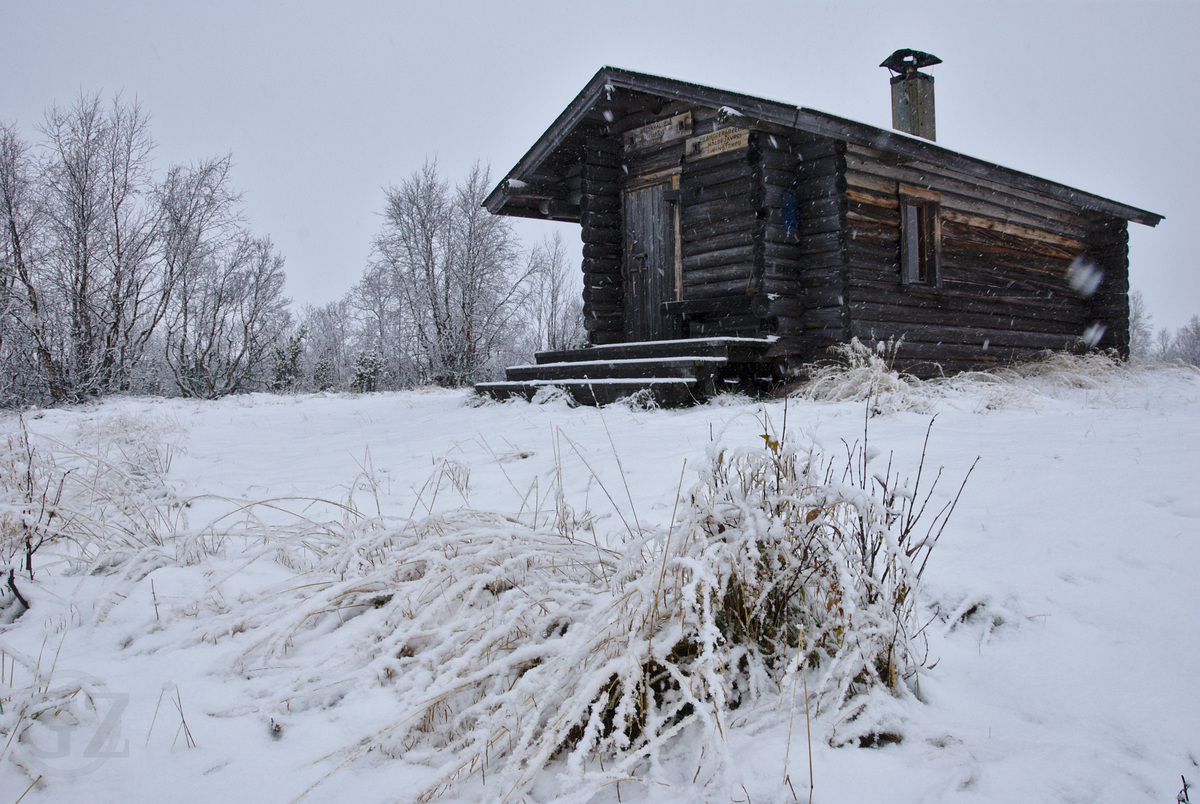 Meeting these hunters allowed us to have the pleasure of enjoying extraordinary good meat, but it also reminded us that now that we got closer to Kalmakaltio, we were getting closer to civilization as well. Also the next day when hiking through moderate snow showers as well as in direct sun light, we met another hunter. And also after our arrival in the Naltijärvi autiotupa we met a local fishermen, who came to take out his nets from a lake, which he was afraid would freeze over night. He as well as the other hunters informed us that for the next day more extensive snow showers were expected. However, staying at an open wilderness hut with plenty of firewood, this information was of no concern to us. To the contrary, while my friend hoped for more sunny days, I got really excited and started to look forward for the first snow of this season. I couldn't even await it anymore and felt like a little child, nervously waiting for his birthday. And indeed, the next day brought some stronger snow showers than the days before, and the green of the grasses started to fade away under the very slowly increasing amount of wet and heavy snow. While Stefan decided to stay a day mainly inside, I took advantage of this delightful weather conditions, and tested my luck with my fishing rod along the shore of the lake. Even though I didn't catch anything (maybe water that slowly started to freeze was already too cold for fish being active), I really really enjoyed being outdoors and having snow flakes falling on my hood. And as I returned back to the wilderness hut completely soaked, I also realized that this had actually been the first time during our trip, I got wet. Which however was no problem at all, as we had the warm autiotupa to dry the clothing and shoes over night. Since the weather stayed the same also the next day, we decided to hang on another night in the open wilderness hut at Naltijärvi.
Reaching Kalmakaltio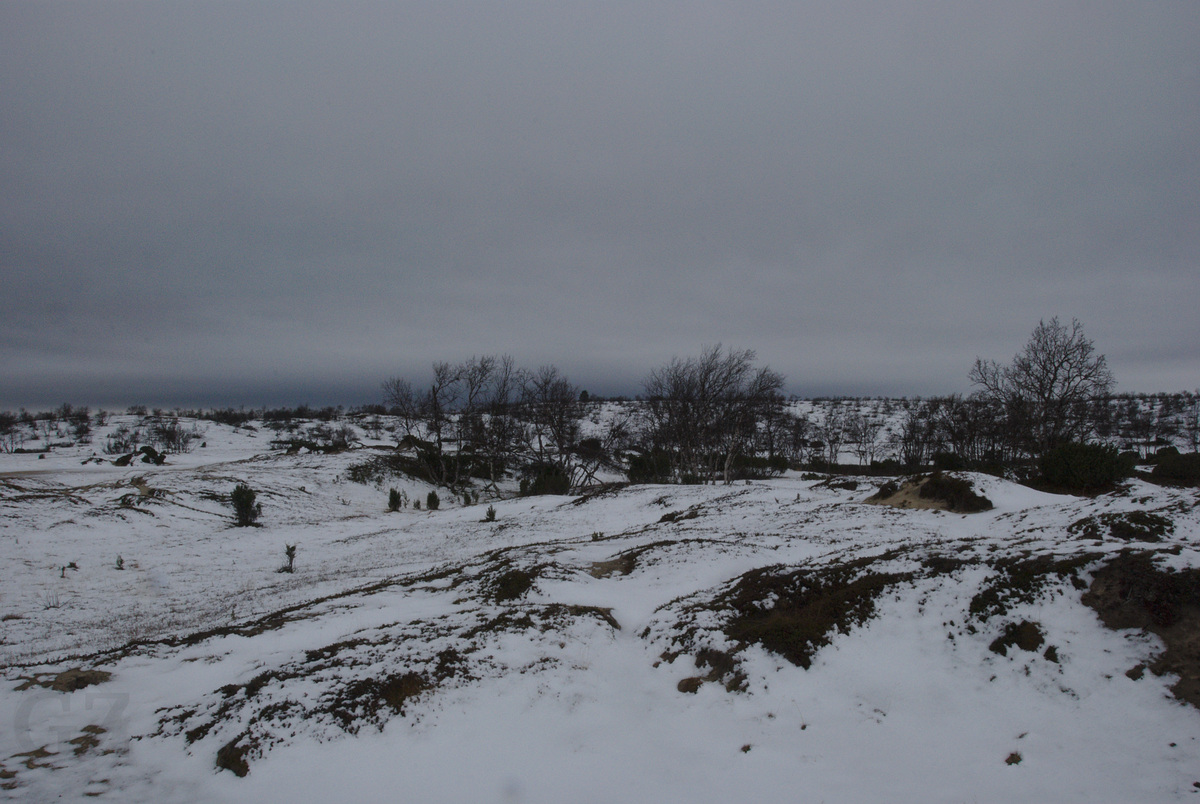 Unfortunately every hiking trip finds its end. We however were lucky enough, to enjoy our last hiking day through a by fresh snow whitened landscape, which I had explored once before during a colourful ruska season. I loved to hike there then, and I loved to hike there this time. Of course, the landscape looked completely different due to the variations of the colour regime, but being out there with the first snow was a perfect ending for a wonderful hike through one of my favourite places in Lapland. On our last day we only had 20 kilometres left to Kalmakaltio, where we were supposed to be picked up. Since almost all of the food we had with us had been eaten by then, our back bags were pretty light and we almost felt like we were flying. As if we wouldn't have played enough cards during our stays in the open wilderness huts, we once again played a few Bummerln of an Austrian card game called Schnapsen, which I taught my friend during the trip, and which entertained us while we were waiting for our "taxi" called Heidi.
Résumé
Two years ago I hiked in this area during the colourful ruska season, and this time I was afraid, it could be less exciting due to leaving about one or two weeks later, when most of the leafs have already fallen from the trees. However, we still had summerly warm days that allowed me to really enjoy fording lakes and rivers, and being in the water, while we also had the wonderful pleasure of being out there in this beautiful and very sparsely cultivated area during the arrival of the first snow of this winter season. Northern lights, clear skies in the absence of any kind of light pollution, relatively dry or frozen wetlands, and tons of other great experiences rounded up this trip to an amazing undertaking that I will memorize most positively for sure. Actually, I am already looking forward to explore new places in that region, as well as to visit again some of my favourite places in Pöyrisjärvi wilderness area.
Photo gallery