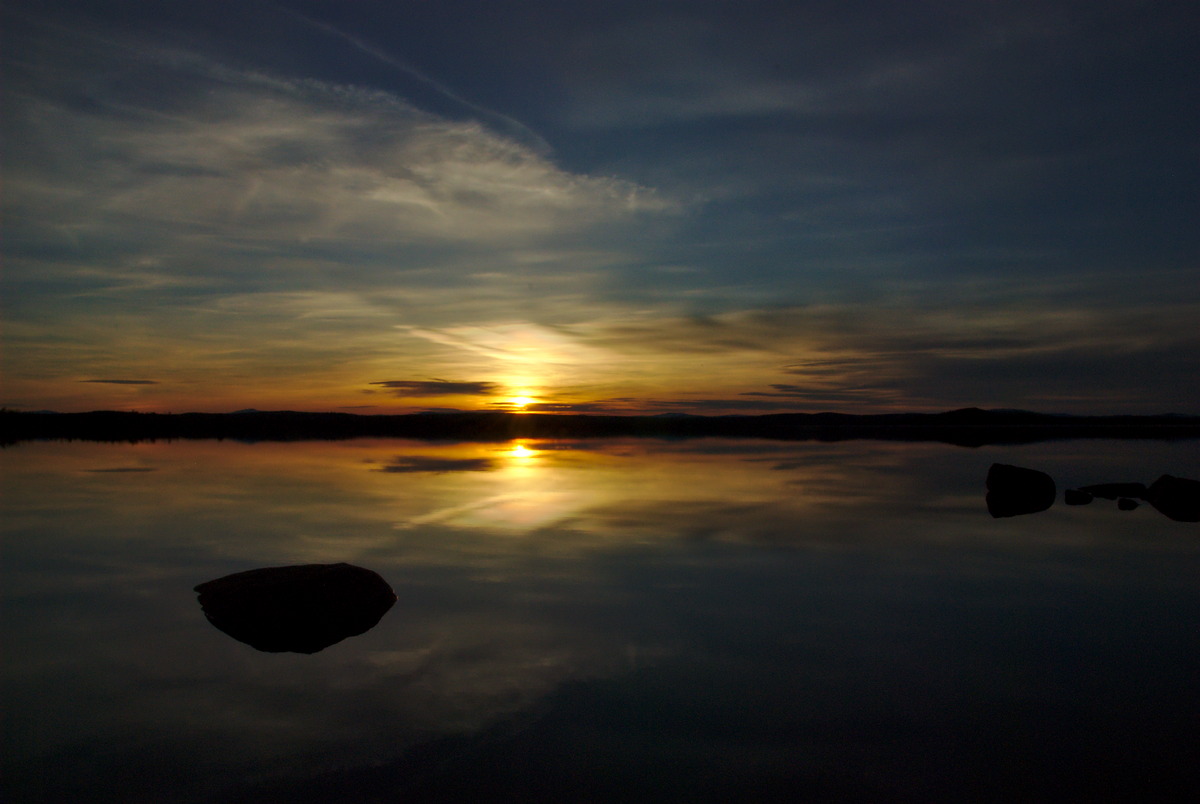 A sudden temperature change finally melted down the snow and ice, making the waters easily accessible for swimming – without the need for an ice driller or an ice saw. That is – not yet everywhere in Lapland: While this was true for Inari, at the higher elevated Abisko for example, the lake Torneträsk was still frozen last week. Nevertheless, this year the spring – or actually rather summer arrived pretty early. I experienced this surprisingly warm weather in several places in Lapland …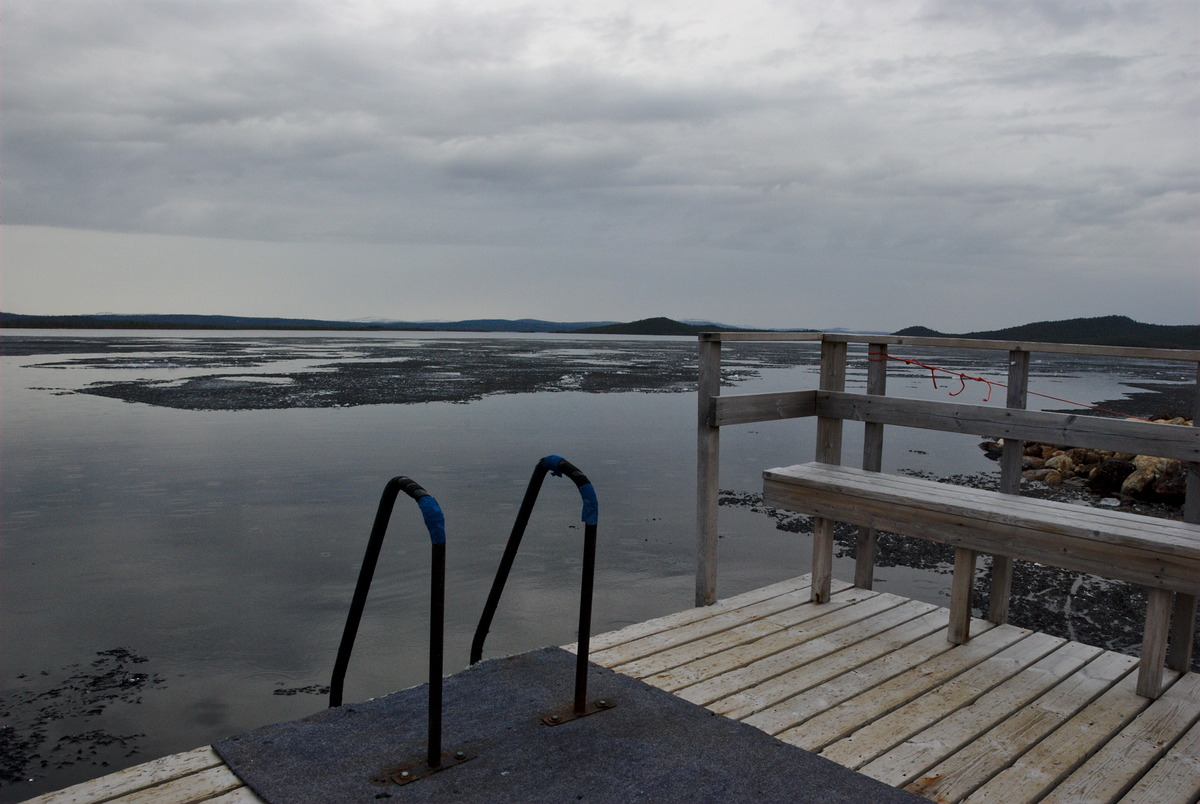 Attending the Calotte Academy, I was traveling by bus more than 2300 km within about 10 days, visiting Rovaniemi, Inari, Tromsø, Abisko and Kiruna. When I left Enontekiö on the 16th, there was still some snow in the forest and the lakes were still frozen – even though this year the spring arrived about two weeks earlier than in the long time average. On the way down South to Rovaniemi, I found the rivers and lakes already free of ice. After spending two days in Rovaniemi, we went to the Inari region in the North-East of Finland, where the lakes were mostly ice free too. So, after our arrival, I finally found my first possibility to go swimming this year in the lake Mutusjärvi, where the last pieces of the remaining lake ice were frozen to the shore on the other side of the lake. Over night however, also that ice broke loose and in the evening of that day, when we enjoyed sauna, we could carry out the refreshing jump into the water in between the last ice, that was drifting away now.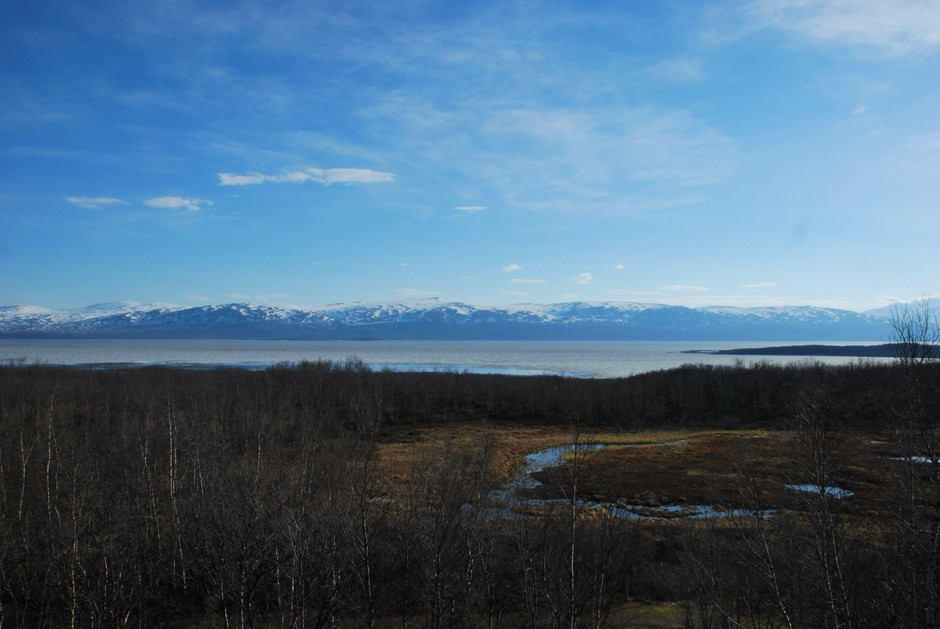 The early spring with the sudden temperature rise and snow melt not only had positive effects on passionate swimmers, but of course also affected the environment in several ways. One of them we experienced on our way to Tromsø, when our bus got stuck in a traffic jam for several hours, after a mud slide blocked the road. Nevertheless, after finally being able to continue our journey and after staying for two nights in Tromsø, we took the beautiful road to Abisko. Here, in the higher altitudes, the snow was just on its leave, and the lake Torneträsk was still frozen.
Also at our next destination, in Kiruna, it was pretty warm (around 20° C). I was very surprised to travel for about a week so high up in the North, and constantly find sunshine and warm weather. Last year, about two weeks later, it was still snowing in Kiruna and Enontekiö, this year however, spring had turned into an early summer. Well, at least for a change, it is a summer without mosquitoes.
The picture with me in the water was taken by Igor Shevchuk.