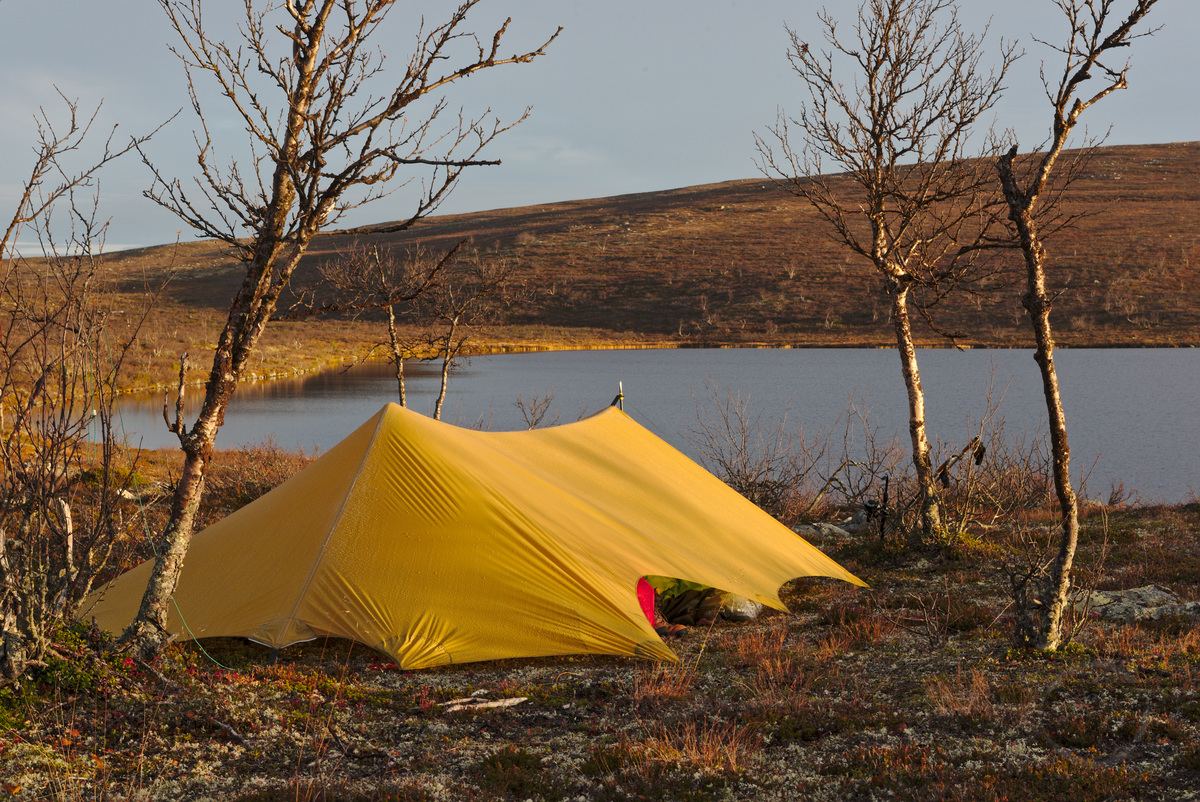 Since I am still experimenting with different kind of shelters for hiking, I made myself a tarp this year, in order to be more flexible and faster set up than with a tent. Here you'll find how I created my tarp: What materials did I use, sewing instructions, and patterns.

Why a Tarp?
In the past years I have been experimenting with other types of accommodation than a tent, which I perceive as something where I am closed in in the meantime. I love the idea of being able to the see the sky before falling asleep, and also right after waking up in the morning. For this purpose I sewed myself a bivy bag two years ago, and it proofed as a great shelter in wintertime. For summer, though, with the possibility of rain, I wanted to have something more spacious. This should be more convenient during rainy days, but also more communicative for non-solo trips. I also like the idea that on a rainy day, you have a quick to set up shelter for cooking or resting. Thus I decided to make myself a tarp.
---
Materials & Considerations
Unlike for my earlier bivy project, the choice of material was much easier, as the fabric doesn't need to be breathable. With the only criteria of having a water proof and light-weight fabric, my choice easily fell for a silicon coated nylon.
Main material
I found a 20den nylon, coated with silicon on both sides, with only 36 g/qm. Perfectly light weight, and with 2000mm hydrostatic head I thought enough water proof for its purpose. While the tear strength of min. 9,2 kg (DIN EN ISO 13937-4) seemed enough for the tarp, of course I wanted to strengthen the anchor points.
Other materials
Anchor Points
For this purpose I used old left over light weight tent floor with 90 g/qm, though since it is also a coated material, I made wholes into the individual pieces, so that water (for example from condensation) can escape.
For attaching tent stakes or lines, I found some very light-weight aluminum rings, with only 1.3 g each.
Webbing & Velcro
The rings are attached with a 10 mm webbing to the main material.
Since I wasn't sure how much I can trust the strength of the main material, but also to make sewing easier (the silnylon is very slippery), I decided to sew the two fabric lanes on a ca. 20 mm thin and felxible webbing.
Since I often sleep somewhere in the tundra, there are no trees to attach the tarp to. When using poles only at the end, I was afraid that all the wind would blow through, but also that in stormy weather rain could easily come inside. Thus I wanted to be able to built up the tarp from inside, like a tent.
For this purpose my plan was to use hiking poles. Due to the slippery surface of silnylon it wouldn't be possible to simply place the poles underneath. Consequently I got the idea to attach velcro in certain places to the middle webbing. With some left over fabrics I made kind of hoods with velcro for my poles, which only add a few more grams to the whole tarp.
Water-proofing seams
While along the outer seams I used regular nylon threads, in the middle the main material is sewed with a nylon thread that has a cotton coating. The expanding cotton – when getting wet – should better seal the seams.
Additionally I attached a layer of silicon on the outside of the middle seams. It is recommended to put some talc powder (like baby powder) on top of it, to avoid having a sticky surface.
Other materials
For setting up the tarp I also got me some tent fasteners and a a reflective tent rope. And finally, I also sewed in some reflective piping in the top corners of the tarp.
Material List
7m of Ripstop Nylon tentfabric silicone coated, 20den, 36g/sqm
4m of 20mm webbing
2m of 10mm webbing
0.5m velcro
1 tube Silnet
10 pcs aluminum rings
10 pcs tent fasteners
30m tent rope (2.5mm)
0.5m of strong fabric for anchor points
0.5m of reflective piping
1 pkg of baby powder
As usual I got my supplies from:
Extremtextil (in Germany) and Shelby (in Finland)
Weights and Measures
The tarp itself has outside measures of appr. 3×3.5 meters (9.8×11.5 ft). For packing the tarp I sewed a small pouch from left-over materials of the main material. In this (still pretty well compressible) pouch the bivy has packed measurements of 14×23 cm (5.5×9 inches). Including all cords, rings, pouch, pole hoods etc. it weights approximately 630 g (21 oz). The tent stakes I use with the tarp add another 130 g (4.6 oz).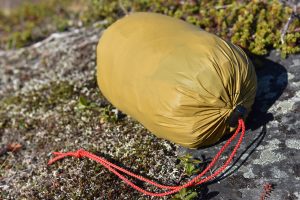 ---
HOW TO: Instructions for Making a DIY Tarp
First I attached one side of the velcro on 5 places on the 20mm webbing; One in the middle, in the other more toward the edges, according to the height of my telescopic hiking poles.
Then I sewed together the two pieces of 3.5m of my main material. I simply sewed them onto the 20mm webbing. Just make sure to at least have every side sewed with at least two layers and two seams.
In a next step I cut the whole piece in form. I chose to not have straight edges, but curves, so it stands more stable in the wind and less prone to make noise.

Sketch of tarp pattern

After cutting the tarp sheet according to the patterns, I folded the edges 3 times and made two seams all around the sheet.
Then I cut stronger fabric in pieces, according and fitting to each corners/anchor points.

Before sewing in the additional fabric, I made holes into it, so that water can escape from in between the two coated fabrics. If you have an uncoated or non-waterproof fabric, you may not need to do this step (I guess the weight reduction is negligible).
Between additional fabric and main material I added 10mm webbing, which stands a bit out at the corners, and where the aluminum rings are sewed in.
For the anchor points along the middle webbing I additionally sewed in reflective piping

After everything was sewed together, I put Silnet on the seams in the middle, and after drying I put some baby powder on top of it.
For the hiking poles I made a hood with velcro on top, to get a better fix of the poles under the tarp.
With some of the leftovers from the material I made a nice pouch for the tarp.
---
Pictures of Tarp in Action
Some trips (with images) where the tarp was used
Näkkälä to Vuontisjärvi
Kalmakaltio to Vunotisjärvi
Maattojärvet
Retkajärvi
Tarvantovaara Wilderness Area
Käkkälöjoki boat hike