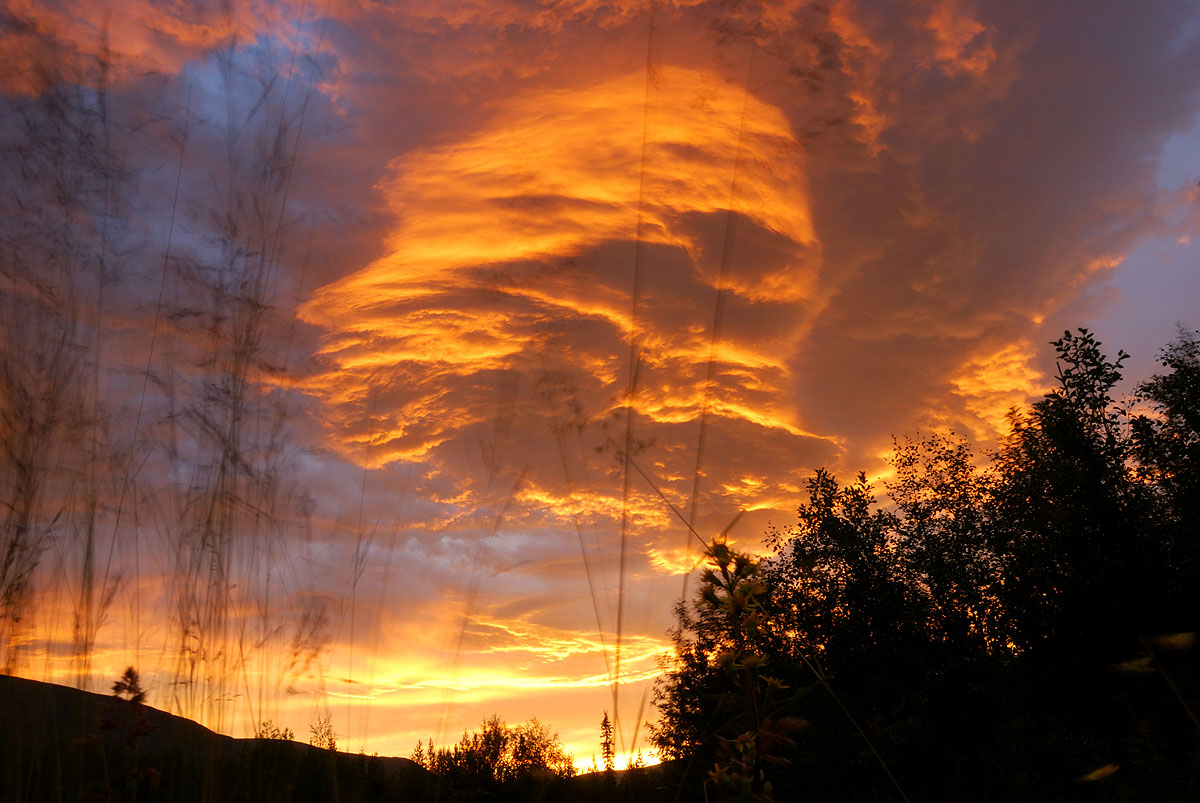 My friend Andi and me made a long planned hiking trip into the Khibiny mountains, on the Kola peninsula in summer. For me it was the first part of an almost three months lasting trip. First we went by train to Moscow to visit a friend before we went on by train to Apatity, from where we took a taxi to Kirovsk, visiting another friend for a few days. We used this time there to get some better maps for the region, since there are no marked trails and we had to hike by following our compass. The Khibiny mountains seem to be untouched by humans, even though there is some big mining going on in the area (like in Kirovsk or Revda). This mountain range is not only very, very beautiful but also geologically a unique and interesting area. It is the world's biggest pluton (an intrusion) and started to exist about 360-370 MIO years ago. The world richest mineral diversity can be found here (which is also the reason why a lot of mining is happening in the area). As in many remote places in Russia, the cities around the Khibiny mountains were found in the early times of the Soviet Union for the purpose of resource extraction. Our target however was to reach the village Lovozero, which is the place with the biggest number of Sámi people in Russia.
After we first hiked for a week in the western part of the Khibiny mountains, we made a break for two nights at Kuelporr, where a station of the mountain rescue as well as a humble hotel is based. Fortunately we were also able to go to a sauna there, helping us to relax a little bit after carrying around 25-30 kg heavy backpacks. We also used this break to go back to Kirovsk, which is connected with a bumpy road to Kuelporr, to get some more food supplies.We tried to fish also in the mountains, but the water was too cold to catch fish that would have served as food. After filling up our luggage with these necessities we continued our hike towards lake Umbozero, where we had to cross a rather big ford. Arriving on the eastern shore of that lake, the landscape changed dramatically. Whereas the Khibiny mountains are full with lichen and also other plants, the Lovozero mountains were much more deserted, water was less available and sometimes led us to further go down into the valleys to pick up some water. Nevertheless we safely came closer and closer to Lovozero, which felt much to quick (even though it almost took us three weeks). In the village of Lovozero we went to the Sami cultural center, to ask for the meaning of some rock sculpture we found in the mountains. That way we coincidentally meet a few really great, local guys, who invited us on a boat trip to an wonderful island on lake Lovozero, where we also got to taste some fish soup, prepared by our new friends.
The time passed by way to quickly and thinking back about this trip, there are plenty of stories that could be told. But, since we only had a one month tourist visa, we needed to leave the country – but not before visiting the Hermitage in St. Petersburg. From there we took the train to Helsinki, were the paths of my hiking comrade and mine split. I needed to go on by ferry to Stockholm, to catch my airplane to New York City, where another amazing part of my trip was already waiting for my arrival ….