After spending about a week on glaciers, my friend and me camped at the blue lake in Tordalen to go for day hikes. One of these hikes brought us up to Jotunfonna. While having good weather conditions to hike up, ever stronger getting fog made us to abort the trip and head back down to the valley.
Blue Lake
After my friend and me spend a week hiking on glaciers, we went back to Pyramiden to pick up more food (that we stored) to get ready for some more hiking. This time, though, our plan was to camp in one place and start day trips from there, rather than carrying around all our gear.
About an hour walk from Pyramiden is the so called "blue lake," which once was the water reservoir for Pyramiden. It is nicely located at the bottom of the Tordalen valley. Under the blue sky – that we once again enjoyed on our trip up there – the small lake emits a lovely blue color. Beside us we mainly encountered red-throated loons and Arctic foxes, which provided the sound environment of the location. The only human noise was coming from us when jumping into the refreshing lake for some swimming, as the weather still remained warm. From this camp site our plan was to start for day trips, while leaving most of our gear in the valley. One of these trips was to hike up to Jotunfonna, to enjoy some more glacier as well as an expected view toward Pyramiden and Isfjorden.
Fog on Jotunfonna
Waking up early in the morning (as in early related to daytime; unusual for me) we found another day of blue sky and sunshine. For the beginning. While we were having our breakfast we saw some fog moving in from Pyramiden, which, however, did not further bother us (yet). We thought this might just be some morning mist slowly making altitude before dissolving into clouds. Thus we packed some food and cloths for the day and headed up a steep ridge to get higher.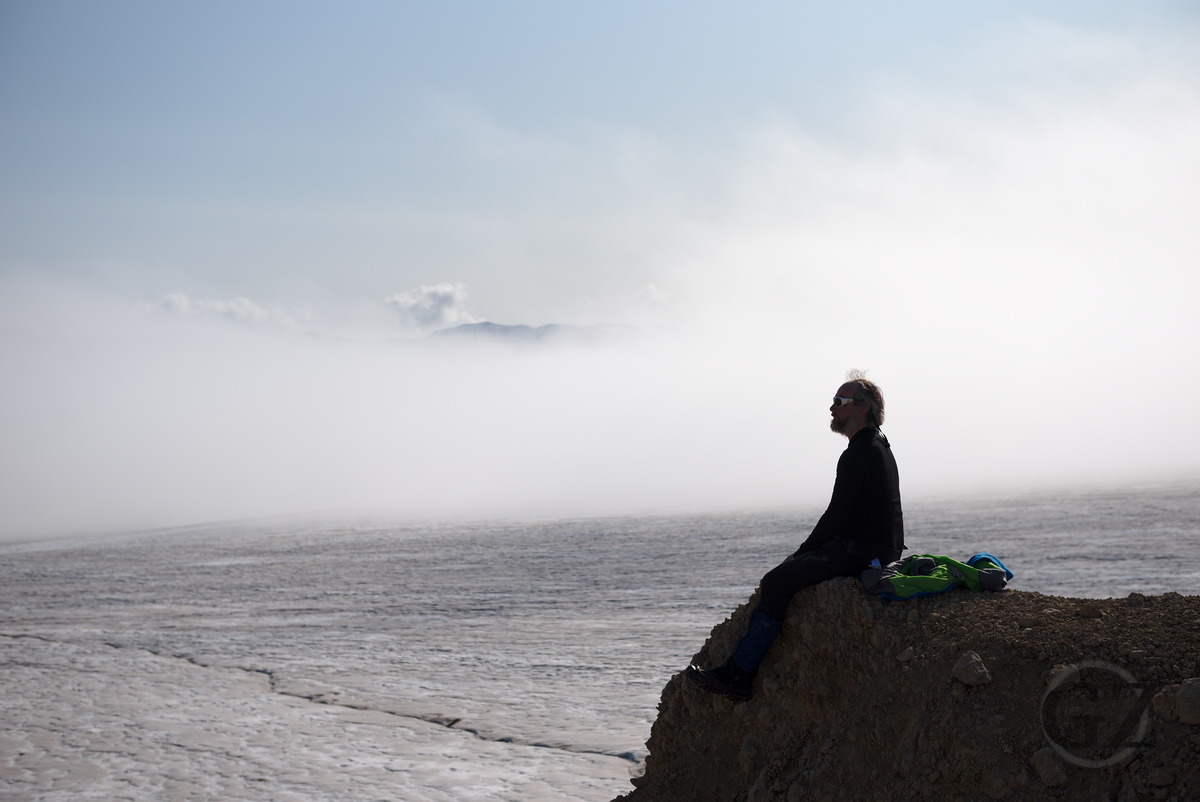 While reaching the glacier it seemed that the fog was following us up the hills. Since we still had good weather and clear sky when entering the glacier, we continued up on the plateau. In the middle of the plateau of Jotunfonna we spotted an old moraine, which promised an around view. Indeed it hold up to this promise, although the sight – while magical – wasn't so much in our favor. Looking down at Isfjorden we could see that there was not just a bit of morning fog creeping up the mountains, but that in fact the valleys and fjords where totally in fog. Sitting there and taking a snack, the fog was moving higher and higher, up to the point when we found ourselves just within a thick layer of clouds.
Heading back down
So we decided to wait for a while to see what the weather will be doing. But even after an hour it didn't seem to clear up. Instead it appeared most likely that under the early afternoon sun the fog would move just more and more up, and eventually turn into clouds. As a glacier hike in a whiteout doesn't really provide the most exciting view we decided to abort the trip and head back down into the valley.
We didn't manage to continue our glacier hike, however, we were still pleased with the scenic moments we had while watching the fog moving higher, turning into clouds. It seemed to was a good decision to turn around. When we came back down it looked like higher altitudes where just right within clouds, while at least the valley lost the fog. So we enjoyed some more time at the scenic blue lake (doing more swimming), after having spent at least a few hours on the Jotunfonna glacier.
Gallery