End of July the weather forecast predicted more than 25° C in Lapland. Just in time to pack my backpack and head north. With a friend who lives on Svalbard we had planned to go on a multi-day glacier hike northwest of Pyramiden, at around 79° northern latitude.
From Pyramiden through the Water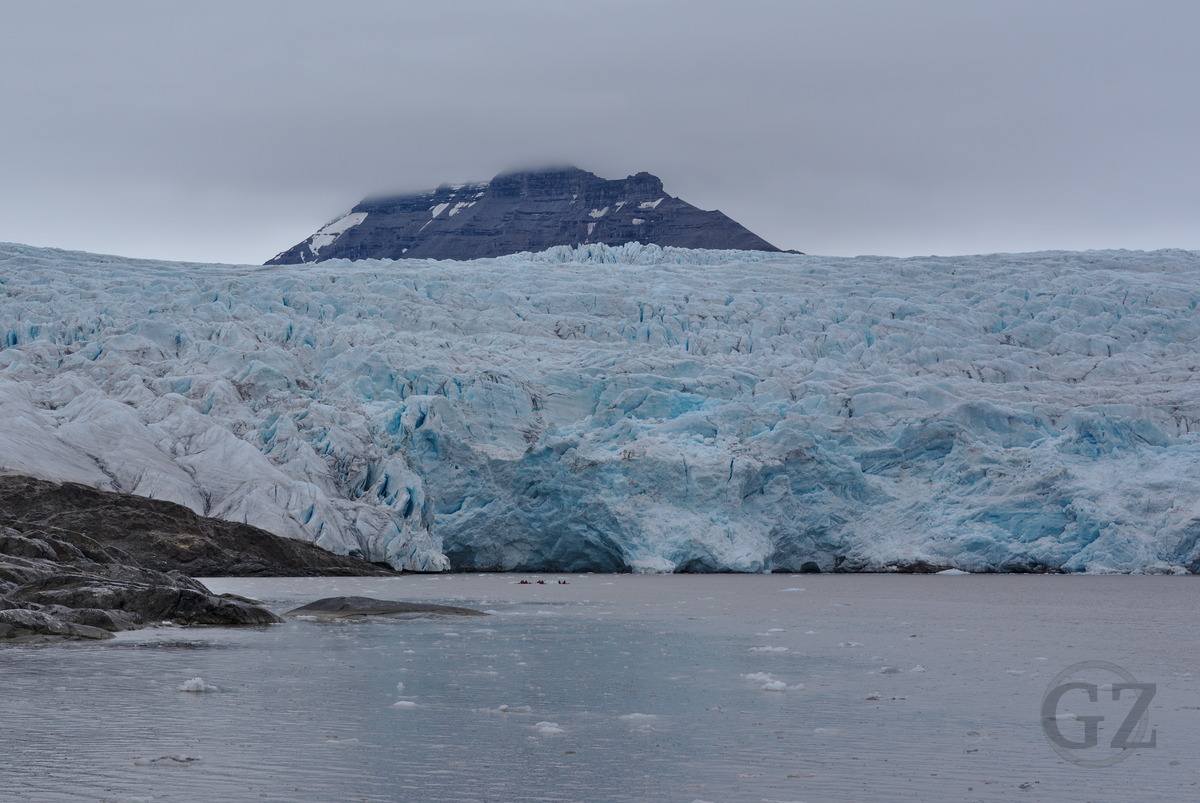 With a friend we had planned to do some hiking this summer on Svalbard. While not having really fixed plans where to go, we agreed that spending a few days on glaciers sounds like a good idea for summer. Thanks to the help of some of my friend's workmates we were able to drop some (glacier) gear and food just in front of Nordenskiöldbreen in Billefjorden, which should become our entry point for the glacier hike. Meanwhile we took a boat to Pyramiden, where we stored some more supplies for later on.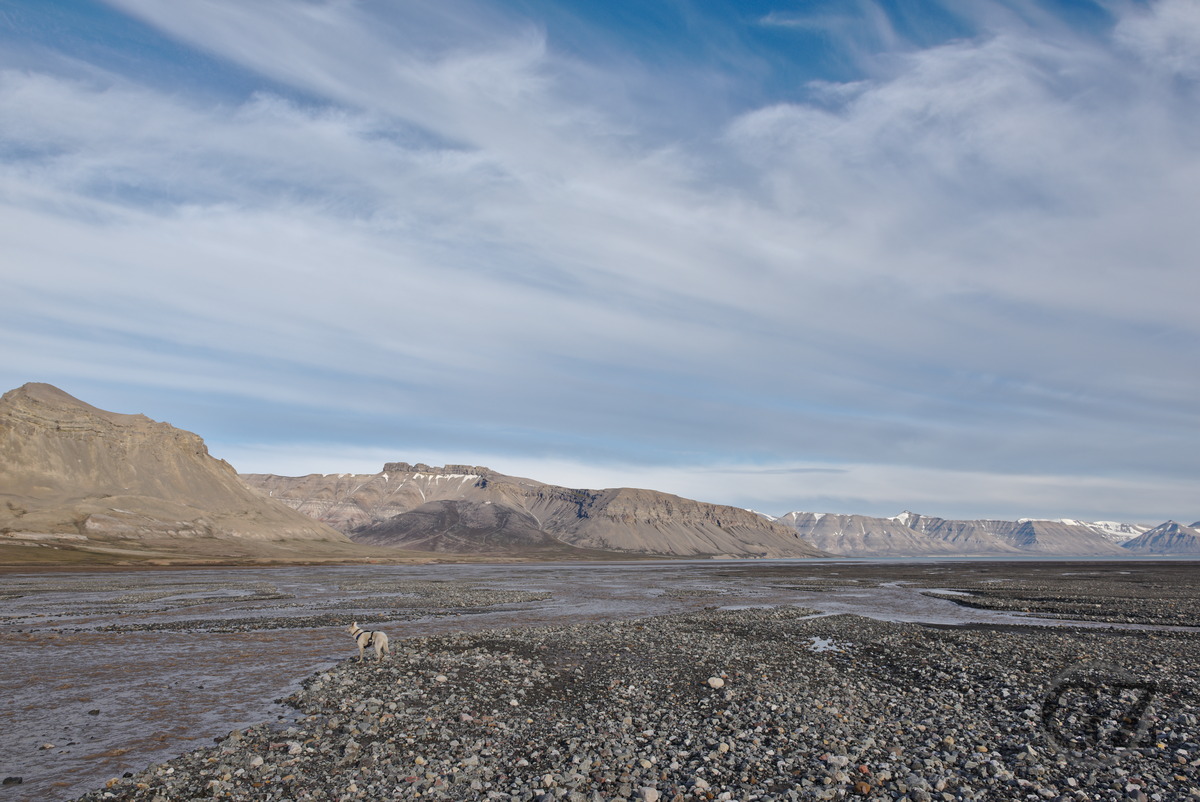 As we were only a small group of two, we had to carry lots of weight, including safety measures for the case we would encounter (or rather: being encountered) by polar bears. This included a rifle, flare gun, trip wire for an alarm fence around the tent, as well my friend's dog (and thus: dog food). From Pyramiden we started our hike through the Petuniabukta (bay), where we had to cross much more water than expected. As we counted later on, there are about 15 glaciers releasing water into this bay. So whenever we thought we just had mastered most of the rivers, we encountered more. In some of the glacier milk rivers we were standing as deep in the water as to hour hips.
While crossing all the water cost us quite some energy, the endless day during polar summer assured that we wont run into the dark. So after fording the countless and ice-cold rivers we just continued along the cost.
Nordenskiöldbreen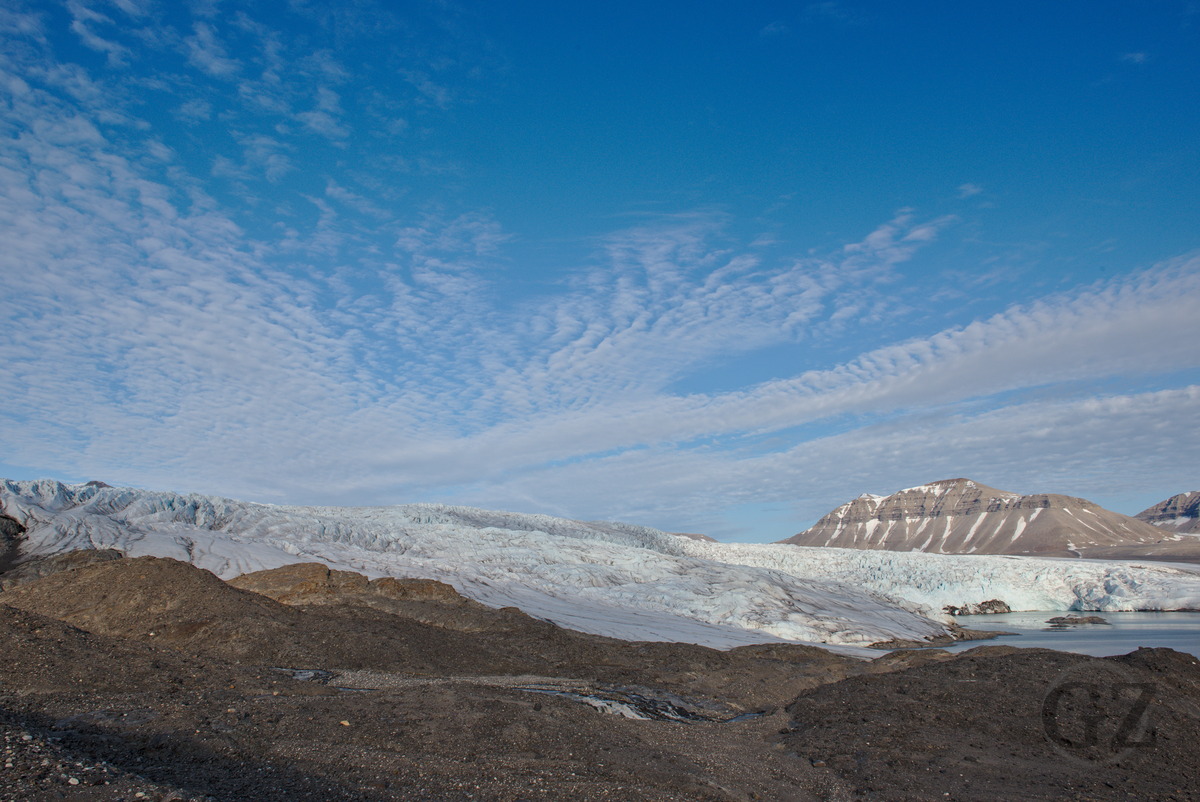 Our goal for our second night was to reach Nordenskiöldbreen, which calves into the Adolfbukta. As we knew that just a day before we started our hike a polar bear was spotted in front of the glacier, we proceeded with extra care. From Rudmosepynten onward, along the coast, we saw plenty of rather fresh polar bear footprints. So when we put up our camp in the moraines in front of Nordenskiöldbreen, we stayed quite alarmed. Fortunately, the night remained calm and we had no encounters with the most dangerous mammal on Svalbard.
After sleeping through most of the day (we set up our camp after our arrival at about 6 am), we fit the additional gear that waited for us into our backpacks, and started to hike up the moraines to an altitude of ca. 300-400m. This way we avoided the plenty of large crevasses on the lower part of this mighty glacier. So from where we went onto the glacier, there were just some smaller glacier rivers and small crevasses we could jump over.
First Glacier Camp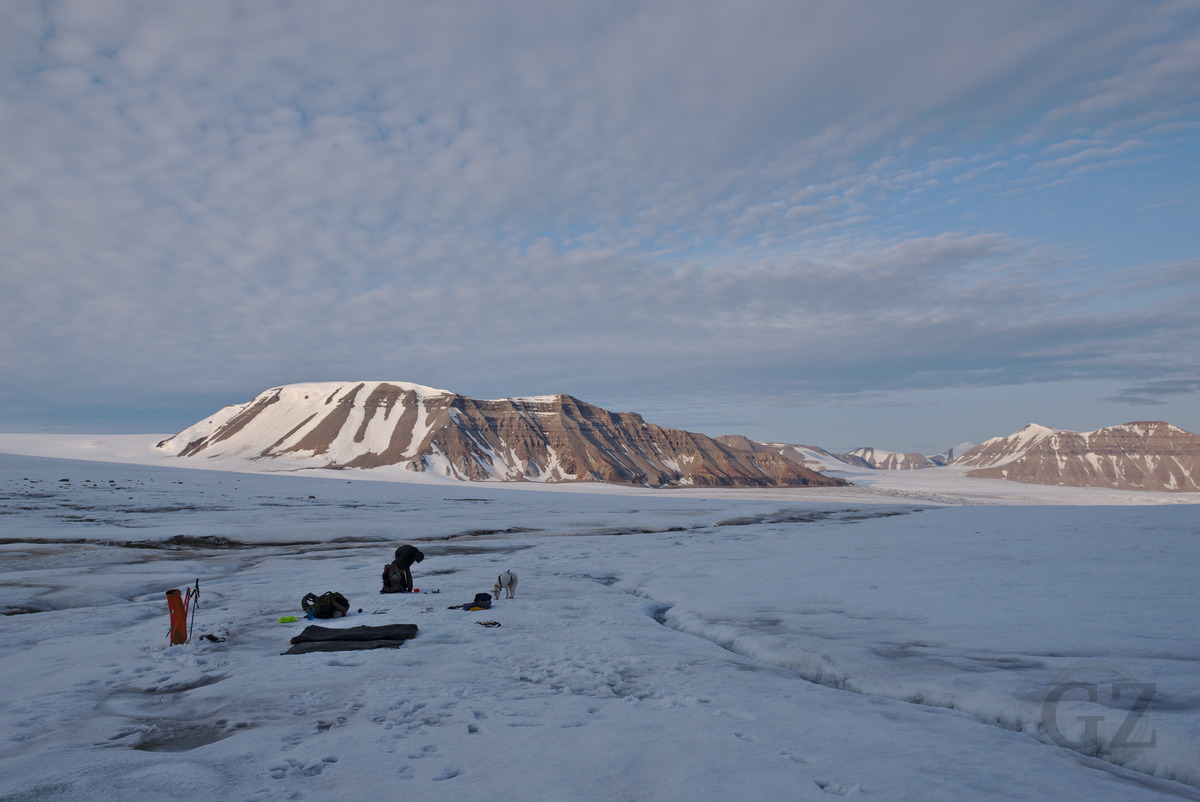 Our first glacier camp we built up on the side of Nordenskiöldbreen, under the Flemmingfjellet. We brought along some ice screws to properly secure the tent on the glacier, as well as to drill holes for our polar bear fence. Again we arrived early morning at our camp site and slept through the day. While it could be said we had luck with warm and sunny weather, during our sleep the glacier literally melted away below our mattresses. Consequently, when we woke up late in the afternoon, our gear had gotten pretty wet.
Our original plan was to hike up Terrierfjellet, which is located in the middle of Nordenskiöldbreen. However, our planned route would have brought us up to 700m of altitude on the glacier, before climbing the mountain. Since there was still plenty of snow above ca. 500-600m, and we knew from satellite images that there would be crevasses along our way which still were snow covered, we discarded this initial plan. Instead we headed northwest and crossed Ebbabreen. When crossing a moraine along the way, we decided to take our lunch break and use the sun for drying our still wet gear.
Mittag-Lefflerbreen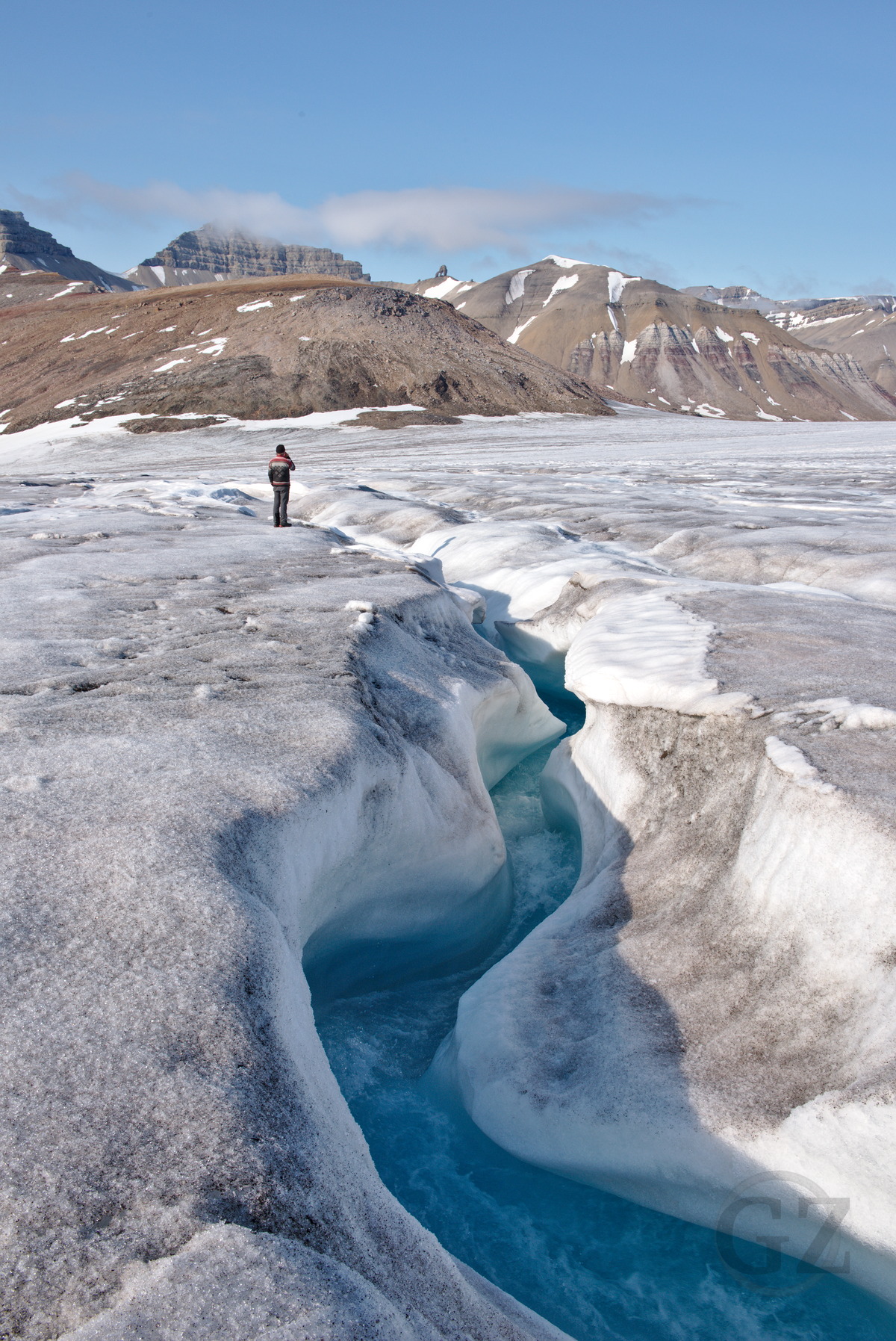 Thanks to the sun and the wind, it took less than 2 hours for your gear to dry. After packing up our stuff for the second time this day, we continued heading west to Mittag-Lefflerbreen. We had another warm and sunny day. Thus, in higher altitudes where the snow hasn't yet melted, we walked through relatively deep slush. At least we had easy access to delicious fresh water all along the way.
For our next camp we found a spot near an old moraine, from where we could take some bigger stones for securing the tent and fence. In this camp we intended to stay for two nights, as we had planned to make a day trip up to Tarantellen.
Tarantellen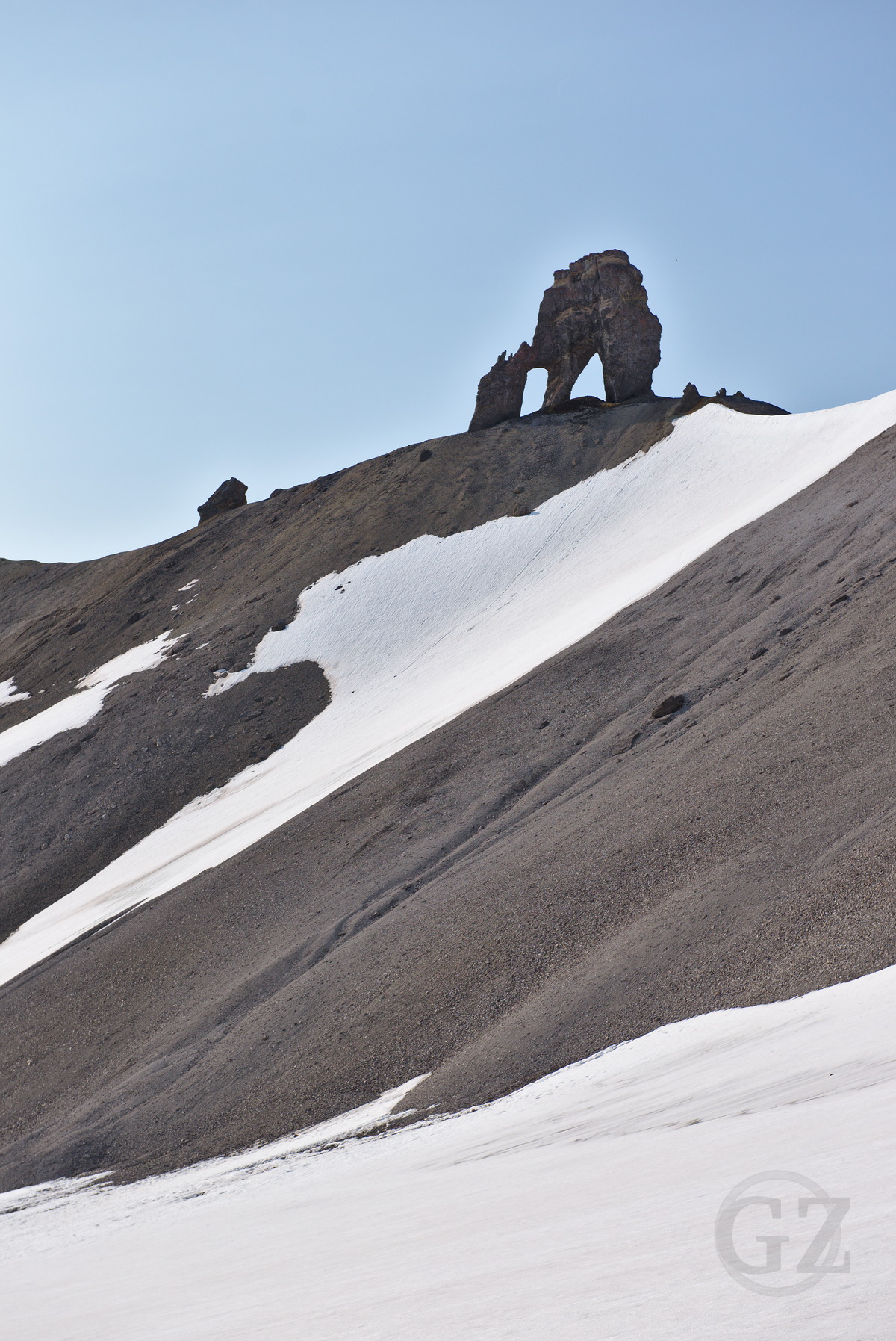 It was almost unbelievable that also the 4th day of our trip started under a blue sky with little wind. We left our camp with light luggage and hiked up McWhaebreen until we stood under Tarantellen. We were quite eager to climb up to this spot, as the rock has been holed twice by (wind?)erosion, and thus offers an interesting site. As we also had crampons and ice axes with us, we chose to take a straight line up some steep ice field.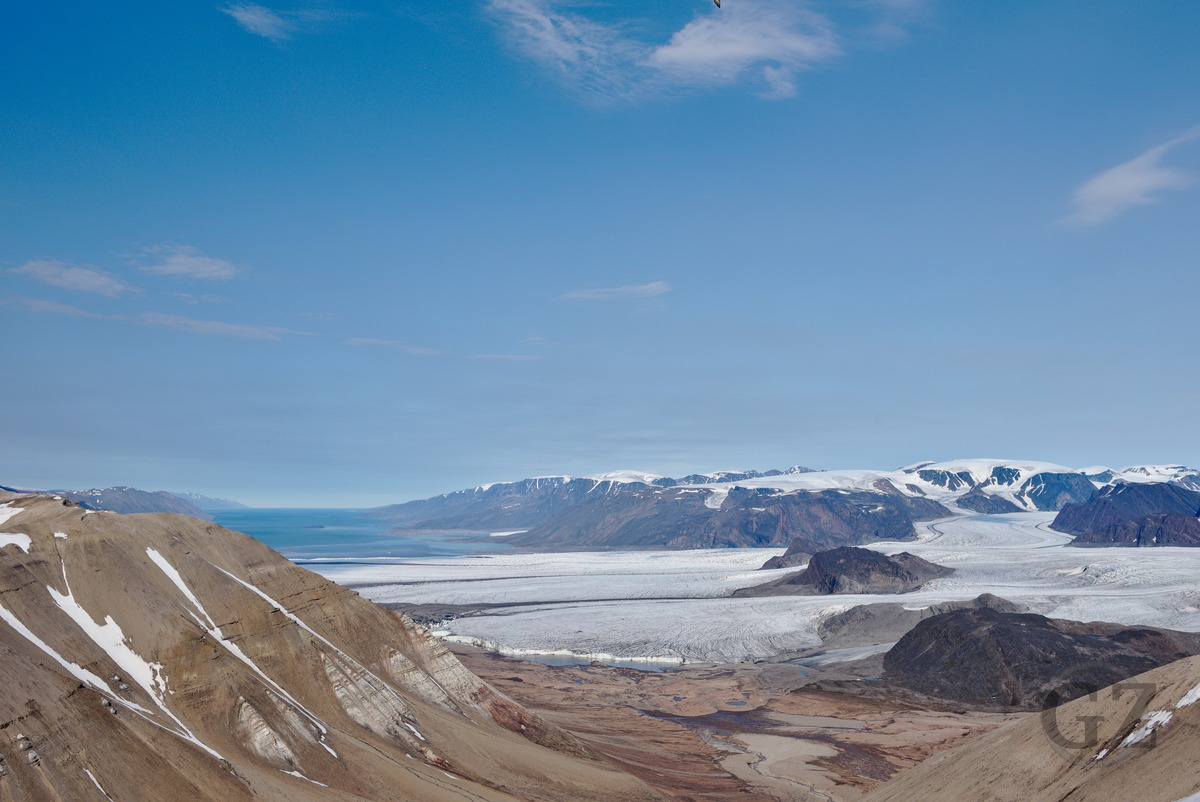 Along the ridge there was still some snow, but settled and apparently stable. So it turned out to be rather easy to reach Tarantellen, from where we had a great view over Mittag-Lefflerbreen and our previous day's route, as well as on Austfjorden. On the way back to our camp we once again had plenty of slush on the glacier, as well as channels carrying plenty of water.
Back to Pyramiden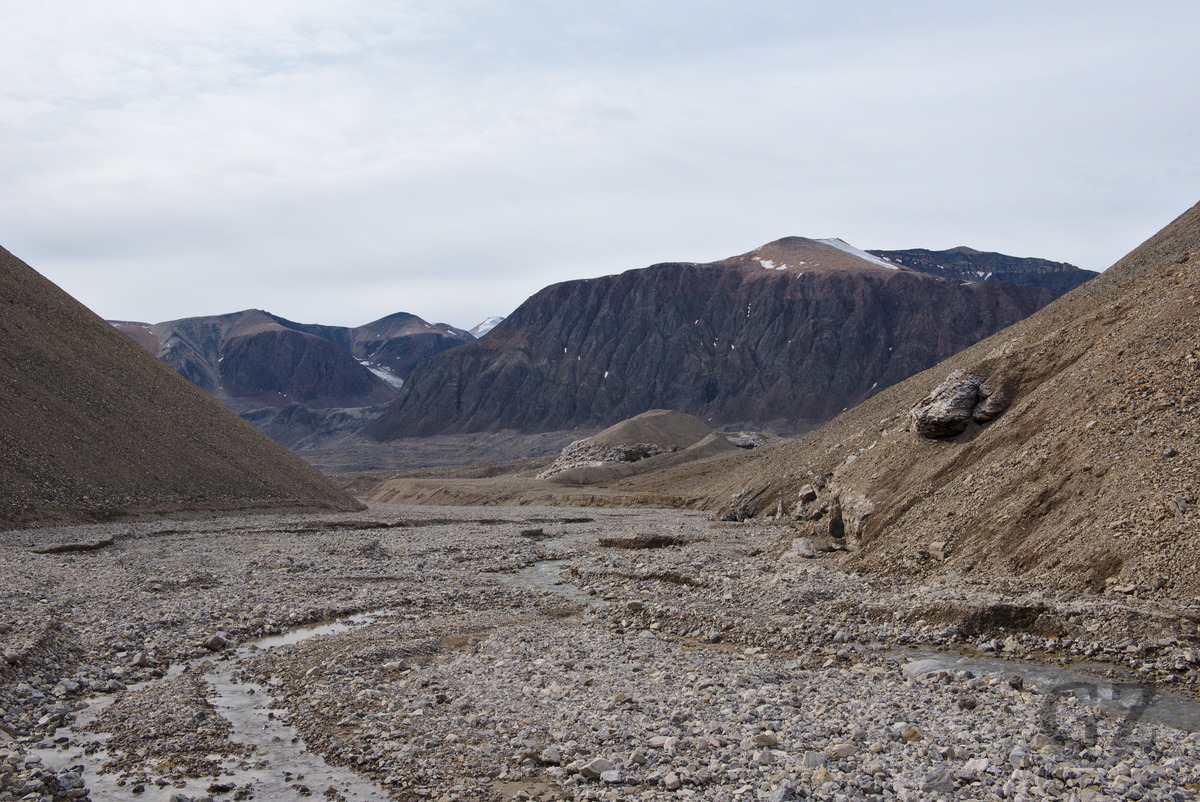 After our first wet encounter with Petuniabukta we aimed at crossing the valley further up more west in order to avoid most of the water. Yet, and due to another warm and sunny day, and despite leaving early, we once again found ourselves up to our hips in ice-cold glacier milk several times. While already being a bit exhausted from carrying the heavy backpacks (ca. 25-30kg) and another tiresome trip through the rivers, we made it in time back to the hotel in Pyramiden before the bar closed. This way, we could enjoy thinking back at our glacier trip over a refreshing brew from the Barentsburg brewery, with somewhat disbelief how we only had blue sky for our entire first part of the hiking trip.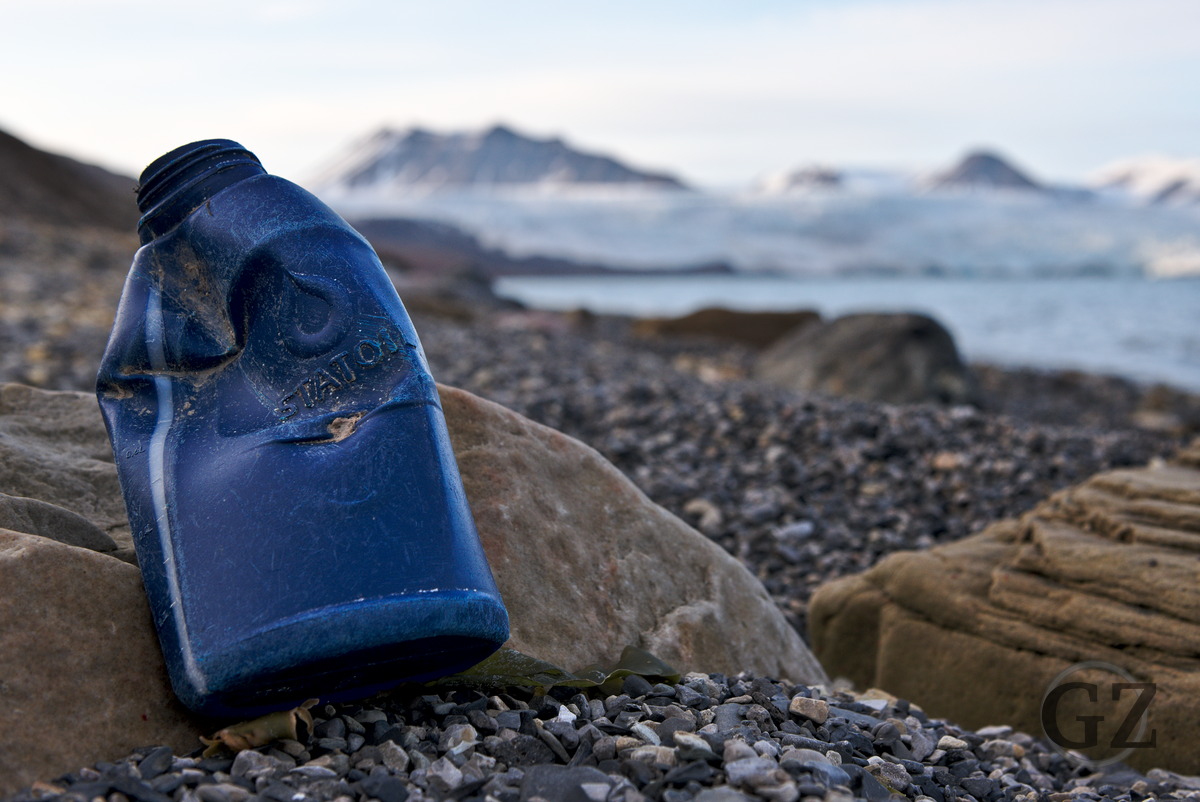 While we certainly enjoyed our trip and were happy to not have any encounters with polar bears, we also were saddened by the fact that even in relatively remote places in the Arctic, such as on Svalbard, we found lots of plastic garbage pretty everywhere. Along the cost this was less of a surprise; But also on the glaciers we stumbled over plastic and other garbage. It is quite sad to see and experience how extensive the problem of waste and plastic pollution also prevails on Svalbard.
Gallery