Towards the end of the polar night, and after the skiing trip to Pöyrisjärvi, with my friend we decided to go for another ski hike. This time we planned to ski toward the south. On this trip I came close to seeing the sun again, after several weeks of its absence.
---
While mathematically the polar night is supposed to end in Hetta around 6-7 of January, due the the fells in the south it usually takes a few more days for the sun to come back. Yet, with a friend we decided to ski south to Muonio. I thought I would get to see the sun again on this short trip.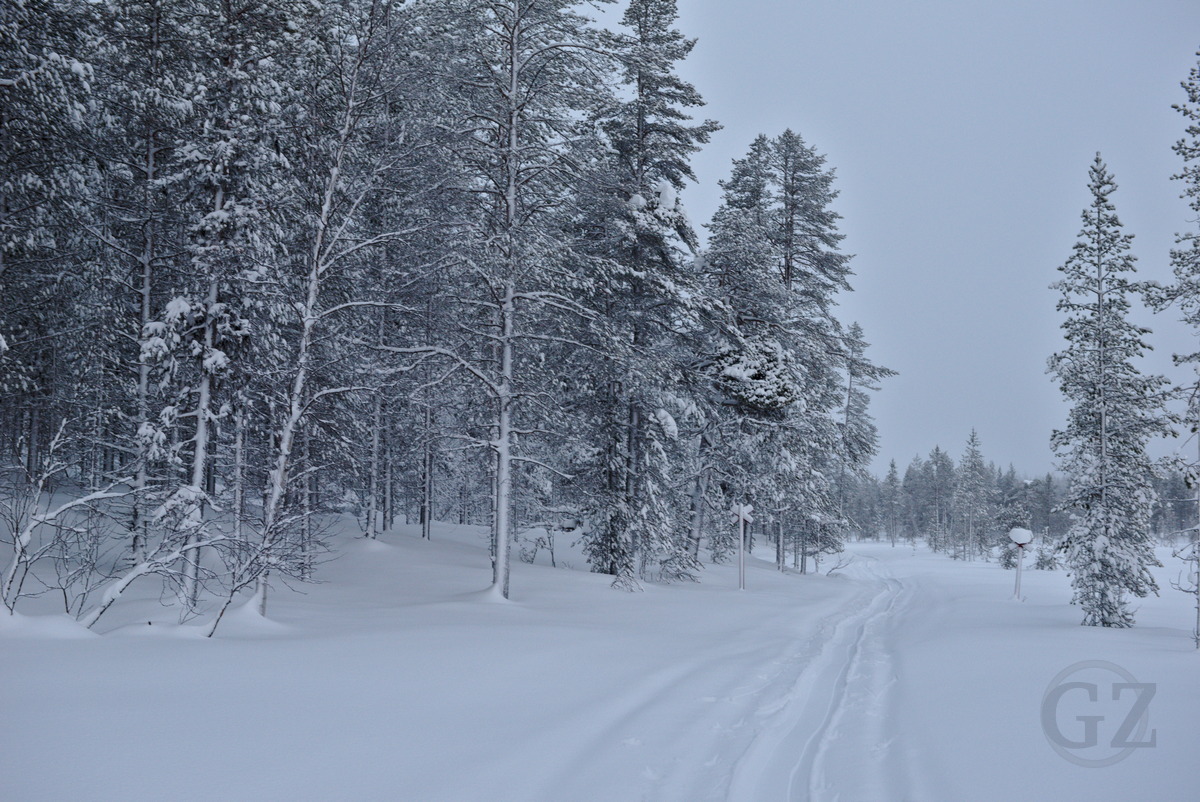 Starting from Hetta, we followed the snowmobile tracks west of the Pallastunturi national park, to reach the Puolitaival open wilderness hut after our first day of skiing. While skiing through this cloudy day, around half way to the hut we came into strong snowfall, which soon made the old snowmobile tracks disappear. I have only once before been at this open wilderness hut, which was during summer (and on bike). However, since I went to Rautuoja before, I knew most of the way. Even tough the skiing day was long, we arrived at the Puolitaival just before it got dark.
Since the days were still very short we started to ski in the morning when it was still dark. During the night a few more Centimeters of fresh snow made it a bit more difficult to spot and follow the tracks. Yet, maybe only one or two hours after leaving the hut, twilight and the rising fog uncovered the landscape and the snow covered tracks we were following.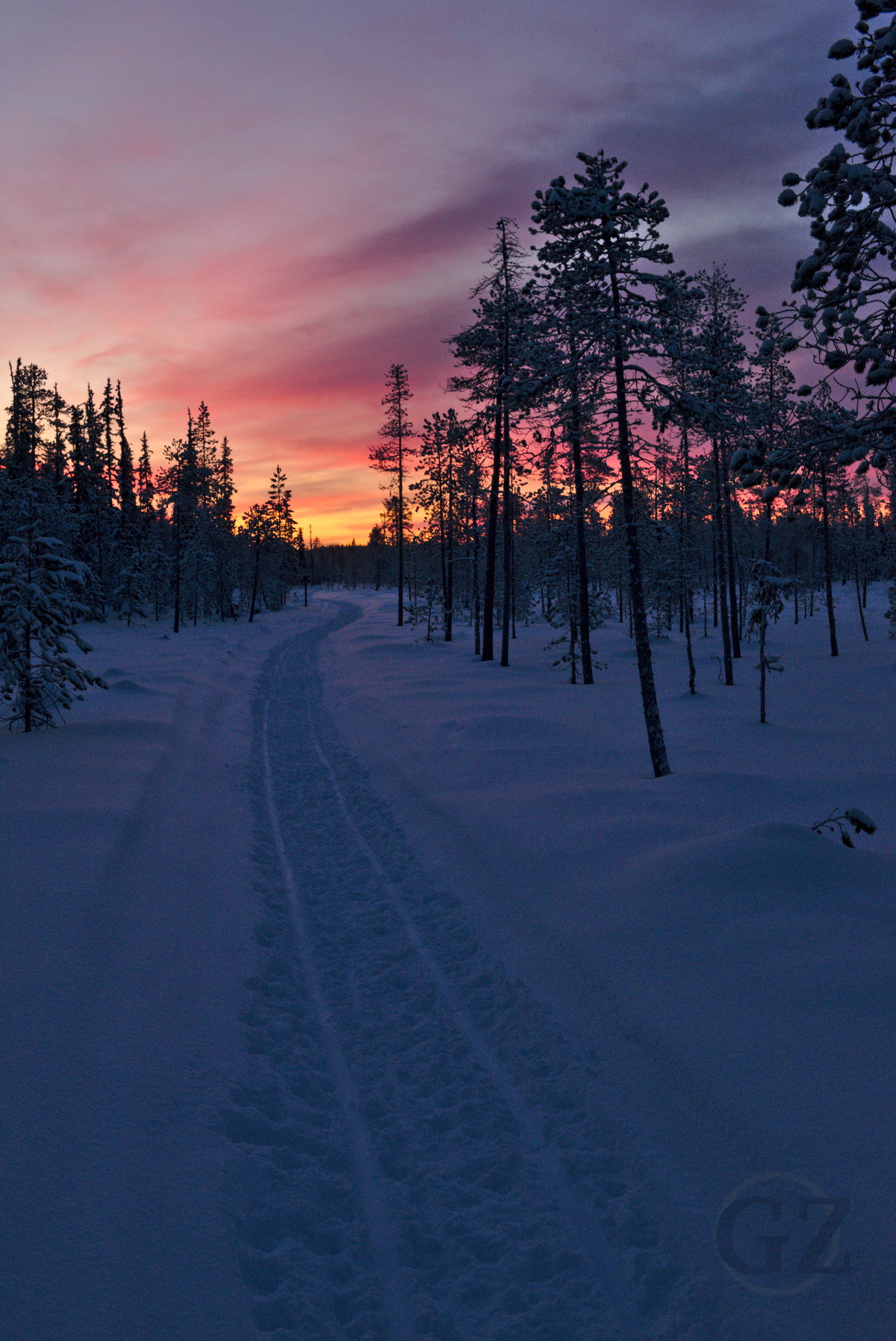 This day became a long skiing day, as we made it south to the Vuontisjärvi open wilderness hut (ca. 30km). After spending another night there, we had a short skiing day to the hut of my friend's family. All the way we carried my ice saw in the pulk, in order to prepare ourselves a nice ice hole for jumping into the lake. Due to the huge amount of snow in this winter also the ice cover on the lakes is rather thin (only about 25-30 Centimeters): The core ice was covered by a thick layer of snow, slush, and white ice (at least the same thickness as the core ice).
After eventually getting ice and snow out of the hole we made, everything was set for a short swim while a warm sauna was awaiting us. We repeated this procedure several times, before after another two nights we headed to Muonio, from where we took a bus back to Hetta.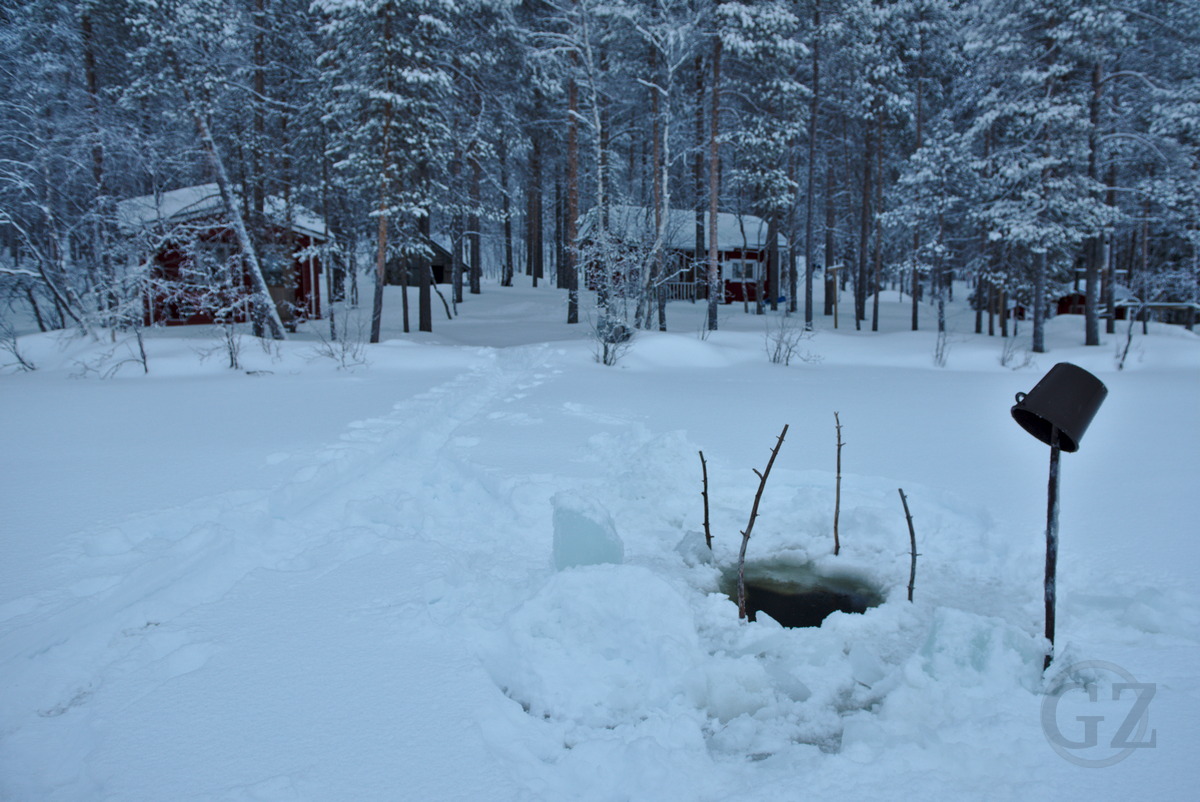 Most of the trip it was cloudy or snowing, yet, one noon at the cabin, suddenly light came through the window. The first sun beams since several weeks. I grabbed my camera and wanted to capture this moment, but until I came out of the cabin, the sun set again behind a hill and I missed out on being exposed to those rare sunbeams. Anyhow, given the prettiness of the polar night, I am not in a hurry to expose my eyes to direct sunlight. Although, this was a close call …