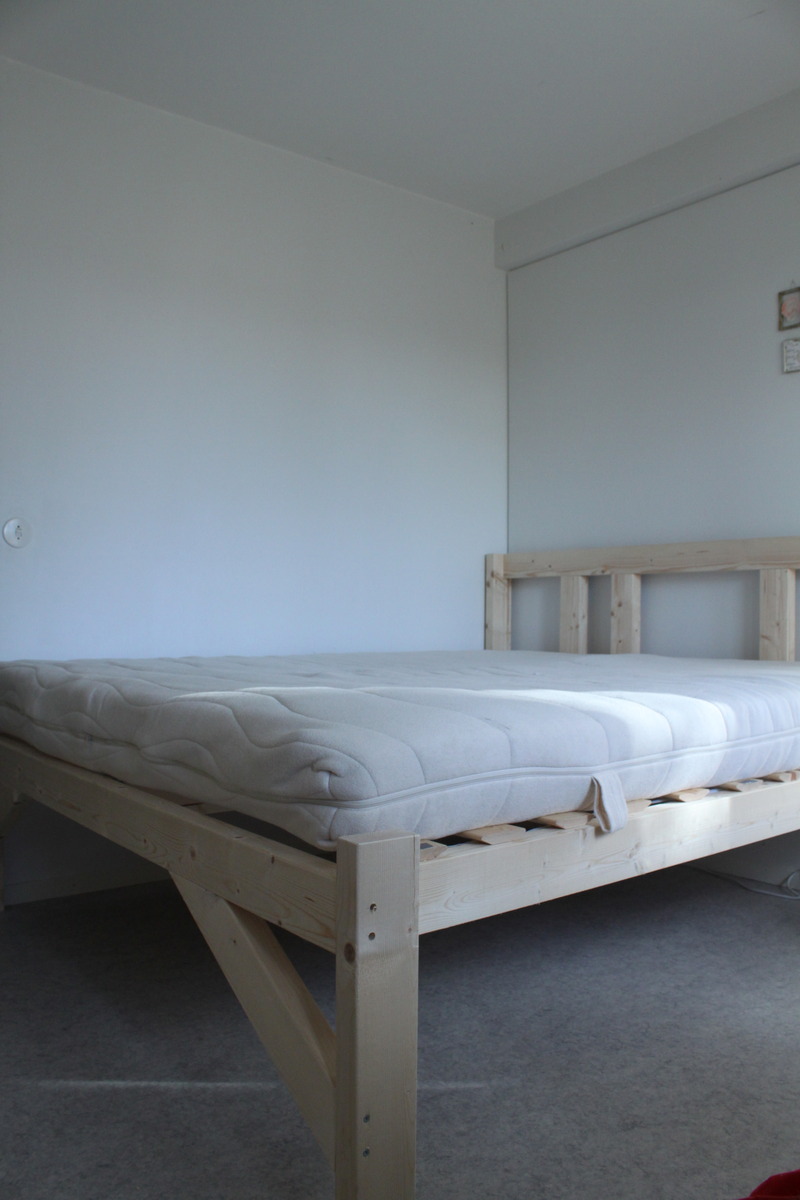 Time has come to say good bye to our old futon and replace it with a new mattress, in order to guarantee a good sleep. However, with the new mattress we also needed a new bed, which was surprisingly easy and fast to do it yourself.Since our old futon did not any longer provide the surface for a good sleep, we decided to get a new mattress. Fortunately we were able to replace the natural futon also with a new mattress only made from natural materials and free of any kind of synthetic materials. However, it also became time to get a new bed.
The criteria were as well to have it made from as many natural materials as possible, sturdy and rigid it should be, and higher than usual in order to also use the (usually dead) space underneath for storage. However, after spending several hours of checking online catalogs for beds, we had to accept that there was nothing suitable to find. Most beds are made from cheap and crappy materials: chipboard or compressed wood, thin, not lasting. Moreover, they are usually also are rather low. And worst of all: they are still expensive! Of course you also get beds from better materials, but at costs that don't seem reasonable to me to spend on a bed. To make it short, it was an easy decision to just make it ourselves.
With the new mattresses already laying around in our living room, we went to the local hardware store and bought some wood (12 meters of 96×48 mm), screws, and some metal angles. Consciously we decided to over-dimension the bed, so that it really should last and be absolutely stable. The materials all together were around 50 to 60 €, and with some sort of a plan in my head, it took me about half a day to prepare the materials and build together the bed. Since I never really have been thinking about it, I was actually surprised how easy and quick it was to make a DIY bed. With this experience it makes it even more difficult for me to understand, where the high prices for the products in furniture catalogs come from. Anyways, it really is not a big deal to quickly make yourself your own bed.