Like in the past few years, also this year I was planning to go for a hike during autumn time. Since in the past two years I was a bit too late for the most colorful time of the year – ruska – this year I wanted to leave already end of August, to experience the wonderful colors of the autumn vegetation in the Pöyrisjärvi wilderness area.
Ruska is the Finnish word for the autumn time, when nature presents itself in a colorful cover. This, and the fact that mosquitoes have mainly already disappeared, makes the ruska time my favorite time for outdoor trips outside winter time. Unfortunately, in the past years I have missed the right time either due to illness or work. Instead of ruska, I experienced the first snow fall, for example. Consequently I was planning to be a bit earlier this year, starting the hike already at the end of August. So much about planning. This year, due to the late arrival of summer and being a cold summer, apparently also autumn arrived later. Yet, not too late so we were still able to enjoy some ruska days in Pöyrisjärvi Wilderness Area.
From Kalmakaltio to the Norwegian border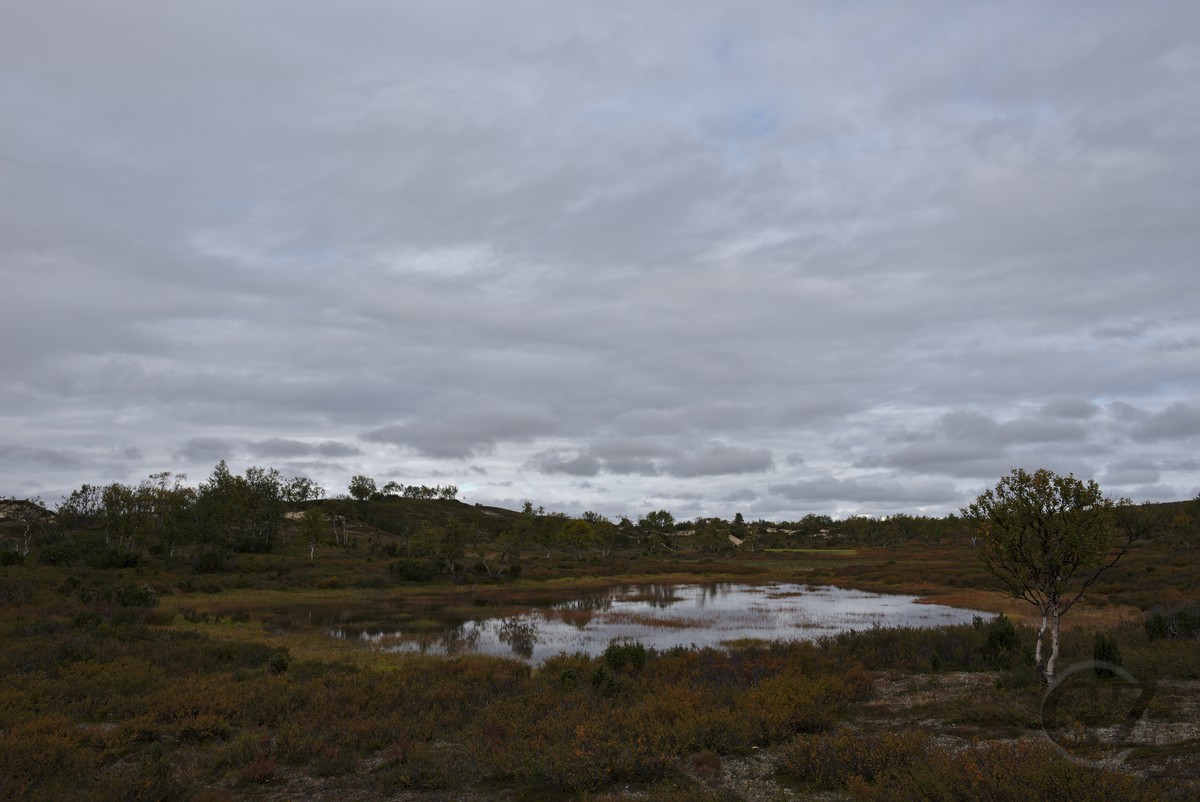 This year we were lucky to get a ride to Kalmakaltio. Kalmaklatio is in the Eastern part of Enontekiö. Arriving there, I was a bit surprised about the trees and vegetation still being rather on the green side, despite being there at the end of August. Either way, the vegetation there always appears to be quite special to me. Sand dunes, light birch forest, and lots of open space make this area quite unique. The first day we were following the trail toward North, with the open wilderness hut at Naltijärvi as our first stop. Due to a short night before, we were already tired when arriving there, even though it is not that far from Kalmakaltio.
New camp site and wonderful northern lights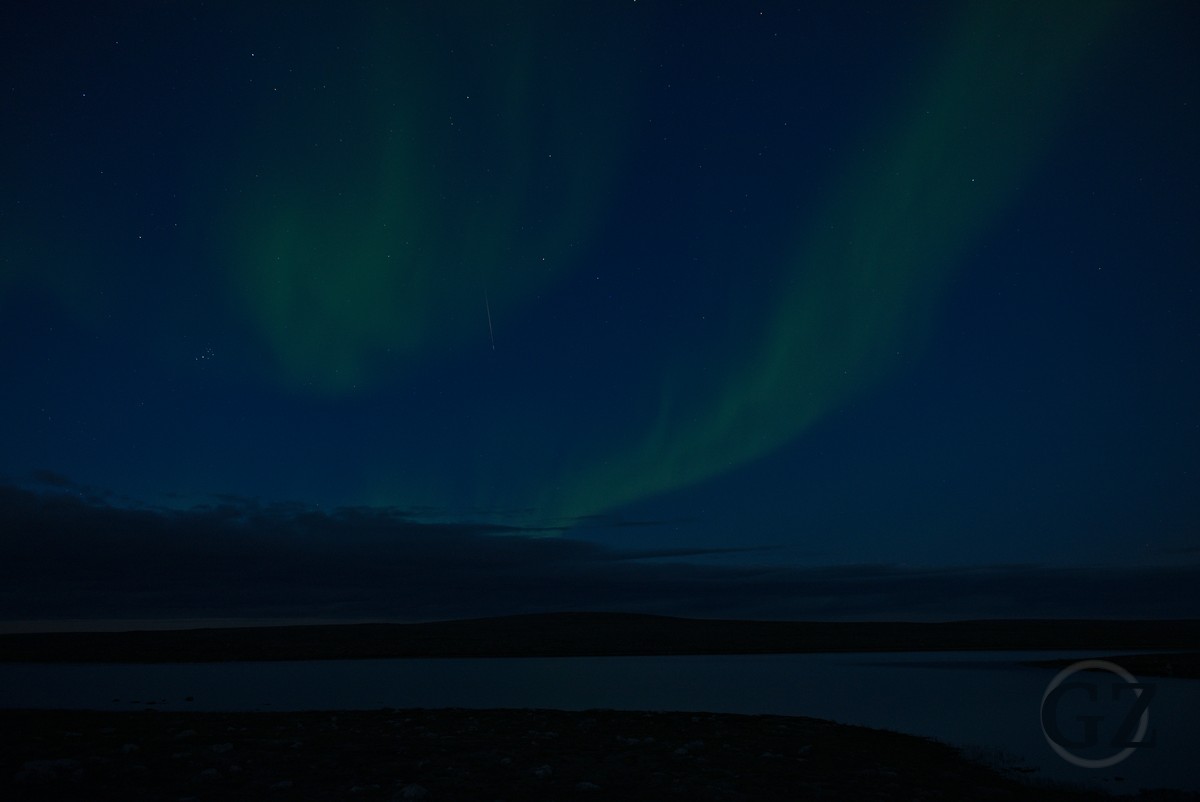 As in the last years, also for this hike the idea was to go off trails and to discover some of the beautiful nature of the Pöyrisjärvi Wilderness Area. While following the trails for another day, we built our camp at a spot from where we planned to leave the – unmarked – trail. This day brought us along some kilometers of the Finnish-Norwegian border. Beautiful tundra area, only disturbed by the reindeer fence, separating reindeer herds of Norwegian and Finnish reindeer herders, as well as the vegetation: While on the Finnish side, due to the grazing pressure of the reindeer, lichen is scarce, the Norwegian side in this area still has significant amounts of white, signaling more abundant lichen vegetation.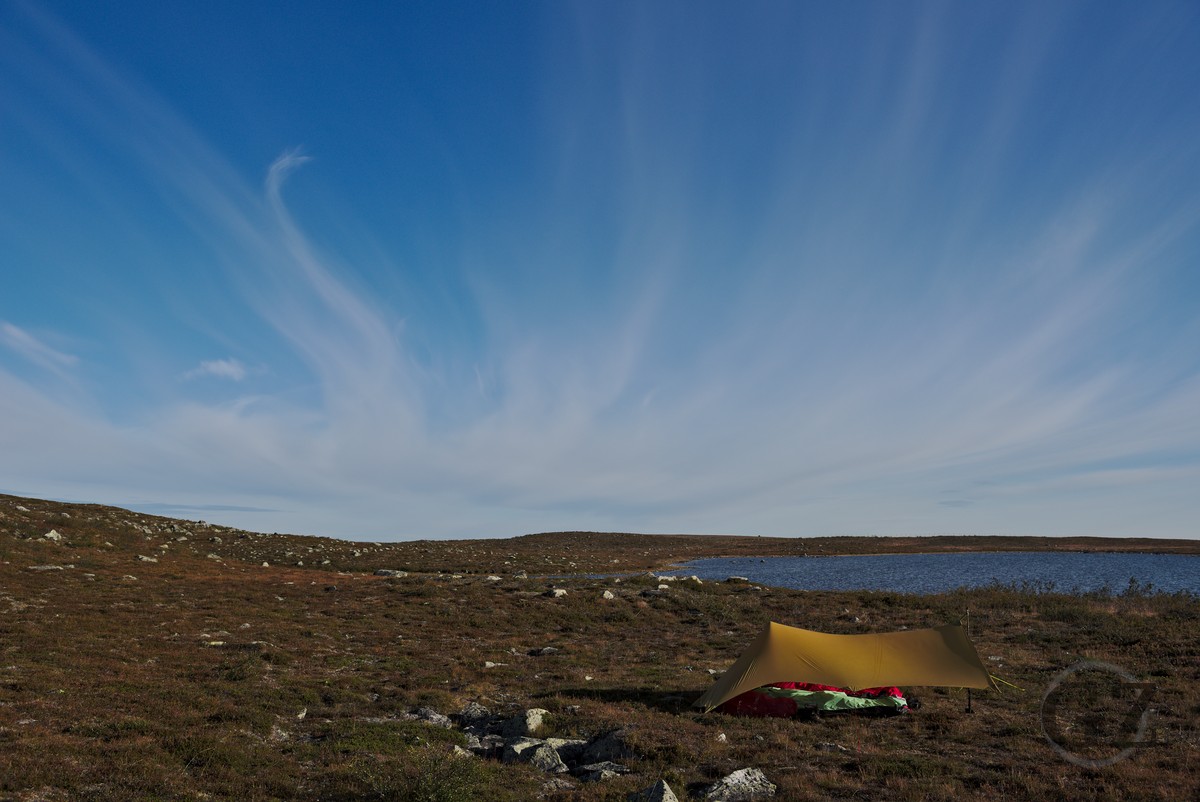 Beside scarce vegetation, such as lichen or tundra birch, he tundra also offers wonderful lakes. One of these lakes, with beautiful and small white sand beaches on the southern side became our camp site for this night. A little hidden from the wind, we built up my home made tarp near the shore of the lake. After cooking some dinner at the beach, we enjoyed a short walk in the vicinity of our camp site. As it turned out, we were close to full moon, so the night remained relatively bright. This turned particularly true when during a night walk northern lights suddenly popped up. What an amazing addition to an already wonderful evening!
Loads of Cloudberries
After a night close to the Norwegian border, at this wonderful tundra lake, we headed south-west, straight through the tundra. What might sound dry and like an easy walk leads, however, through numerous swamp areas. Usually not being the most pleasant terrain for a hike, they contain at least one very precious resource: Cloudberries. In the past years I not only missed ruska a few times, but also cloudberries. In this area, the main season for cloudberries is in mid August already, and by ruska they are usually gone. Not so this year: I guess due to the cold summer, cloudberries were ripe later this year. Either way, we were happy to find a couple of swamps were the cloudberries were just perfectly ripe for eating.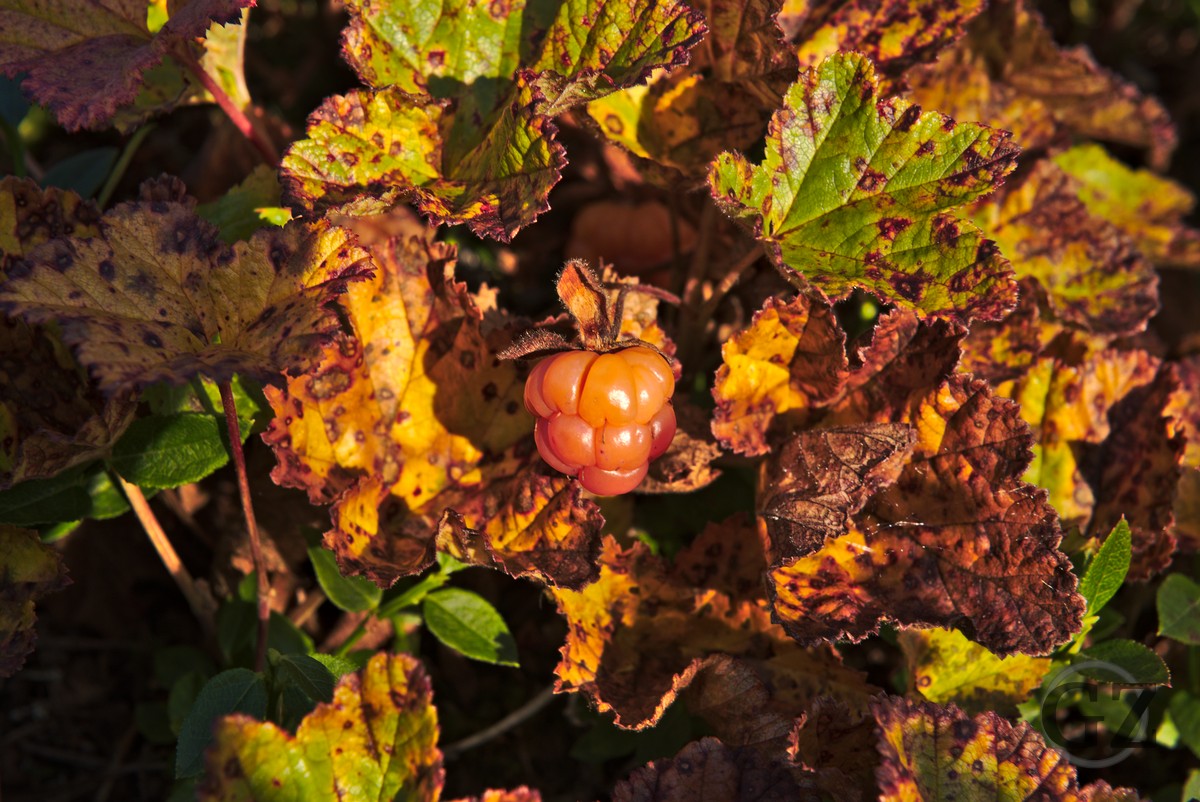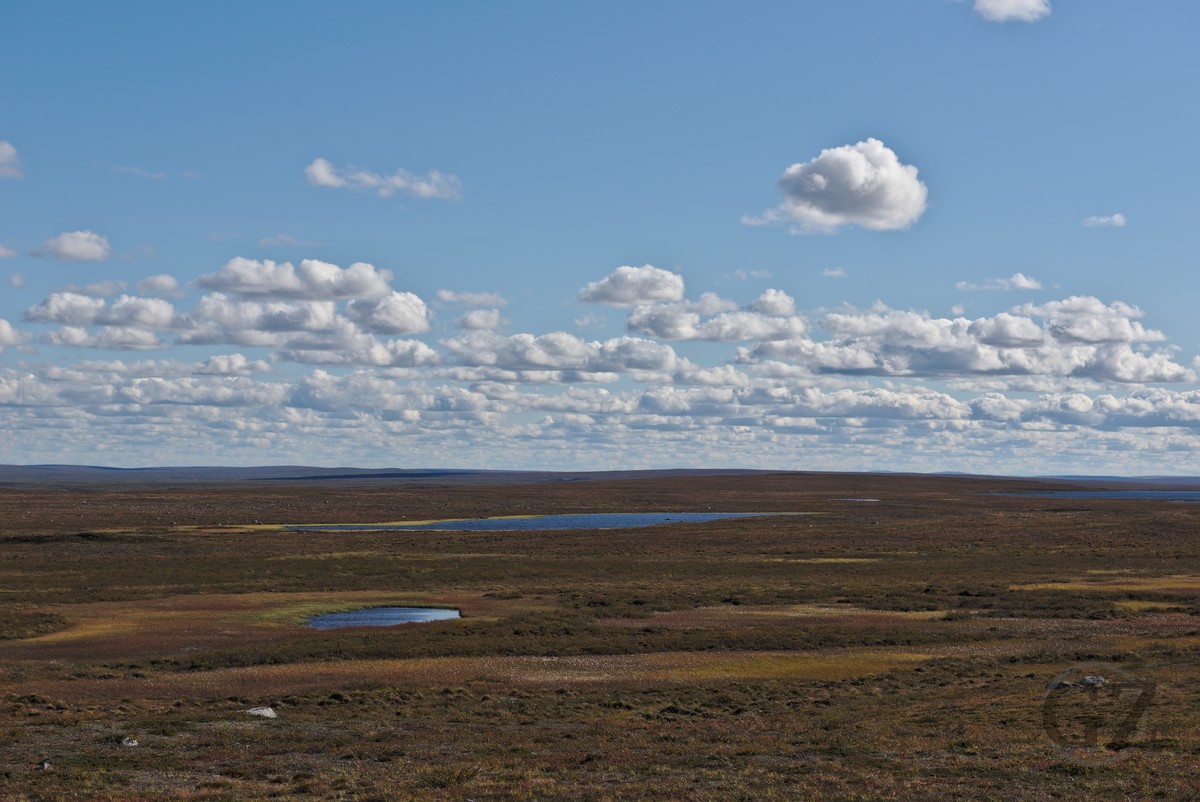 Our first encounter with a swamp abundant in cloudberries made us decide to combine passing the swamp with our lunch break. We found so many cloudberries, that we were picking and eating berries for at least an hour, until we felt full and properly fed. What a pleasant berry lunch!
More swamps, more cloudberries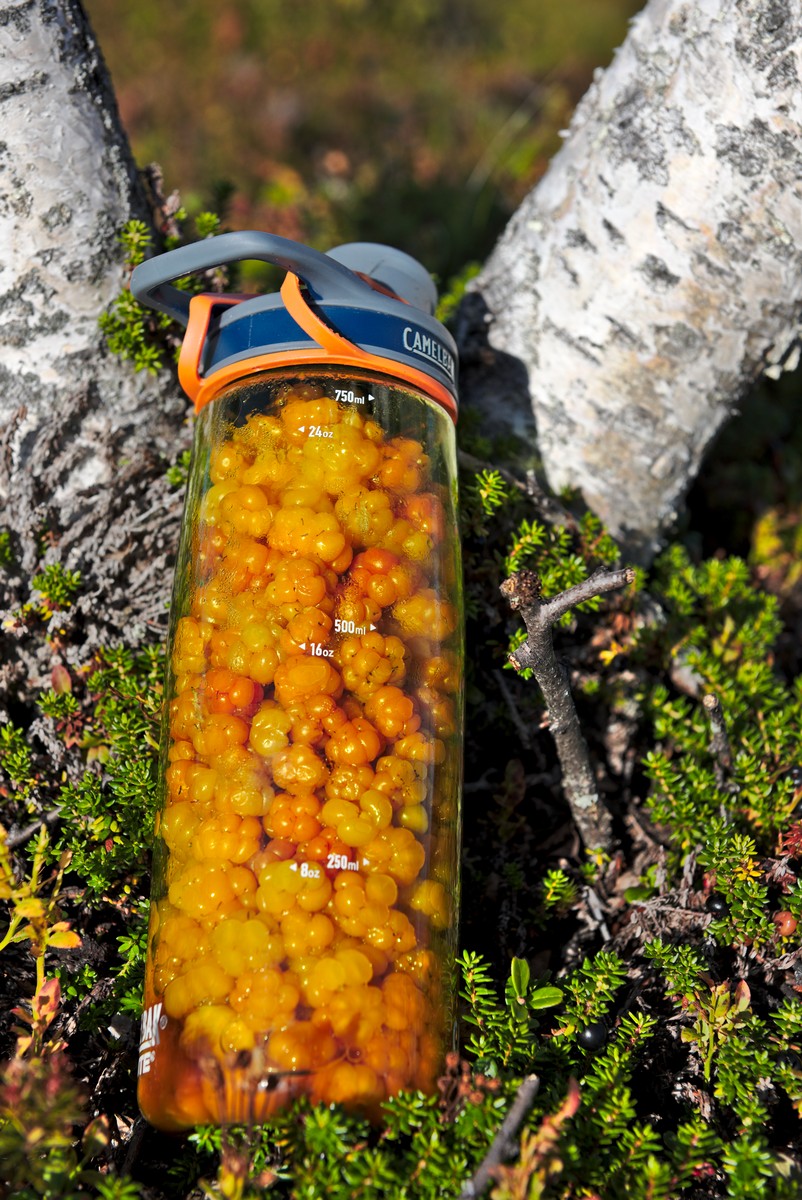 This day was just amazing. During the morning hardly any clouds were visible, and those arriving later that day didn't look worrisome either. Yet, after watching four swans taking a batch in one of the many tundra lakes, we realized we needed to cross another big swamp. To our luck it turned out that also this wet land was totally full of perfectly ripe cloudberries. Since this terrain was very wet we decided to take of our boots (to avoid getting them completely soaked). While standing and gently proceeding through the swamp, we enjoyed tons of tasty cloudberries. Of course this slowed us down significantly, but at least we felt full again and had the energy to speed up a little to our day target: Retkajärvi. This lake is beautifully situated on the edge of tundra and birch forest, also providing some fire wood. And fish.
Dinner: trout. Breakfast: trout. Lunch: trout. Dinner: trout.
OK, I have to admit: the breakfast was a lie. But other than that, I was extraordinarily lucky with my fishing endeavors. After arrival and putting up our camp, I went to try some fishing. And in a short time a decently sized trout, big enough for feeding two, was on the hook. While still carrying some cloudberries, which so far has been our only food that day, we were happy to add another local food source to our intake.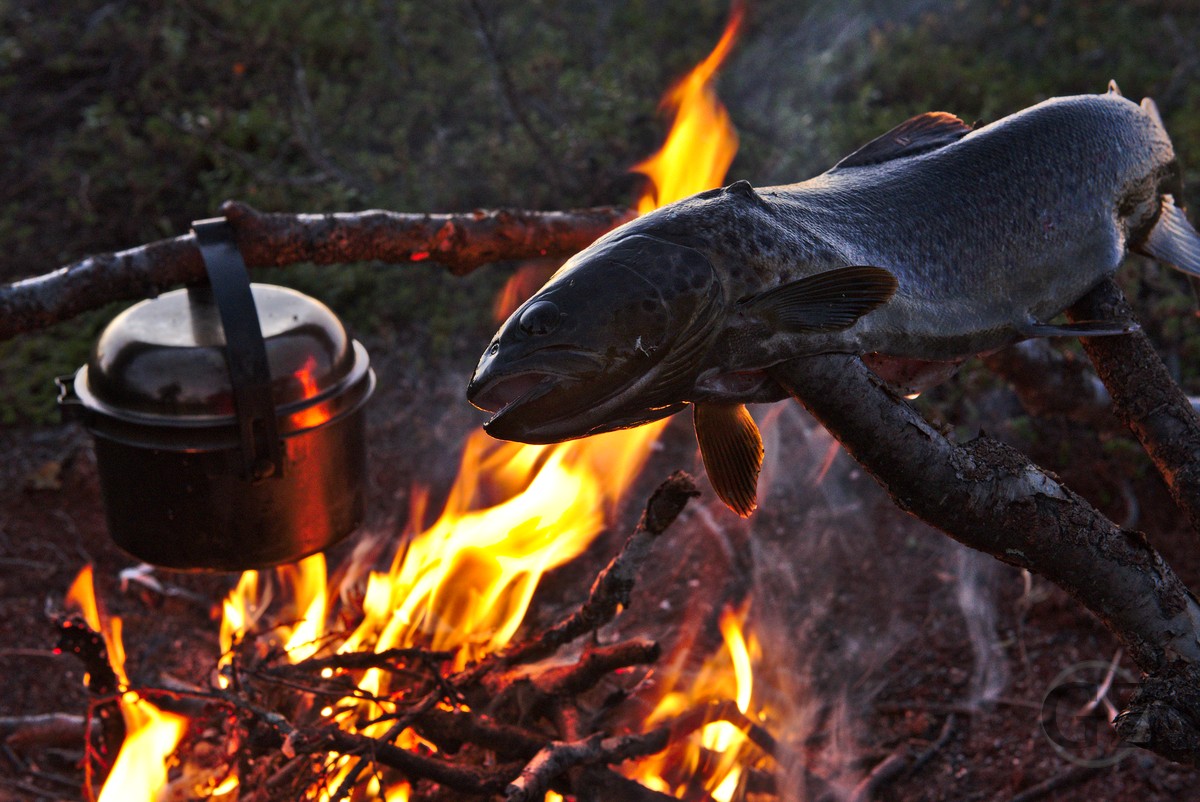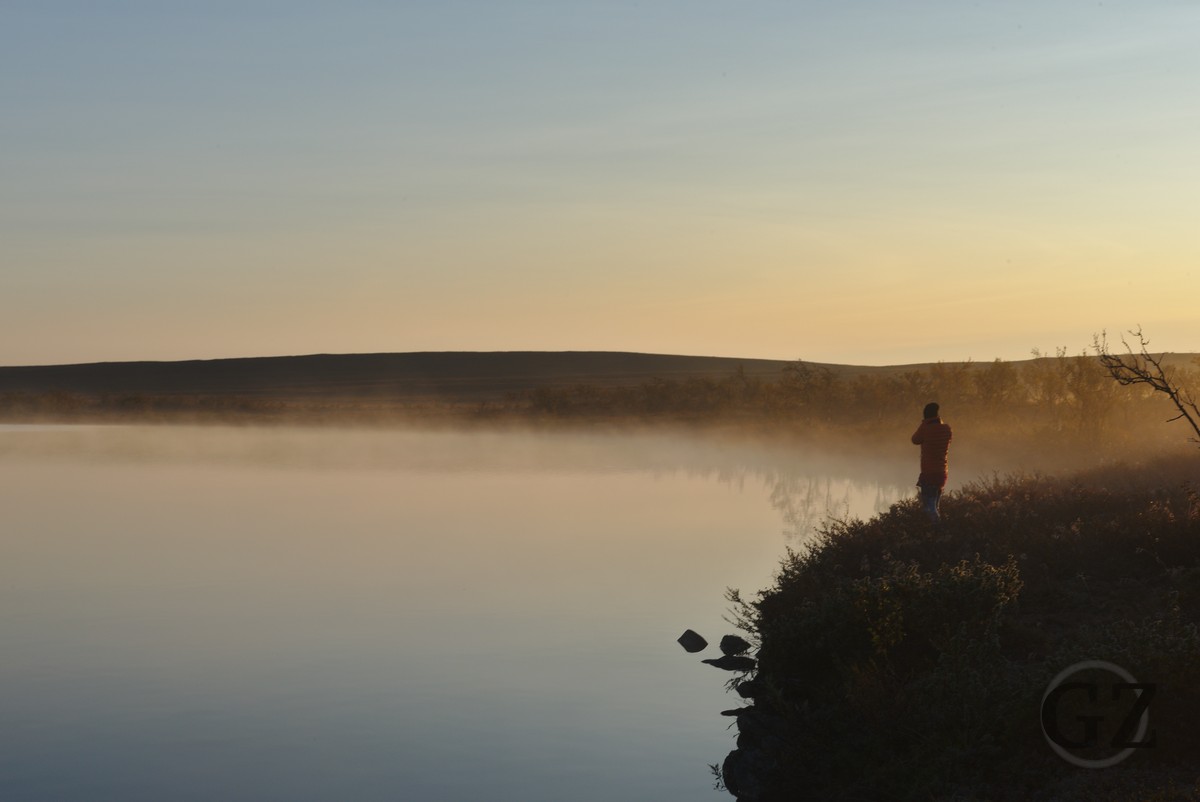 Next morning the weather seemed even better: No clouds were visible on the sky. This made us decide to spent the day where we were, as we wanted to take advantage of this fine weather. Yet, around noon I tried again my luck with the fishing rod. And indeed, it didn't take long until another trout, big enough to feed two, was to be landed. A fortunate circumstance that repeated in the evening as well. In-between we were picking more cloudberries (yes, there were two more swamps filled with ripe berries) and collecting dead branches from trees to make a little fire.
The goal of the hike: Sukisjoki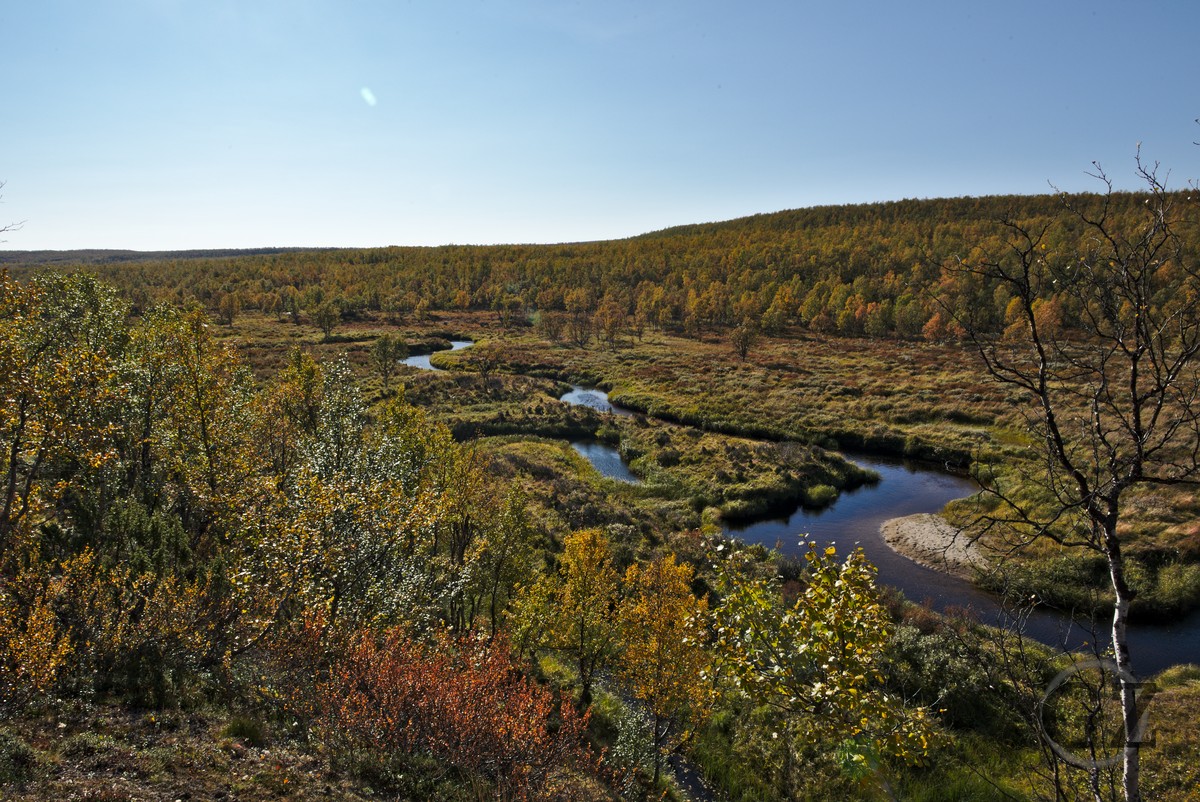 Originally, my goal during this hike was to walk along the wonderful and sand-bedded Sukisjoki river. I have been further down this river twice. I was always astonished about how calm this river meanders down the valley, while being absolutely clear, since having a river bed only consisting of fine grained and bright sand. Yet, walking along the river turned out less exciting than the river itself. Thus we decided that instead of walking along this river, a boat trip, planned for the future, should satisfy the exploration of the river. For this trip we spontaneously decided that we would hike back to the open area in the tundra.
Even more and bigger fish!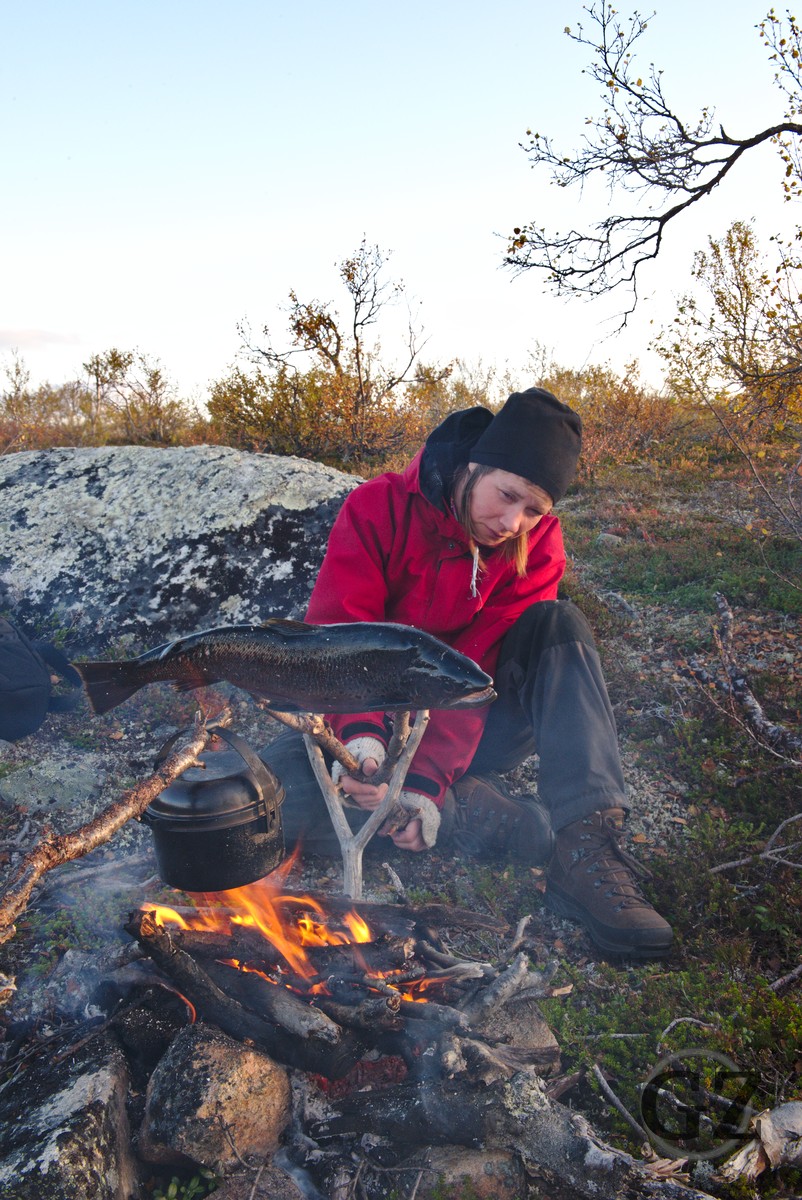 After one night on the shore of Sukisjoki we broke our camp and hiked up a brook, which we – rightfully – assumed to be the outlet of Maattojärvet lakes. From the smooth rapid of Sukisjoki we hiked up through intensively saturated green forests. While for most our hike, blueberries were already dead (due to minus degrees in August), we eventually discovered a forest where also this fruit of nature was ripe. Thus we had another reason for slowing down on our hike. Instead of cloudberries, we ate plenty of of blueberries this day. Good that the Maattojärvet lakes aren't far from Sukisjoki!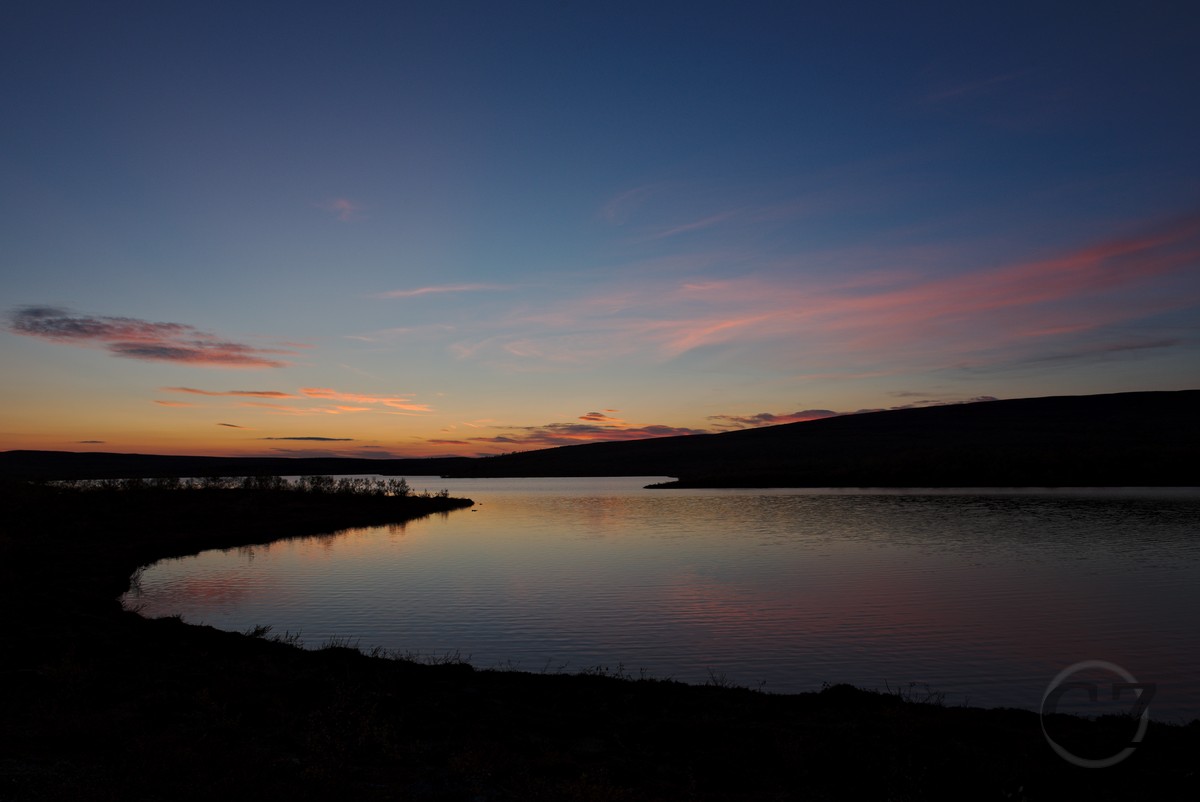 After building up our camp there, I went again to try my luck with fishing. I was almost startling about how well that went: With the first cast I angled myself a huge Arctic char. Very much satisfied with the catch, I returned to the camp site, to – once again – find enough branches for making a fire to prepare a fish. Just when the fish seemed to be done and we took it off the fire, the moon rose. This night, again in the absence of any clouds or whatsoever, we got delighted by the full moon, while enjoying Arctic char and cloudberries for desert (yes, we found even more of them!).
After all this great food: Walking back home ..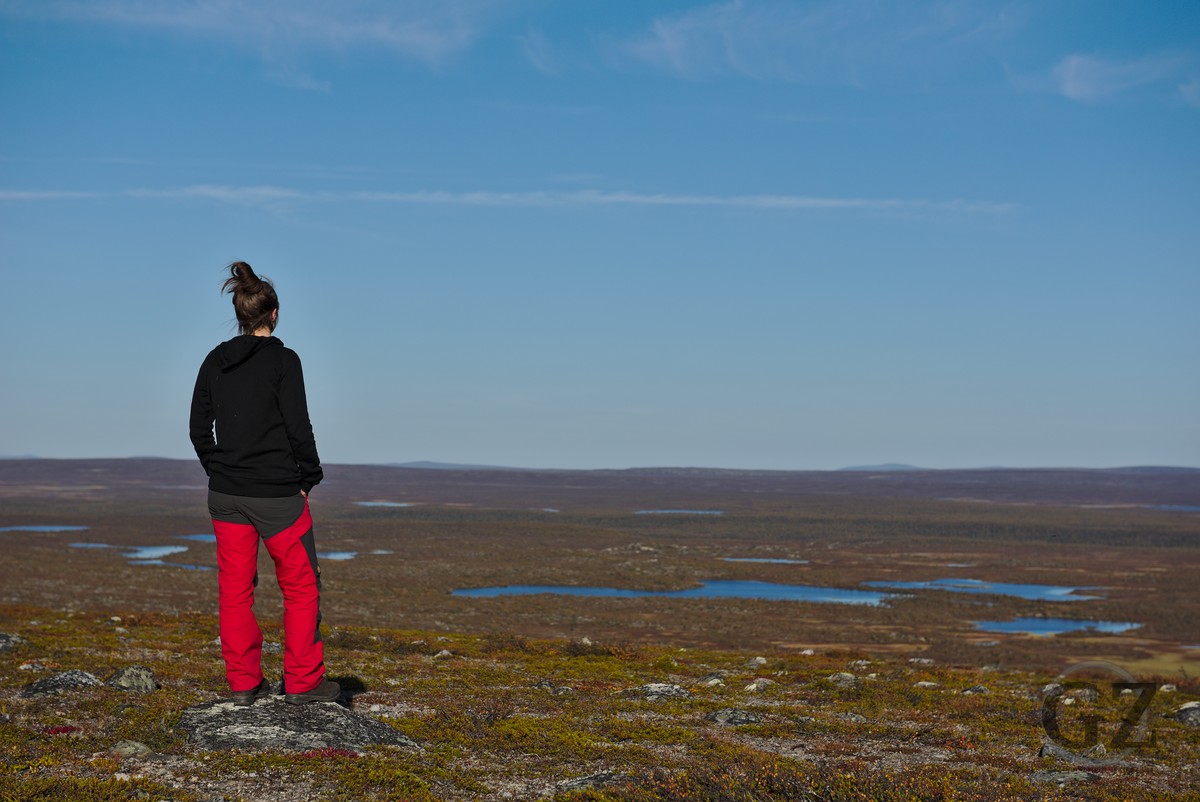 On this trip we were absolutely lucky. We were able to have 3 or 4 days on which we could feed ourselves from nature products only. While we would have had enough food with us, we were happy to carry most of it back home. Moreover, feeding for days on nature's goods was a fantastic experience. You can hardly find more tasty, and probably also more healths foods in a shop. I wish it would be more often like this, to be able to rely on freshly harvested and local food only. Beside the great food, also the absence of a phone signal is something I enjoy when being in Pöyrisjärvi Wilderness Area. Additionally, we had another day with blue sky and absence of clouds. Either way, my work was calling and I needed to get back home.
Back to civilization: Change of weather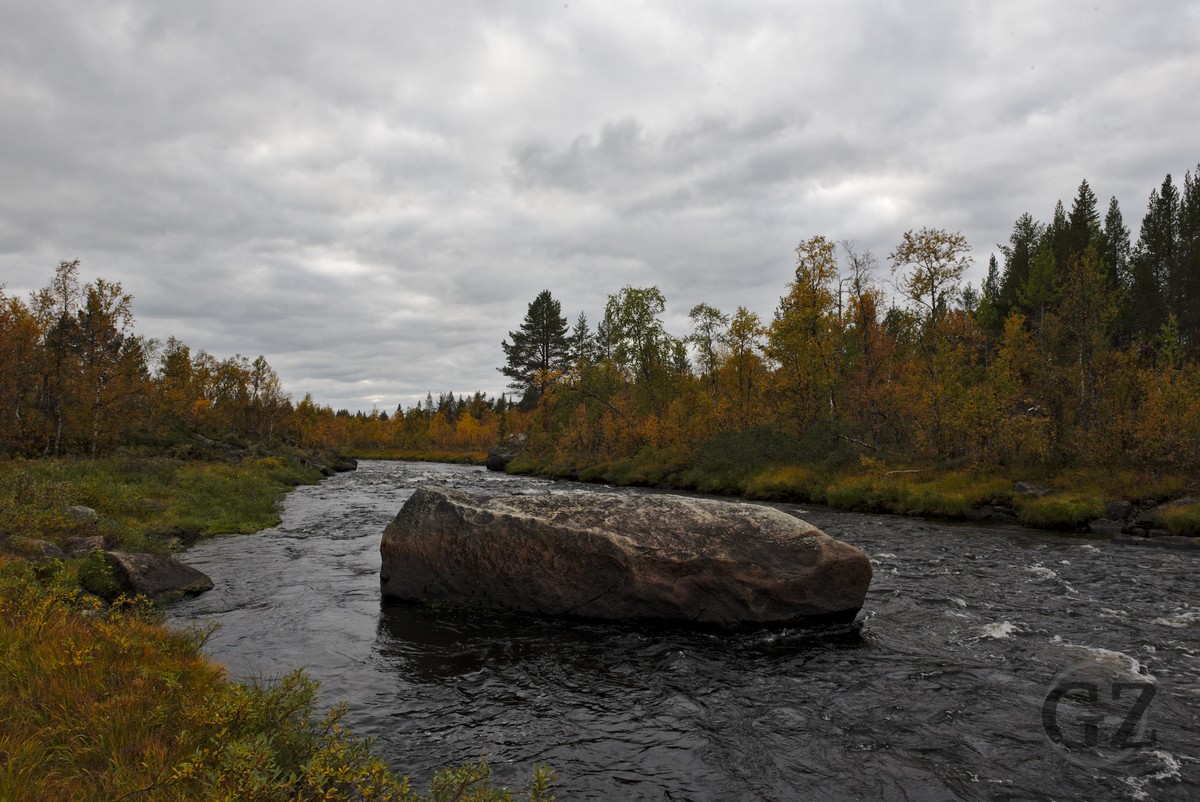 I enjoyed the tundra area so much, that after coming back to the forest I developed a feeling of either getting back to the tundra or making it home quickly. Maybe I was also feeling melancholic that this amazing trip was coming to an end. Yet, we had to stay another night in Pöyrisjärvi Wilderness Area, before getting close again to a road. We were aiming to hike to Vuontisjärvi, a village about 15 km from home. It should be easy to get a ride back home from there. However, once more we were able to sleep under the open sky, only half separated from it by my tarp.
The morning, though, showed an worth seeing change of weather. While first white clouds dominated the sky, suddenly a front of darker and tighter clouds started to take over the sky. It looked like rain might be coming (and indeed, the entire following week was rainy). However, we still made it dry to Vuontisjärvi. Moreover, we finally realized that we indeed were in the middle of the most beautiful ruska sesaon. During the past week, the trees finally changed to their colorful autumn suite. Now, even under a cloudy sky the landscape turned into a deeply saturated and colorful cover. What a beautiful end for such a splendid trip!
Picture gallery